Originally published in June 2020 issue.
The concept of "summer break" feels mostly irrelevant with schools closed and distance learning in place. As I write this, there are still many unknowns about summer camps, campgrounds, public pools, and playgrounds. Our children have endured prolonged social isolation and many losses.
Despite the uncertainty of traditional summer activities, June is Great Outdoors Month and kids need adventure. Here are 10 ideas to help you get them out there in the age of COVID-19.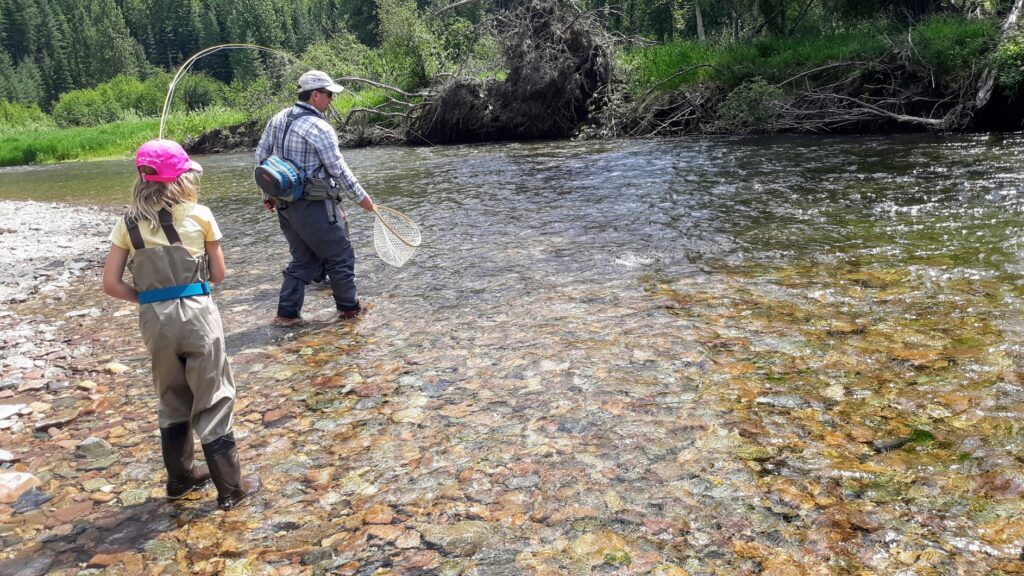 Engage nature at home with creative hands-on activities, games, and seasonal crafts. The website Firefliesandmudpies.com offers free ideas, requiring minimal, low-cost supplies for "connecting, crafting, and playing at home." Summer activities include making a bug hotel, origami boats, water balloon piñata, water blaster games, and squirt gun painting. ("7 Nature Books for Kids" – March 2020 Out There Kids column.)
Paint rocks and hide them. This is an informal activity, purely for fun. Join a group on Facebook such as Spokane Rocks (The Original!). The concept is simple: Paint rocks and hide them around the city, usually at public parks, and leave a clue on the group FB page if you'd like. When you find a painted rock, post a photo on the group page and re-hide the rock. 
Go fishing. Avoid a crowded dock and head to a local lake with a watercraft, or head to a river and teach your kids how to fly-fish. (Additional resources: Inland NW Lake Guide 2019; Kids Fishing: 5 Family-Friendly Lake Destinations.)
Hike to water. Just outside the urban core of Spokane you can hike down the ravine to Indian Canyon's Mystic Falls and play in the creek. You can hike Trail #100 starting from the trailhead located off the Centennial Trail near T.J. Meenach Bridge, which goes along the Spokane River to a big eddy that can serve as a swimming hole. There's also Tubbs Hill at Lake Coeur d'Alene, Fishtrap Lake Recreation Area near Cheney, and alpine lakes in national forests. Wherever you go, please practice Leave No Trace principles. (Resource: 5 Family Favorite Hikes to Lakeside Fun.)
Snorkel. Though not a tropical adventure, it's still a fun way for kids to explore the underwater world of a lake or river. 
Bike a new trail. Whether it's a paved path or dirt trails, load up the family bikes and visit a new destination, like the Ferry County Rail Trail near Republic in northeast Washington or the Trail of the Coeur d' Alenes in North Idaho. (Additional resources: Best Family Bike Rides – Inland NW; 8 Family Bikes to Fun Destinations in Spokane and North Idaho.)
Go geocaching or letterboxing. Both are treasure hunt activities in public parks and along trails. Geocaching uses GPS to find hidden caches, while letterboxing requires following cues and cracking codes to find a hidden "letterbox" that includes a hand-carved rubber stamp for kids to mark their personal journal. Kids also bring along their own personal stamp for the box's logbook. Learn more at Atlasquest.com. 
Paddle or float the Spokane River. By early to mid-July, the river's flow is usually low enough for paddlers and tubers. The Spokane River Water Trail website, Spokaneriver.net, provides a map and list of water access launch sites and what style of watercraft it accommodates: canoe, kayak, SUP, raft, personal pontoon, or drift boat. If you need to rent gear, check out what local outfitters Fun Unlimited and FLOW Adventures hope to open sometime this summer.  
Go sailing. With any luck, you'll be able to rent a sailboat at Sunsport at Yap-Keehn-Um Beach at Lake Coeur d'Alene (also known as NIC Beach) along the North Idaho Centennial Trail. Managed by North Idaho College's Outdoor Pursuits program, the rental shop is typically open daily from June 1 through Labor Day, 10 a.m.-6 p.m, but please check for updates at Nic.edu or call 208-769-3290. Canoes, kayaks, and stand-up paddleboards are also available. 
Camp in your backyard: June 27 is Great American Backyard Campout night. Go all out—pitch a tent, string party lights, make a campfire (if not restricted where you live), and do all your usual family campsite traditions with meals and games. 
This summer, I'm reminding myself to maintain realistic expectations and that the perfect is the enemy of the good. Do what you can, my fellow parents. Simple and easy outdoor adventures are better than none at all.
Amy McCaffree endured quarantine with her two children during spring-summer 2020 with the help of gardening, crafts, and walks with her beloved 12-year-old dog, Kenai.