Running the singletrack at Mt. Spokane. Photo: Jon Jonckers
Coming to Silver Mountain & Mt. Spokane
Negative Split has organized several of the region's most popular races for years, but this is their first foray into putting on larger trail running events, says the race company's owner Ryan Hite. "We have always liked trail runs but have never really put many on. Coming off of COVID, we felt like people were going to really be looking to get outdoors and back to nature in 2021." Hite says they watched the trend of exploding RV sales, national park visits, and interest in camping in 2020 and figured now was the time to bring some new trail runs to the Inland Northwest. Thus the Back to Nature series was born.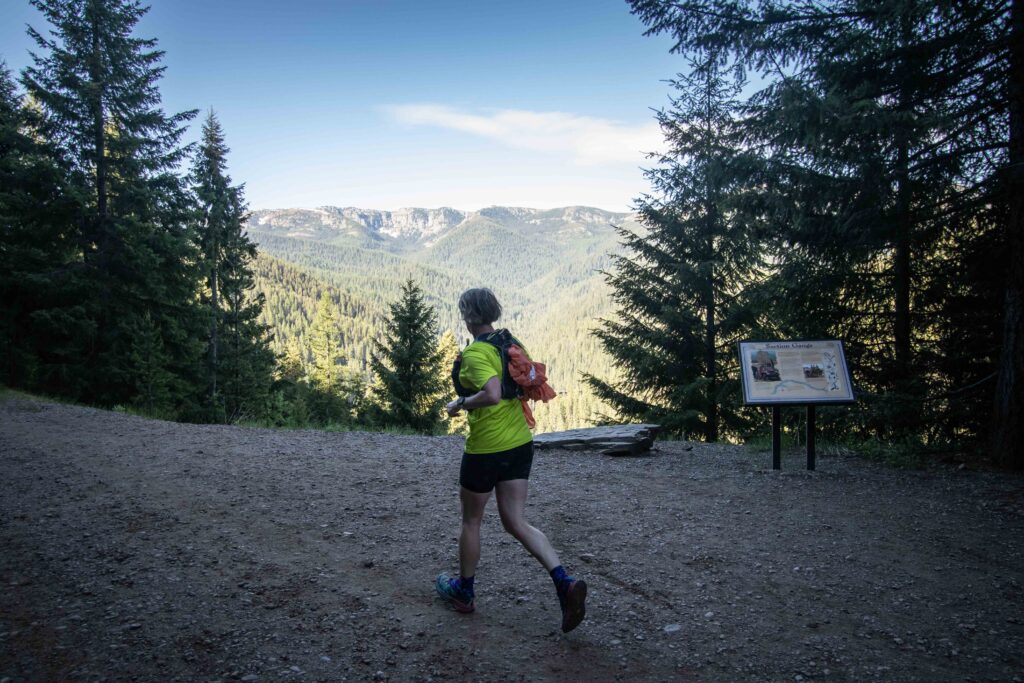 The first series race on the Route of the Hiawatha Trail in June sold out quickly, and the remaining two trail races at Silver Mountain Resort (Aug. 22) and at Mt. Spokane Ski & Snowboard Park (Sept. 12) will likely follow suit. "I can honestly say the Hiawatha event was one of the most unique and scenic races we have ever produced," says Hite. "It was a pretty magical experience along the trestles and tunnels of the Hiawatha." The scenic views and wild setting of the Back to Nature runs are a big draw, says Hite. "Our Hiawatha event included several moose sightings and runners saw eagles and even a bear!"  
Hite says the demand seems to be pretty strong for the remaining two races at Silver Mountain and Mt. Spokane and that they might sell out too. Both of the remaining trail races include options for beginners and more advanced trail runners, explains Hite. "We really tried to offer a variety of distances with the short courses being less technical with less elevation change. The long courses on the other hand offer more technical aspects, including singletrack, shale rock, and more elevation gain." The races also offer a double-summit experience for more experienced runners, says Hite. Advanced runners get to summit Kellogg and Wardner peaks at Silver and Mount Spokane and Kit Carson at the Mt. Spokane race. 
Silver Mountain & Mt. Spokane Trail Race Details
Negative Split's Back to Nature trail races are on their way to becoming favorites of Northwest trail runners. Don't delay and miss your chance to be a part of the first year of the remaining two events.
Silver Mountain Trail Run: August 22, 2021
Start the race with a ride up North America's longest gondola at Silver Mountain Resort. Route distances include 6K, 9K, and 18K options. Run through the woods on Silver Mountain's famous bike trails with breakout views of the Bitterroot Mountains. Longer distance runners will challenge their technical skills with shale rock sections and varying terrain. More info and registration link.
Mt. Spokane Trail Run: Sept 12, 2021
Run singletrack and doubletrack trails through Mount Spokane State Park after a start at Mt. Spokane's Lodge 2. Three scenic course options include a 5K beginner-friendly course on mostly doubletrack, a 10K that makes its way on single and doubletrack to the Vista House at the summit, and a 25K that hits trails and extra climbing all the way out to Mt. Kit Carson and back. All courses end back at Lodge 2. More info and registration link.
Read more about Negative Split races in the Inland Northwest.
(Sponsored Content)