By Amy McCaffree & Derrick Knowles 
The COVID-19 pandemic is picking up steam this fall like a deep-winter storm cycle, yet our regional ski and snowboard resorts are feeling positive about being able to provide a safe experience this season. From adding online, limited contact ticket sales to expanded outdoor hangout areas, mask requirements and social distancing for indoor spaces, and group size limits for lessons, this season that could see a return of La Nina is shaping up to be one we will never forget.
Schweitzer Mountain Resort
"At this point, we are looking forward to opening for the winter season on Friday, Nov 27," says Schweitzer marketing manager Dig Chrismer. "The long-term forecast is calling for a "La Nina" weather event this winter which could mean significant snowfall in our part of the world. The last time we had a strong La Nina was in 2010/11 when we ended the season with 171" of snow still on the summit!"
In response to COVID, Schweitzer will require all guests to use masks while indoors and to practice social distancing like all of our regional resorts. "We really hope that all of our visitors will take the pandemic seriously and make the right decisions about travelling [to Schweitzer from outside the Inland Northwest] if there is a larger spread this winter," says Chrismer. "We hope that everyone will work together to mitigate the spread of COVID…all do our part to keep each other, our staff, and our guests healthy."
Ticket sales will also look different this year, says Chrismer. Schweitzer will not be offering day-of lift ticket purchases at the ticket window and will be calculating an approximate number of visitors for any given day of the season (based on historical data and season pass sale numbers) to then offer limited, date-specific lift tickets for sale. "Those tickets will be on sale starting November 9 and once a day is sold out, it's sold out. Our goal with this approach is to accommodate all of our season passholders and Schweitzer lodging guests as a priority." Check for program and COVID updates at Schweitzer.com.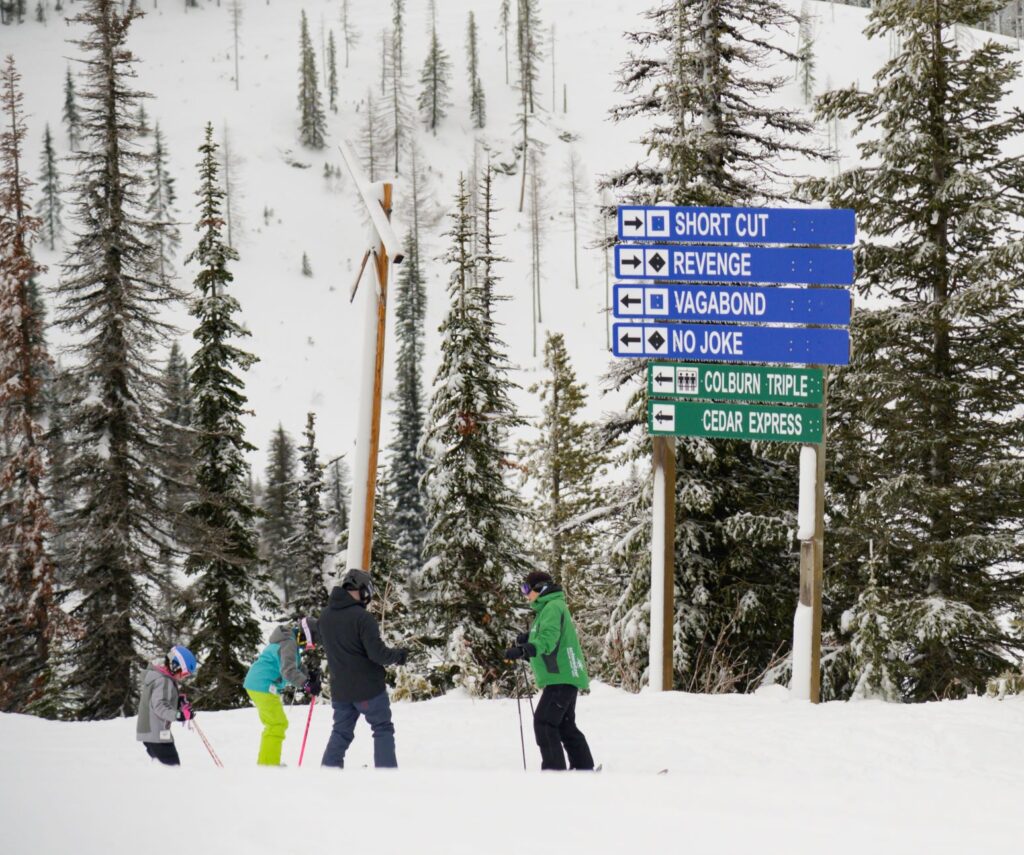 Mt. Spokane Ski & Snowboard Park
Spokane's closest ski area has been working throughout the year to create protocols to ensure the health and safety of the community. "We've had to rethink every process on the mountain—from concessions to lift lines. Following state regulations, face coverings will be required, as well as distancing protocols. There may be a few changes mountain-wide that we all will need to adhere to—but the experience will make it all worth it," says assistant general manager and marketing director Jodi Kayler. Mt. Spokane's mission is more important than ever, adds Kayler. "With less options for entertainment for families and individuals, we are dedicated to providing a safe place for people to recreate. This is the year to hit the slopes and create a lifetime of memories." Visit MtSpokane.com for the last operation updates.
Silver Mountain Resort 
Since Silver shut down on March 16 due to COVID-19, the mountain has done extensive planning to reopen safely for the coming season. Like other resorts, face coverings will be required in all indoor spaces (except when seated to eat or drink), as well as when guests are outdoors when 6 feet of physical distance isn't possible. Masks will also be required while riding and waiting in line for the gondola, and guests will self group with their own travelling party (singles will be placed with other singles in numbers that allow for distancing). Gondola cabins will also receive extra cleaning after every ride. Physical distancing will also be encouraged in the lift line, and lift attendants will not require guests to ride with people who are not in their group.
Lift tickets will be limited on weekends and holidays at Silver as well and must be purchased online for these busier periods. However, the resort reports, midweek non-holiday tickets sales "will be business as usual" with ticket window and online purchase options. Plenty of precautions are also planned to make the lodging experience as safe as possible, and temperature testing of all guests will occur at Silver Rapids Indoor Water Park, where capacity will also be limited and ticket sales will all be online. Season passholders can expect unlimited access on the mountain. Check out the entire COVID plan at Silvermt.com. 
49 Degrees North
"We are pretty lucky that we have so much terrain that even on busy days we never seem to be crowded," notes Rick Brown, the director of skier and rider services at 49. He says the ski area isn't planning on limited ticket sales, but that limited availability because of COVID could happen on some holiday weekends. A new online sales system will also launch this season that will improve the guest experience by streamlining ticket and lesson purchase transactions. Tickets purchased online will be available for pick up at the ticket window.
49 will also be following the Washington State Safe Start guidelines, with social distancing encouraged, face coverings required in indoor spaces except while dining and in more crowded outdoors spaces. Check online for updates throughout the season at Ski49n.com. 
Lookout Pass Ski & Recreation Area
"We are certainly encouraging guests who can, to visit midweek to avoid any congestion on the weekends and over typically busy holiday periods," says Lookout's director of marketing & sales Matt Sawyer. Social distancing and mask wearing indoors and in crowded outdoor locations will be required. "No brown bagging will be available inside," adds Sawyer. "Please use your vehicle to eat lunches you brought from home." Lookout will sell day passes at the area on a first-come, first-serve basis. "We hope that we don't have to limit the number of people using the area, but…there may be a few days when we either reach an imposed capacity limit or we feel we'll reach a limit that we are uncomfortable exceeding and could stop selling lift tickets." Lookout is also exploring the options of remote ticket booths in the parking lot and the addition of Porta Potty's in strategic locations. More info at SkiLookout.com/Covid-19. 
Whitefish Mountain Resort
Given that the U.S./Canadian border doesn't look likely to open anytime soon, nearby Whitefish Mountain Resort in Montana will probably see even more powder-chasing Spokane and North Idaho skiers and snowboarders paying them a visit this season. If you're thinking about a trip to Whitefish, rest assured that the resort will be following CDC guidelines during the pandemic. Increased sanitation will be in the works and masks will be required indoors and in lift lines. The resort doesn't, however, plan to limit ticket sales or require a reservation to ski. More info at Skiwhitefish.com/covid-faq.