Ski Programs for Kids & Families this Winter
Local ski mountain staff are stoked for winter and to welcome guests including young skiers and riders and their parents back to the slopes. Sadly, what caused our season to abruptly end last spring has created new challenges this winter. Particularly in the Inland Northwest, where interstate travel is frequent and public health guidelines vary by state, county, and even city or public-health district, it's important that each of us takes a prudent mindset wherever we live or travel so that our mountain sports season can begin on-time and keep going.
Though each mountain may have slightly different operating procedures and protocols for group lessons, masking and social distancing will be universal, and every mountain will have reservation and online-purchase requirements for lift tickets and lesson packages.
With the fluid nature of the COVID-19 public health crisis, families need to check mountain websites and social media channels to stay updated on the latest operating policies. The four Ski the Northwest Rockies association resorts that help make this family winter sports guide possible (Mt. Spokane, 49, Lookout Pass, and Silver Mountain) have all invested considerable time and money to make getting your kids out to ski or ride this winter in a safe environment.
49 Degrees North Mountain Resort—Chewelah, Wash.
Group sessions this season will only be available for ages 7+. Because children ages 4-6 need a "more hands-on approach, especially in the early stages of learning to ski or snowboard." According to Snowsports School Director Alison Pasino, 49 Degrees North is offering a new Mommy/Daddy & Me Group Lesson. These 1.5-hour sessions, offered Saturday and Sunday mornings, will teach kids how to slide on snow and give a parent teaching tools to help their child "continue practicing those skills after the lesson is over," she says.
"Group sizes will be reduced for all age categories to allow for social distancing. We will also be offering more options for lesson times to help reduce crowding and spread demand out over the course of the day," says Pasino. "We expect demand to be high, and availability may be limited, particularly on busy weekends and holiday periods. For anyone concerned about crowds, weekdays are a great option to consider."
Private lessons for 1-5 people (all ages) are being offered this season for a set rate, providing a great value. This allows "guests the ability to stay in the comfort of their own family/friends bubble, get great coaching, and enjoy a day on the slopes with those they are most comfortable with," says Pasino. Private one or two-hour lessons for Mommy/Daddy & Me sessions are available daily (one parent and one child).
Parents can book lessons, buy lift tickets, and reserve rentals in advance at Ski49n.com.
Lookout Pass Ski & Recreation Area—Mullan, Idaho
Private lessons for individuals, families, and self-organized small groups of family and friends are available with advance reservations—call (208) 744-1234 and ask for the Ski School Desk.
"If a family or friends group is comfortable taking lessons together or having their children take lessons together, we will happily accommodate them," says Lookout Marketing Director Matt Sawyer.
Because the Free Ski School is not part of Lookout's professional instruction program, and taught by volunteers, the planning process is still being figured out for 2021. But according to Sawyer there will be a free lesson program this winter.
Check for updates and make reservations at Skilookout.com.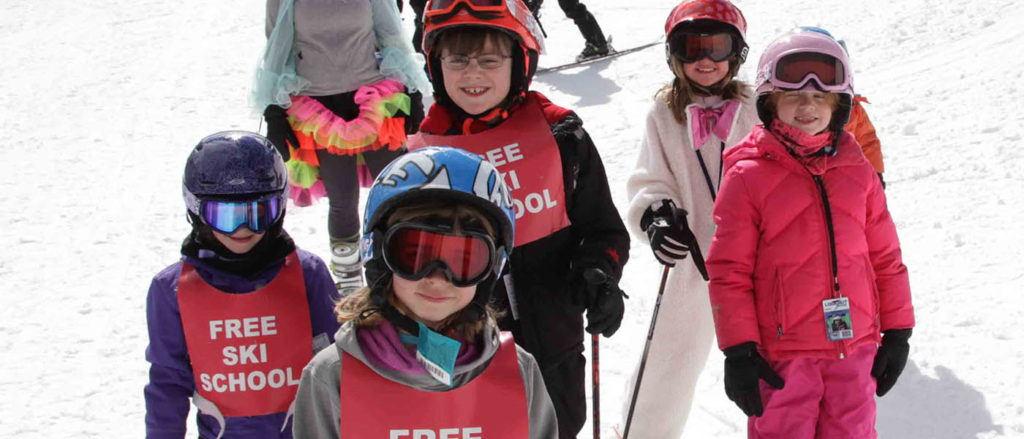 Mt. Spokane Ski & Snowboard Park—Spokane, Wash.
The new management team at Mt. Spokane—General Manager Jim van Löben Sels; Director of Marketing Jodi Kayler; and Outdoor Recreation Manager (ski school director) Katrin Pardue—has been working on program offerings and modifying plans according to Washington's Safe Start and Spokane County public health requirements.
"Our top priority is to provide the opportunity to shred the stoke, while keeping customers and staff safe and healthy," says Pardue. The on-mountain Snoplay Daycare is closed this season, so the Mini Mites group lesson program will only be a two-hour session. Many of Mt. Spokane's other lesson programs, however, will be provided this winter.
"We are limiting numbers of students per group to two pods of 12 people for each age group. Our Minis will only have 6 total students per group," Pardue says. In addition, meeting points for class groups will be spread out around the base area in order to prevent crowding. Three-day Holiday Camps and multi-week packages for Saturdays and Sundays are also available.
Make online reservations for lift tickets and lessons and check program updates at Mtspokane.com.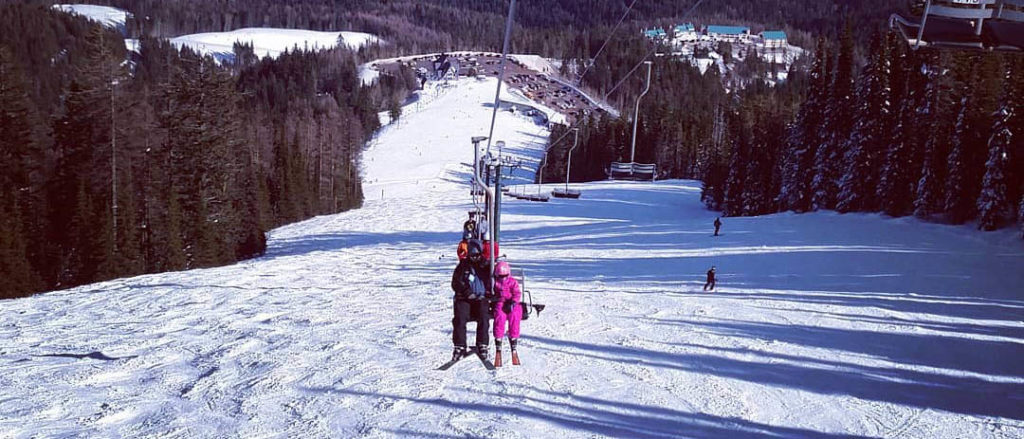 Silver Mountain Resort—Kellogg, Idaho
Families can schedule private or semi-private lessons for all ability levels with 24-hour advance reservations required. Lessons for weekends and holiday periods must also be booked online, at least 24 hours in advance.
The Silver Kids lesson program, for ages 7-12, is only offering group sessions for "Never-Ever" (Level 1) and Beginners (Level 2) this season. Because the on-mountain daycare is closed, the Prospectors programs for kids age 6 and younger is cancelled. Plans have not yet been announced for Silver's ALL Mountain Kids Club.
Find complete program details and updates at Silvermt.com.
Amy McCaffree first learned to ski in 9th grade with Friday night lessons at Ski Acres, at Snoqualmie Pass, through her school's Ski Club. Her first set of used skis had leashes that looped around her boots (no brakes). Now she alpine skis with her ski-patroller husband and their two children at Mt. Spokane.