Camping. A sweet, simple, American summer tradition. Loading up the camper and kids for the weekend use dto be about getting away from it all to re-charge the old batteries at some quiet lake or creek-side camp. Sadly, a visit to many of our larger designated campgrounds with paved parking pads and rows of behemoth recreational vehicles crammed full of stuff and stacked up on top of each other is a sure sign that the simpler, quieter days of camping yesteryear just ain't what they used to be.
The amount of gear, household comforts, digital devices, and other artifacts of civilization that many campers load into their rigs and lug off with into the wilds is astounding. But hey, some might argue, if there's room in the old Ford Extinction SUV for the 400 square foot cabin tent, dvd library and lap-top, and the ipod dock home sound system for a little camp mood music, why not, right?
Maybe that's exactly right. Despite my recreational moralizing, I'm guilty of hauling an absurd amount of outdoor gear with me on most of my trips to favorite backwoods haunts. I even recently purchased a Scooby-doo era camper van to make it even easier to pack gear for just about every outdoor pursuit or occasion I may encounter. Could it be that our all-too-slowly waning obsession with larger and larger automobiles is at the heart of what's gone wrong with camping? It seems to be a big part of it at least. Our supersized rigs have enabled us to turn good-old, get-back-to-nature camping into another demonstration of American gluttony and our alarmingly growing disconnect with nature and community.
For those, like myself, who just can't help but slip an extra unnecessary camp item into the trunk before tearing down the highway towards them yonder hills, here's a simple solution that may help you get back to the basics of spending a night out under the stars this summer. Car-free camping.
I'm not suggesting spending the weekend competing for camp sites with Spokane's sizeable homeless population, and you don't have to be a dirt-worshiping commie to put down the car keys and consider an alternate form of recreational transportation for a couple of days. Leaving the car behind and travelling to a nearby campground via bike, bus, or on foot does, however, mean taking fewer things with you, since you'll be carrying everything you'll need in your backpack or strapped to your bicycle.
But it also means you'll have fewer barriers and distractions between you and the people, wildlife, sky, stars, trees, crickets, and water you'll be spending the night with. You'll also save a few bucks on the cost of driving your gas-guzzling, loaded down camper wagon from here to Timbuktu, and you'll get to know the urban wilds around you in a more personal way than you ever could zipping by at 30 mph.
Possibly the best part about a car-free camping trip is that the adventure begins when you leave your front door. Enjoy the freedom from clutter and savor the summer pine forest smells as you ride up the Fish Lake Trail towards Cheney or hike on the Columbia Plateau Trail through Turnbull National Wildlife Refuge, or the gorgeous view of the Spokane River as you backpack along Summit Blvd on your way to Riverside State Park. Take the time to look out up at the largely undeveloped ridges of Tower Mountain and Mica Peak along the south edge of the Spokane Valley on your bus or bike ride out towards Liberty Lake. Once you're all rested up at your destination camp, these options offer some of the Spokane area's best trails, wildlife viewing, and swimming opportunities that should be easily accessible with your mode of transport of choice.
The following five car-free camping suggestions are but the tip of the iceberg of opportunities for Spokane-based, car-less outdoor adventure. While these trips can all be pulled off on a summer or fall weekend, and include designated campgrounds that you can access by hopping on a STA bus and/or hiking and biking a reasonable distance, there are nearly endless options for hiking, biking, bus and train hopping your way to other designated and unofficial (i.e., potentially illegal) camp spots around Spokane and the Inland Northwest.
Planning Your Car-Free Adventure
Each of the campgrounds highlighted here offer the basic necessities for tent camping like picnic tables, drinking water, restrooms and tree shade. Some have showers, and other amenities, including swimming, BBQ grills, and campfire pits. Hours of operation and space availability may vary wildly depending on the day of the week, local events, and other factors, so call ahead to check and reserve your spot if possible (especially for the Bowl and Pitcher campground).
You'll also need to put some thought into the easiest or most enjoyable or scenic way to get to your campground of choice. I've included mileage estimates, general route suggestions for biking or hiking, recommended bus routes, and campground addresses when available, but you'll need to use this information and the bus and bike/pedestrian route links provided to customize your own route. Print off an extra copy of your route description and map to take with you to avoid prolonged scenic detours.
Biking & Hiking Route Suggestion Links
Bus Route Info
Taking Your Bike On an STA Bus
Throwing your bike on a bus will help you shorten the riding distance to several of the campgrounds recommended in this article. Back when STA first started offering bike space on their buses, you needed to obtain a special card after watching an exciting instructional video before using their two-bike rack system. Nowadays, no card is necessary, and your only concern will be catching a bus that isn't already maxed out with other bikes and making sure the driver knows you're going to be taking your bike off the rack when you get off at your stop.
WHAT TO BRING: In addition to the no-brainers like clothes, comfortable shoes or boots, your tooth brush, etc., consider bringing the lightest weight and/or most compact versions of the following gear essentials plus anything else you can't live without for a night or two away from home.
Dry bag or backpack
Bungee cords or rope for lashing gear to your bike
Tent, sleeping bag and pad
Rain gear
Sandals
Extra non-cotton warm clothes
Headlamp
Backpack stove w/ fuel, cook pot, mug, spoon, and lighter
Lightweight canned or dried food
Water bottles and/or hydration pack
Sunscreen and non-toxic bug spray
First aid/bike & tire repair kit
To learn about bikepacking including gear recommendations, use this link to archived stories.
Riverside State Park
Bowl & Pitcher Campground: 4427 N AUDREY L. WHITE PARKWAY, SPOKANE
Riverside State Park and the Bowl & Pitcher campground have long been Spokane hiking, biking, and camping staples. Just a half dozen or so miles from downtown await seemingly endless biking and hiking trails through pine forest and basalt cliffs along the Spokane River.
The campground, which normally costs $21 a night for tent, often fills up in the summer, so making reservations several weeks to a month in advance are recommended, especially if you're hoping to score one of the better sites down by the river. There are primitive hike-in bike-in sites for only $12 that are available first-come, first-served and are usually not all filled even in the summer. Call the Park Ranger for details.
While the campground itself may be a bit crowded, you only have to cross the refurbished CCC era suspension bridge and head on down the trail to get away from it all.
GETTING THERE: A great hiking or biking route from downtown starts off through Peaceful Valley and north over the Spokane River at People's Park/Sandifur Bridge and up into the West Central neighborhood. From there, head north along the river gorge on Summit Blvd and then N Pettet Drive down the hill and across the T.J. Meenach Bridge.
You can also get to this same area with a little less work off of STA bus route #20/33 (ask the driver for the best stop between SFCC and T.J. Meenach Bridge) and then hike or bike the rest of the way to the campground on the paved Centennial Trail or the highly recommended dirt-path River Trail (both start right around T.J. Meenach). The two trails parallel each other for several miles on their way downriver to the Bowl and Pitcher foot bridge, which you'll cross to get to the campground, but they are different worlds: one paved and civilized, the other wild and primitive.
MORE INFO:
Riverside State Park (WA State Parks official page)
Campsite Reservations: 1-888-226-7688 (reservations)
Ranger Station, Nine Mile Falls: 509-465-5064 (general info)
Bowl & Pitcher Campground: (509) 625-5553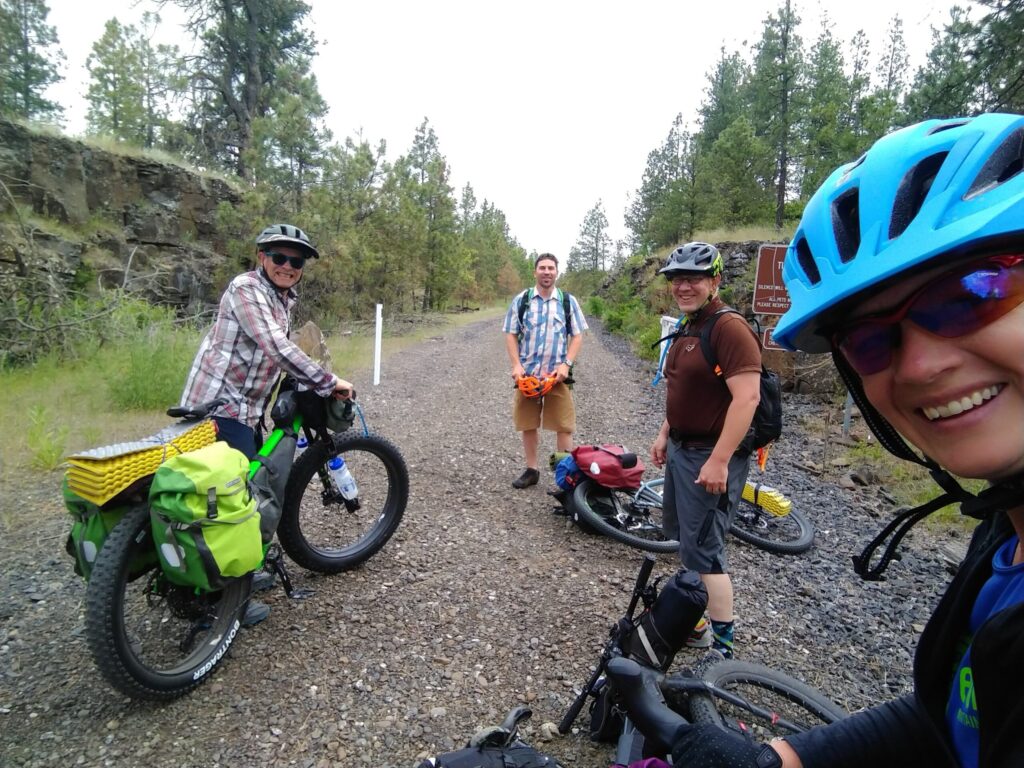 Peaceful Pines Campground & Fish Lake/Columbia Plateau Trails
Peaceful Pines: 1231 1ST STREET, CHENEY
In the years to come, the partially paved Fish Lake Trail will directly connect the Centennial Trail near downtown Spokane with the crushed rock surfaced Columbia Plateau State Park Trail that runs from Fish Lake near Cheney to Pasco, WA. However, you don't have to wait to do a car-less trip incorporating stretches of these incredible trails.
In addition to the easier to reach Peaceful Pines RV Park and Campground highlighted here, this trail system provides mostly biking access to two other campgrounds on Williams Lake south of Cheney with a little creative back road route finding. Don't expect a wilderness experience out of Peaceful Pines; it's near Cheney and the railroad tracks, so load some Johnny Cash onto the iPod and bring some ear plugs, seriously.
On the flipside, for anyone wondering why the hell I'm recommending this place, it's also only a couple miles from both the Fish Lake Trail trailhead off of Cheney-Spangle Road and access to the Turnbull National Wildlife Refuge stretch of the Columbia Plateau Trail off of Cheney-Plaza Road, which makes it a great multi-trail launch pad for hikers or fat-tire riders.
The refuge itself, with more trails, is only a few miles out of town down Cheney-Plaza road. Also, as the camp host I talked to on the phone noted, if you pedal hard enough getting out there, you'll sleep just fine through the trains. Camp sites are $25 a night, but you may want to ask for a hiker/biker/train noise discount.
GETTING THERE: From the western edge of downtown Spokane across the bridge from Browne's Addition, head out from the Fish Lake Trail trailhead behind the church at Government Way and Sunset Blvd. To get all the way to Cheney, you'll need to leave the trail at Scribner Road and ride the Cheney-Spokane Road the rest of the way to Fish Lake, where you can get back on the trail (which is paved again at that point) to Cheney. You may encounter other necessary detours, as paving work on dirt stretches of the trail is set to begin this year.
At the end of the pavement at Cheney-Spangle Road, head right down the road a mile or so into town, then head left on 1st Street and ride about a mile to the campground on your left. You can also take STA bus route #65 to Cheney from the downtown plaza with your bike or pack and get off at the far west end of town across the street from Peaceful Pines.
MORE INFO:
Peaceful Pines info @ 1-800-985-2966 or (509) 235-4966
Fish Lake Trail – Washington Trails Association
Centennial Trail to Liberty Lake Regional Park
Liberty Lake County Park and campground: 3707 S. ZEPHYR ROAD, CITY OF LIBERTY LAKE
This treasure of a county park, with a wetland and tall pines surrounding the campground and a surprisingly wild and scenic trail system a few feet from your tent door, makes this car-free camping option one of the finest close to Spokane. Moose, bear, elk, deer, and a variety of other animals, birds and waterfowl live in the surrounding forest and wetland.
Getting there is also a pleasure and a workout if you choose to bike out to the city of Liberty Lake via the Centennial Trail and then through the city to Liberty Lake Regional Park. The campground includes tent sites and rental cabins (and a sites for RVs). The main trailhead right across from the campground gives access to easy hiking along the nature trail up to a cedar grove, and a more challenging hiking loop w/ a waterfall or a sweet mountain bike climb and descent up the Edith Hansen Riding Trail. Find the latest details and campsite rates online at spokanecounty.org.
GETTING THERE: Get on the Centennial Trail from wherever you're starting from, then bike out to Harvard Rd. and Liberty Lake. Or you can shorten your ride or make it a bus/bike/hike combo by using the STA bus route #72 or 74 out to Liberty Lake (these routes only run on weekdays) or the STA Sprague route #90, which runs 7-days a week out to Barker Road (a few miles shy of Liberty Lake), and then hike or bike your way through town and past the golf courses to the park on the southeast end of the lake. From the trail bridge over I-90 just off Harvard Rd. or from the Liberty Lake park and ride, it's about 4 miles to the park.
MORE INFO: 509.477.4730, Liberty Lake Regional Park
Mount Spokane State Park
24817 N. MT. SPOKANE RD., MEAD
Mount Spokane State Park is probably best known for its ski lifts and cross-country ski trails, but the 13,919-acre park which tops out at 5,883-feet is also a treasure trove of pristine forest, diverse wildlife, and amazing hiking and mountain biking trails. There are also two options for legal camping. Biking from Spokane, the first and easiest camping option is at Bear Creek Lodge at about 25 miles from downtown. The campsites are nestled between the mountain road and the creek, just a short distance from the private lodge that serves eats, beer, and other beverages in their restaurant and lounge.
A few miles up the under-construction Mt. Spokane road and a few hundred feet below the summit, is the park's Bald Knob campground with first-come, first-serve sites in a more remote, pristine setting than the roadside camping at Bear Creek Lodge. Make sure you have enough water for the park campground as H2O is not always easy to find there in the summer. You can also make reservations to stay in the park's Quartz Fire Lookout. Both campgrounds have several trails nearby. In addition to some of the best hiking and mountain biking around Spokane, amazing views of the Selkirk Mountains and surrounding lakes from the summit shouldn't be missed. The Friends of Mt. Spokane website offers great online resources and maps for planning your adventure agenda.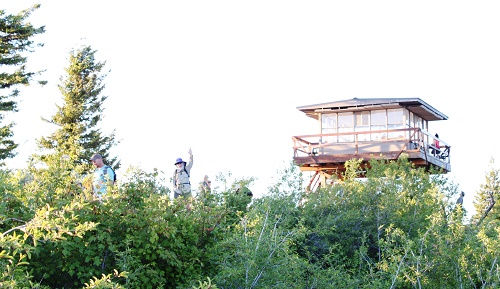 GETTING THERE: The entrance road into the park will be closed for construction this summer on Mondays through Thursdays, but the road will be passable for fat-tired bikes through the construction and up to the campground Friday-Sunday, and the trail system beyond the road is open all week long. The ride from downtown is a hearty 25 miles or more depending on your route choice and final camping destination. Once you reach Bear Creek Lodge (assuming you're not camping there) or the developed trailhead just beyond the state park boundary, you can continue on the road or take one of several trails (#120 is the easiest ride up) that you can bike or hike-a-bike for access up to the state campground, which is signed along the road up to the summit. You can also shave some miles off your ride by hopping on or transferring to STA bus #25 or #28 with your bike and getting off near the Northpointe Shopping Center for the mostly scenic pedal out Hwy 2 and Mt. Spokane Park Dr.
MORE INFO:
Bear Creek Lodge: 509-238-9114, bearcreeklodgewa.com
Mount Spokane State Park: 509-238-4258, parks.state.wa.us/549/Mount-Spokane
Trail info and maps: mountspokane.org
Pend Oreille County Park
Another little-known and underappreciated Spokane area gem, this park and campground just a few miles north of the Spokane/Pend Oreille County line is a quiet, relaxing weekend retreat from the city. The campground sits under the canopy of beautiful tall trees with several $10 tent sites. To keep you busy after the 30-mile bike ride out to the park, there are 7 miles of loop hiking trails with great names like Veronica's Prom, Penstemon Point, and Ginger's End that wind through a mixed conifer native plant wonderland.
GETTING THERE: Choose the best route from your location using the route finding links provided earlier in this article and pedal your road or mtn bike-30 miles north from downtown Spokane. You'll find the park entrance on your left about two miles after crossing over into Pend Oreille County. You can shorten the ride some by hopping on STA bus #25 or #28 out to Hwy 2 near the Northpointe Shopping Center.
MORE INFO: pendoreilleco.org/county/parks.asp
Originally published as "Car-Free Camping: Hike, Bike, Or Bus To A Cheap Night In The Great Outdoors" in the August 2009 issue.
[Feature photo by Carol Corbin – Biking on the Columbia Plateau Trail to the entrance of Turnbull National Wildlife Refuge.]
[Updated online: May 2021]