Have you always wanted to try stand up paddleboarding, rock climbing, kayaking or geo-caching? How about SUP yoga, disc golf, slacklining or demoing the latest mountain and road bikes and stand up paddleboards? Or is hanging out in a pine-shaded beer garden watching mountain bikers flying through the air at the Spokatopia Mountain Bike Jump Jam and listening to live tunes more your style? At the third annual Spokatopia Outdoor Adventure Festival Saturday, July 8, 2017 you can do all of those things plus sign up for a morning trail run to the top of Beacon Hill (the Up Chuck Challenge), enjoy live music and check out over 40 outdoor recreation-oriented booths and free samples and demos at the festival exhibitor area. General admission is FREE, although there is a fee for signing up for some outdoor activities/adventure clinics. Event hours are from 10 a.m. to 6 p.m.
Outdoor Recreation Activities/Adventure Clinics
Try outdoor recreation activities like stand up paddleboarding, kayaking, canoeing, disc golf, rock climbing, geo-caching and SUP yoga. Sign up in advance here or at Camp Sekani Park the day of the festival (if there's space remaining). Cost: $10-20 per person depending on the activity. Water-based excursions happen on the river at Boulder Beach a short walk through Camp Sekani Park and the geocaching, rock climbing and disc golf take place at Camp Sekani. For all adventure clinics, check in at the registration booth at Camp Sekani to confirm when and where to meet. (Activities subject to change.)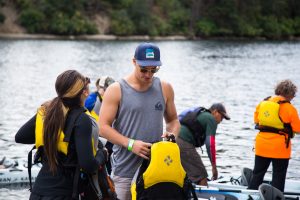 Outdoor Booths & Demos
The central festival grounds at Camp Sekani will be transformed into an outdoor adventure expo under the sun and pines, with booths from the region's top outdoor recreation oriented companies and organizations, from bike shops and outdoor product retailers to outdoor clubs and other small businesses that cater to active adults and families. Demo bikes, paddle sports gear, slacklines, and other demos will also be on hand for festival goers to try out, and there will be product samples available as well. (Call or email 509-822-0123 or shallan@outtheremonthly.com for exhibitor information.)
The Biggest Bike Demo and Sales Event of the Year
Local bike shops, including Wheel Sport, North Division Bicycle Shop, Mojo Cyclery, The Bike Hub, and Velofix, along with Northwest reps for your favorite bike brands, will be set up at Spokatopia offering demos and selling bikes and gear from Specialized, Pivot, Yeti, Trek, Rocky Mountain, Santa Cruz, and other brands. Come check out full suspension, front suspension, hardtail, and downhill mountain bikes; fat bikes; hybrids; 29ers; and road and commuter bikes. This will be the biggest bike demo and sales event in the Inland Northwest this year, so don't miss out if you're thinking about buying a new bike or want to see what's out there for the future. Demo bikes can be checked out for free (with a current ID) and ridden on Camp Sekani singletrack, forest roads or on Centennial Trail pavement right there at the festival.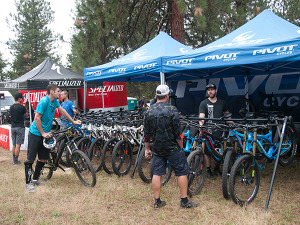 Paddleboard & Other Water Sports Demos
If you've been thinking about buying a stand up paddleboard or just want to try different options out, this is your chance to try Stillwater Outdoors inflatable SUPs and paddles with Fun Unlimited at Boulder Beach below the central festival grounds on the Spokane River. Mountain Gear will also have a fleet of paddleboards, kayaks and canoes available to demo.
Beer Garden, Music & Food
Enjoy craft beers from the Inland Northwest and beyond in the pine-shaded beer garden located in the Spokatopia central festival grounds while watching live music and grooving to KPND 95.3 FM in between sets by Wyatt Wood, Flying Spiders and other local bands. Proceeds from the beer garden and the festival benefit Evergreen East Mountain Bike Alliance – drink up and support your local mountain bike club! Local food vendors, including BEET It Up! Mobile Juice Bar, CRATE and Nick's Shameless Sausages, will also be on hand to fill your belly after a day of spinning pedals, paddleboarding, slacklining, trail running and checking out other festival activities.
Mountain Bike Jump Jam
Watch talented local riders fly through the air on bikes, pulling off tricks and launching off huge gap jumps that few mountain bikers can execute and land. Follow the signs to the Camp Sekani bike park through the trees a few hundred yards to the east of the main festival grounds. This free event promises to be an awesome experience for spectators. Show up early to watch riders "practice."
Free Sekani Downhill Mountain Bike Shuttles
For one day only, you can ride your choice of Sekani trails without having to pedal or push your bike to the top in the July heat – that is unless you want to! Bring your own mountain bike or take a demo bike for a spin down your choice of Camp Sekani trails, from easy, intermediate to expert or insane. And then catch a ride back to the top in the Evergreen East sponsored shuttle vehicle and do it again! Evergreen East volunteers will be on hand to help riders pick the right trails for their ability levels, and if you prefer to go it alone, you can pick up a free trail map at the Evergreen East booth. Thank you to Silver Mountain Resort for sponsoring the downhill mountain bike shuttle zone!
5K & 1.5 Mile Up Chuck Challenge Trail Run/Walk
The 3rd annual Up Chuck Challenge trail run starts at Camp Sekani Park on the Up Chuck Trail for a fun, nearly all singletrack 5k climb to the top of Beacon Hill (1,000 feet of elevation gain). New this year, run or walk the 1.5 mile "Up Chuck Lite" course to the top of Camp Sekani. The race is timed on the up only, with another 2.3 mile run or walk back to the start for the 5k, and a half mile walk/run back down for the Up Chuck Lite 1.5 miler. Pick up your race bandana back at the start at the Spokatopia festival and hit the beer garden or Boulder Beach to demo paddleboards.
Morning Yoga Lesson (Free!)
Free Outdoor Yoga for Everyone Spokatopia morning under the big weather-proof tent on the north side of the meadow. Join yoga teacher Janelle Britton in the pine trees as they *move* you into the day. Class style is appropriate for all levels. Never done yoga? Don't feel flexible? Been practicing for 10 years? Take classes weekly? THIS CLASS IS FOR YOU. Bring your yoga mat! It's going to be amazing. Class starts at 10 a.m.
Weather & What to Wear
Since Spokatopia is an outdoor adventure festival, it's a good idea to come prepared for all sorts of weather, from possible rain showers to warm afternoon sunshine breaking through the clouds. Don't forget your bike shorts/helmets for the free bike demos and board shorts/swimsuit for paddleboard and other water sports demos. An extra set of dry clothes, a towel (if you're going in the water) and sunscreen are a good idea too. Please also bring shoes or boots for bike demos, your own water bottle, a current picture ID for bike/water sports demos, and cash or a card for the $5 demo pass (good for all-day bike and water sports demos). Cash or a card will come in handy for the beer garden, food vendors and other outdoor recreation items that will be for sale from festival exhibitors.
Festival Parking/Directions
Stay tuned for 2017 festival parking info coming soon! Like past years, there will be shuttles from nearby parking areas and a secure, free bike corral at Camp Sekani Park, which is located between downtown Spokane and Spokane Valley on E. Upriver Drive.
More information at spokatopia.com.