When you don't have time for a full out-of-town trip or you just need a quick adventure fix, try a variation on one of these local gems.
Hike or MTB a New Trail: Maybe the trail isn't exactly new, but just new to you. Nothing beats the delight of exploring an unfamiliar place and encountering unexpected wonders over the next hill. If you're running out of new-to-you trails, check out the super new Flying L Trail in the Dishman Hills in Spokane Valley or the hiking and biking trails out of the Mica Peak Conservation Area, both in Spokane Valley.
Bikepack the Centennial Trail: Ride one-way between Spokane and Coeur d'Alene on the Centennial Trail and end your ride at a swimming spot, park, or pub before staying the night at a nearby hotel, campground, or RV park. Then ride back home the next day.
BBQ Ride to the Bowl & Pitcher: Pack up the kids, rally your buddies, and load up the paniers with the makings of a barbecue-to-go on your bikes. Ride from your house or from a Centennial Trail trailhead to Riverside State Park's Bowl & Pitcher where they have public barbecue grills in the picnic day-use area. For a closer, more urban adventure, ride to Coeur d'Alene Park in Browne's Addition in Spokane and take over one of the grills there.
Go Birding: Thanks to humanity's ongoing missteps when it comes to letting enough of nature live wild and free, bird populations across the planet and in our own backyard are declining in frightening numbers. See how many new bird species you can identify by hiking Spokane Conservation Futures natural area trails or exploring other wild areas nearby. Find birding resources and learn more about getting involved in bird conservation locally and nationally at Audubon.org.
Fly Through the Trees above Lake Coeur d'Alene: Try ziplining close to home at Timberline Adventures in Coeur d' Alene. Experience seven exhilarating zip lines, two sweet sky bridges, and two auto-belays against lake and mountain views. Glide from tree to tree as you fly up to 400 feet above the trees. Timberline also offers a full zip line tour and lunch on the deck of a treehouse and a s'more-themed zip tour complete with sunset views.
Start a DIY Trash Cleanup: I first met Out There's Everyday Cyclist columnist Justin Short wandering around a natural area down by the Spokane River several years ago. He was picking up trash on his own because it needed to be done. I was walking to a pub for a beer. I still feel guilty that I didn't stop and help him out whenever I think about that. Damn that beer tasted good though. But really there's no reason we can't do both this spring and summer. Rally a few friends for a weekly or monthly DIY trash pick-up through a park or natural area you love and finish at an outdoor patio for a drink well earned.
Bag a Nearby Summit: For summit views, hike to the top of Mount Spokane from one of the trails at the bottom of the mountain near the state park entrance for a long day hike with climbing galore. Closer to Coeur d'Alene and with fewer miles and less climbing is the out-and-back hike to North or South Chilco Mountain (or both). In Spokane Valley, trails up to Antoine Peak offer public lands access to great views of the valley that can be squeezed in after work.
Practice Sailing or Boating on Lake Coeur d'Alene: If you're interested in getting into boating or learning to sail but don't have your own boat just yet, head out on one of Fun Unlimited's rental boats. Options include several types of motorboats and sailboats moored at Templin's Resort in Post Falls.
Learn New Constellations: Find a nearby place where the sky is dark enough to gaze at the stars and learn new constellations. Download a star gazing app for a game-changing identification experience. Look for shooting stars, satellites, and UFOs too.
Ride the Fish Lake Trail: Ride the paved Fish Lake Trail near downtown Spokane. With a little bit of road riding, you can pedal all the way to Fish Lake for a dip or afternoon bike-fishing session. Or continue on along the Columbia Plateau Trail through Turnbull National Wildlife Refuge as far as you dare to go. Wide, fat bike tires are standard equipment for riding the loose, ballast rock surfaces west of the Martin Road Trailhead near the town of Sprague.
Paddleboard, Kayak, or Go Tubing Downtown Spokane: Once river flows drop and summertime temps rise, rent paddleboards or kayaks from Fun Unlimited at the Division Street put in (open all summer) and explore the calm waters upstream. If you live close enough, you can even ride your bike on the Centennial Trail to get to the put-in to go paddleboarding. Or go tubing or kayaking on the mostly mellow whitewater below the falls from the put-in at Peaceful Valley or at People's Park. You can rent tubes and procure a shuttle from FLOW Adventures to simplify things. Be sure to get off the river at the take-out at T.J. Meenach Bridge to avoid potentially dangerous rapids downstream.
Create Your Own MTB Epic: Recruit a few friends and make your own 50-mile or century-distance mountain bike ride on trails and roads in and around Riverside State Park in Spokane or Canfield Mountain or Caribou Ridge area trails near Coeur d'Alene. That post-ride tailgate will never feel better.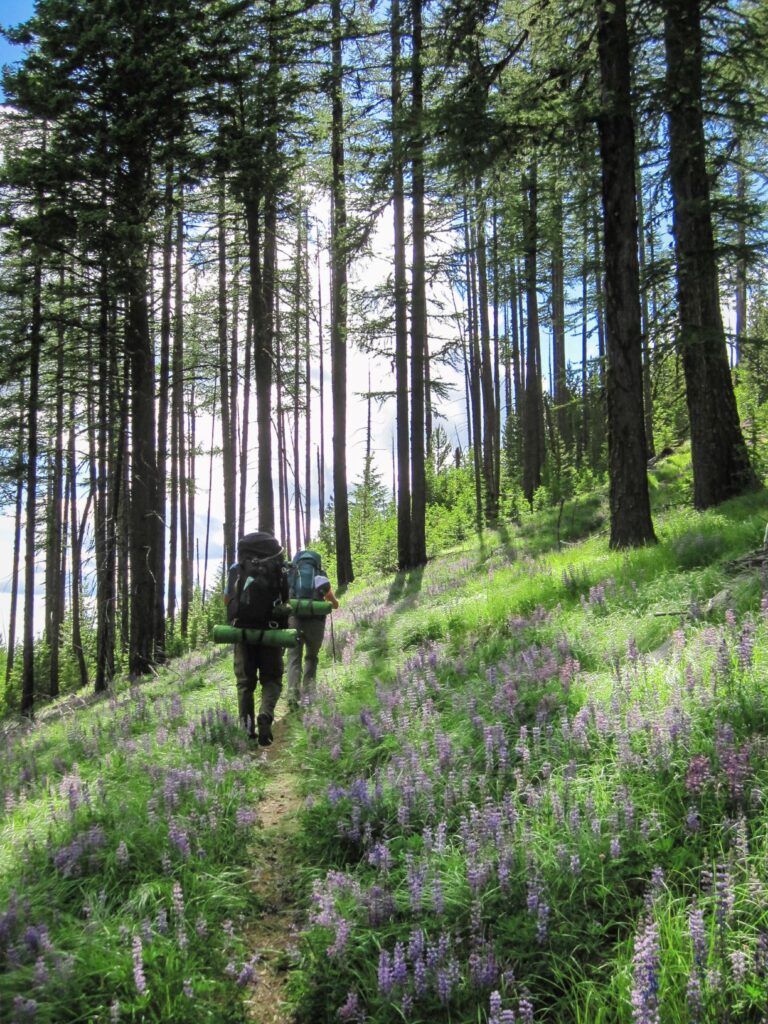 [Feature Photo: Timberline Adventures in Coeur d'Alene, Idaho. // Photo courtesy Timberline.]