When planning a trip, from an action-packed weekend to a longer getaway, the choice of where to go often depends on your group's needs and desires. The place you really want to visit, let's say the Leavenworth area, may not be the best choice because it's a holiday weekend and every hotel room, campground, and place to park a camper or pitch a tent near town is occupied. Or maybe you really, really want to go trail running in Hells Canyon, but it's mid-August and it will be a rattlesnake infested inferno that your heat stroke-prone husband might not enjoy. It's good to be clear with yourself and those traveling with you whether your intent is to visit a specific place or enjoy a specific activity, like swimming, hiking, or singletrack mountain biking, and adjust your plans to the season and conditions.
The point here is, don't let your zealous push to get to a specific place or do a particular activity blind you from the fact that it may be the wrong month, weekend, or place to experience what you're really after. Here are some Inland Northwest trip ideas with some general direction on what you can expect and when it's best to visit, without giving away all the secrets that you will benefit from discovering on your own.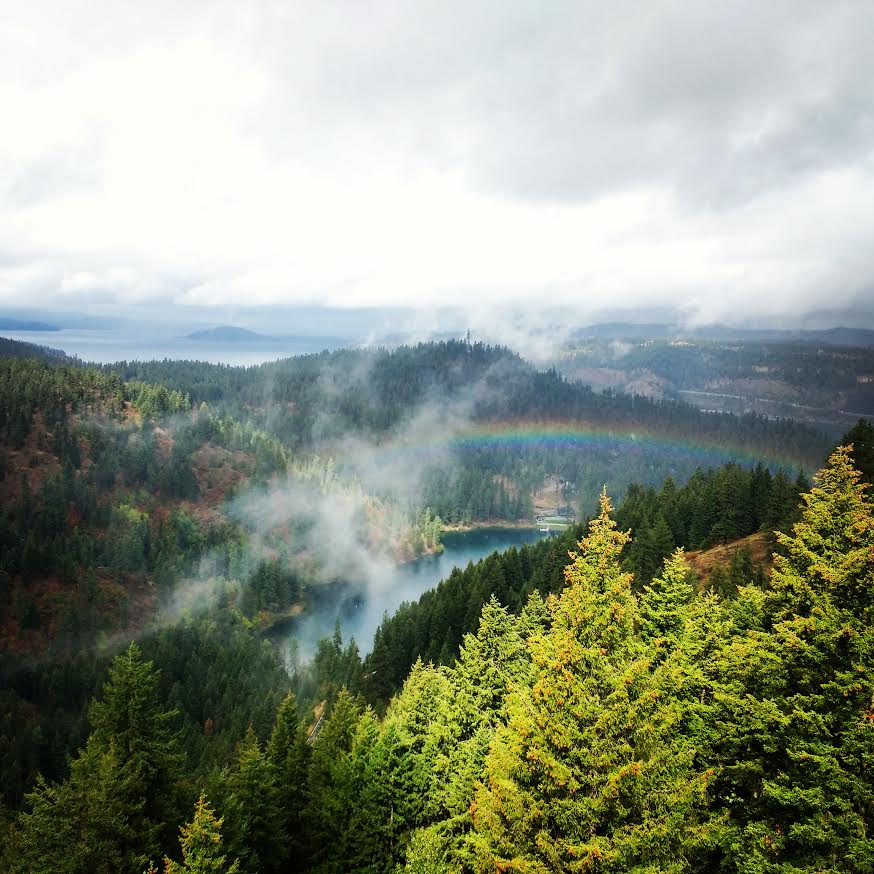 NORTH IDAHO
Silver Valley
When you drive east on I-90 from Spokane through North Idaho, the Silver Valley extends between Fourth of July and Lookout passes and includes the towns of Kellogg and Wallace.
Best For: Mountain biking, hiking, mining history, fishing, rails-to-trails biking, and scenic drives.
Lodging/Camping: Wallace and Kellogg have the largest, most modern hotels, and there are several historic lodging options in Wallace as well. Silver Mountain Resort's Morning Star Lodge has vacation condos that include access to the resort's huge indoor waterpark. Camping options include private RV resorts and dispersed camping on nearby public lands, as well as several popular Forest Service campgrounds along the North Fork of the Coeur d'Alene River.
Top Picks
Lake Pend Oreille
Idaho's longest and deepest lake, Lake Pend Oreille, dominates the North Idaho landscape around Sandpoint, Idaho. The lake offers unbeatable water sports activities, with over 200-miles of shoreline, and the surrounding mountains provide lake views and miles of hiking and biking trails.
Best For: Swimming, paddling, boating, and hiking/mountain biking trails, as well as arts, culture, and excellent restaurants in Sandpoint.
Lodging/Camping: Find a wide range of lodging options in and around Sandpoint, along with plentiful public campgrounds a short drive from town. If other options are booked or you're looking for a more rustic camping experience, look for free, dispersed campsites along Forest Service roads that lead to hiking trailheads.
Top Picks
Sandpoint City Beach: A popular stretch of public sand on the lake only a few minutes-walk from downtown, this 6-acre park includes protected swimming areas and grassy picnicking spots. Note that dogs are not allowed.
Hike & Bike: There are several trail systems for mountain biking and hiking around Sandpoint. Try local-favorite and close-to-town trails at the Syringa Trails system. Check out Pendoreillepedalers.org or Trailforks for more options and maps.
MTB Schweitzer: Lift-assisted mountain bike trails at Schweitzer Mountain connect with The Little Sand Creek Basin trails below the resort to create a 25-mile trail network. Schweitzer also offers scenic chairlift rides, summertime dining, and hiking trails. New trails are always in the works, so return and ride often.
High Country Hiking: There are enough hikes in the wild and rugged Selkirk and Cabinet mountain ranges, which create the dramatic backdrop to Lake Pend Oreille, to fill a guidebook. Try day hikes in the proposed Scotchman Peaks Wilderness or choose the right trail from one of several real guidebooks.
Farragut State Park: Hike, bike, and enjoy the lake at Farragut State Park south of Sandpoint. This huge, 4,000 acres park has six campgrounds, rental cabins, and over 40 miles of hiking and mountain biking trails. Enjoy lake and beach access with excellent swimming spots.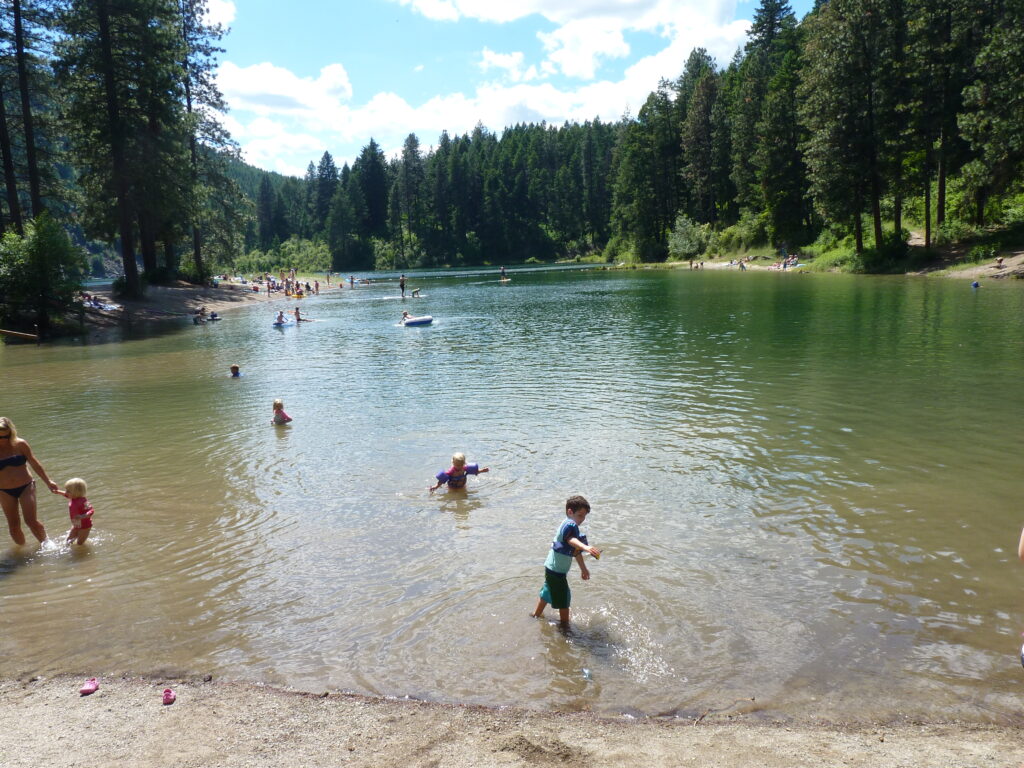 Lolo Pass/Clearwater Country
40 miles southwest of Missoula, Mont., Highway 12 climbs over 5,233 foot Lolo Pass in the Bitterroot Range. Heading west from that high point, the highway follows the Lochsa and Clearwater rivers to Lewiston, Idaho, passing through a magnificent spread of public lands with seemingly endless trails and roadside historic sites.
Best For: Whitewater rafting and kayaking, hiking, camping, backpacking, summertime swimming, back road drives, wildlife viewing, history, and fishing.
Lodging/Camping: Literally surrounded by wilderness, there are few lodging options along the Highway 12 corridor, but the ones you'll find are quite unique and enjoyable. Rent a rustic cabin at Lochsa Lodge near Lolo Pass and high-mountain hiking trails. Or head down to lower elevations near the confluence of the Selway and Lochsa rivers to find newer, larger cabins and glamping tents at River Dance Lodge or cabins, RV sites, and camping options at Three Rivers Resort. There are several public campgrounds on the Lochsa and Selway rivers and endless, free dispersed camping opportunities along Forest Service roads.
Top Picks
Whitewater Rafting: Rafting the wild Lochsa River during peak flows, typically in May and early June, is a recreation right of passage for Inland Northwest outdoors lovers. The rapids are no joke, so book a trip with an outfitter if you don't have class IV whitewater skills.
Wilderness Hiking: Hike the Selway Bitterroot Wilderness to find solitude in this vast and beautiful national treasure. With over a million acres of land and nearly 2,000 miles of trails, it's not hard to find the right trail. Many trails receive spotty maintenance, so try trailheads close to the highway or out of the Wilderness Gateway Campground. Phone the Forest Service for more trail info.
Selway River Falls: Drive to Selway Falls on the Selway River to gawk at the cascade's beauty and then go for a hike. The falls is most dramatic in May and June but is a beautiful sight to behold anytime. Later in the summer, there are plenty of beaches and swimming spots downriver. Hikes nearby include the Selway River Trail, a mellow, meandering trail that follows the Selway River into designated wilderness (rattlesnakes can be plentiful), and the Meadow Creek Trail that climbs gently for the first three miles up a major tributary of the Selway (a more rattlesnake-free hike).
Historic Sights: Anyone interested in Native American and early U.S. history will enjoy exploring the miles of the Nez Perce National Historic Trail and Lewis & Clark National Historic Trail that parallels parts of US Highway 12. The Nez Perce National Historical Park near Lewiston with its visitor center, museum, and several historic sites is a must-see too.
Salmon River Canyons
The Salmon River or "River of No Return" carves through the largest block of designated wilderness in the lower 48 states and is largely inaccessible to all but permitted whitewater boaters and hardcore hikers and horse packers. Downstream surrounding the town of Riggins, Idaho, is another story. Opportunities for road-side access to the river canyons abound.
Best For: Whitewater rafting and kayaking, river paddleboarding, swimming, spring hiking, gravel riding, and fishing.
Lodging/Camping: Riggins has a number of motels and hotels as well as plenty of restaurants, stores, and other amenities. Informal camping can be found at strips of riverside public land along the Salmon up and downstream from Riggins. There are fewer developed campgrounds with RV access and services along the Big Salmon Road east of Riggins; however, RV accommodations and camping can be found at several RV parks in and around town.
Top Picks
Whitewater Rafting: Go whitewater rafting or kayaking on day-trip sections of the Salmon up and downstream from Riggins. If you don't have experience boating potentially challenging class III whitewater, sign up for a guided trip. The whitewater is bigger, colder, and more thrilling in late spring and early summer and more mellow yet technical in the summer, when the blasting summer heat and refreshing river make for a magical mix of whitewater thrills, relaxing floaty sections, and endless swimming holes.
Gravel Riding: Grab your gravel grinder or mountain bike and ride some of the epic gravel roads around Riggins. Most of the rides are out-and-back and call for relentless climbing, although a more mellow and stunning option is to try Allison Creek Road or French Creek off of the Big Salmon Road or Slate Creek Road north of Riggins off of Hwy 95. For an epic 34-mile roundtrip gravel ride that climbs around 5,500 feet, head up the Seven Devils Road just south of Riggins. Once you reach the road's end at Windy Saddle, it's all downhill from there. Riders in a hurry to make it back to town or camp for happy hour can also arrange a shuttle to the top for a one-way descent. Local drivers may not be accustomed to cyclists and cell coverage is spotty so go prepared.
Wilderness Hiking: Hike the nearby Gospel Hump Wilderness, a mostly summer-only option, or find spring-and-summer hiking along trails in the Rapid River south of Riggins. The Seven Devils Mountains offer excellent summer hiking, although lakes along the classic 27-mile loop have become increasingly crowded. To avoid camp congestions, choose tent sites away from lakes when backpacking, day-hike sections of the loop from the trailhead, or hike the whole 27-mile loop in one long, challenging day hike.
Fire Lookout Hike: Take the short hike to Heaven's Gate Lookout in the Seven Devils Mountains. At 8,429 feet, the views are stunning. The lookout has been staffed during the summer in past years and is accessible once the snow is gone from the 17-mile-long Seven Devils Road to the Windy Saddle Trailhead. Continue walking on the Boise Trail past the lookout to extend your hike.
River Chilling: Find your own spread of tropical-looking riverside summer beach along Hwy 95 north of Riggins or along the Big Salmon Road and enjoy excellent swimming and beach lounging come mid-summer when river flows drop and the heat feels like a hairdryer on high.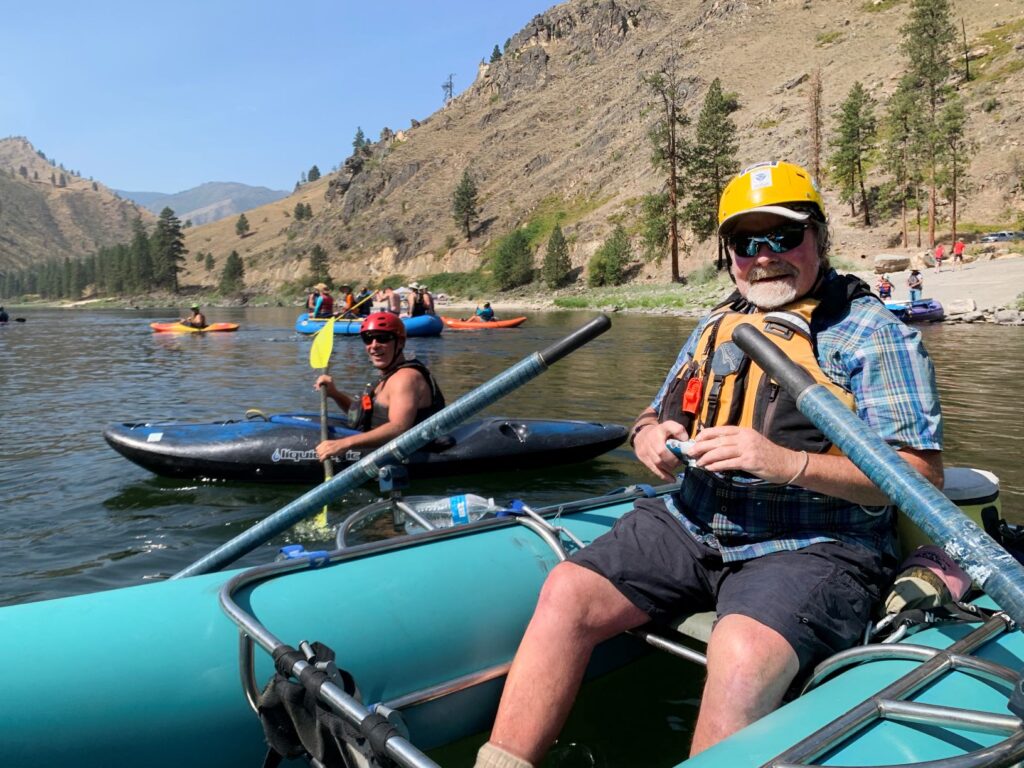 WASHINGTON
Kettle River Country
The Kettle River crosses the U.S./Canadian border several times as it flows 175-miles from its headwaters in southeast British Columbia to the Columbia River. Nearby towns of Republic, Curlew, and Kettle Falls offer tourist sites and amenities, while the river and neighboring Kettle River Range mountains provide all-season outdoor recreation and solitude.
Best For: Hiking, mountain biking, swimming, river tubing, rail-trail riding, and scenic highway drives.
Lodging/Camping: Find charming, Old West-themed hotels in downtown Republic or budget motels in Kettle Falls. With a bit of searching you can find cabins for rent, and there is no shortage of developed RV parks and campgrounds, free primitive camping areas with limited services, and dispersed campsites off Forest Service roads throughout Ferry County.
Top Picks
Kettle Crest Hiking: Hiking in the Kettle Range Mountains ranges from short day hikes like the Sherman Peak Loop and Columbia Mountain Loop off of Sherman Pass to multi-day backpacking trips on the Kettle Crest. High-country hiking in early-to-mid summer on the Crest can treat hikers to dramatic displays of wildflowers and sagebrush with few other hikers the farther you stray from the trailheads.
Rail Trail Riding: The crushed-rock surface of the hill-free Ferry County Rail Trail near Republic makes for an enjoyable ride for all ages and abilities. While the trail runs 25 miles from near the town of Republic to the Canadian border, parts of the trail are still being re-surfaced, which means most riders will want to take on shorter out-and-back sections of improved trail. To extend your ride from town, pedal the Golden Tiger Pathway to the southernmost Ferry County Rail Trail trailhead.
River Floating: Floating the Kettle River in a tube or kayak upstream from Curlew or downstream from the tiny town of Orient on the eastside of the Kettle Range is the best thing to do in Northeast Washington on a scorching summer day. Especially on the eastside, tubing is only safe once river flows drop mid-to-late summer. Check Americanwhitewater.org for more info and ask locals for best, legal put-in and take-out spots.
Mountain Biking: Mountain biking the Kettles' mostly advanced and sometimes technical trails with loads of climbing draw a passionate, fit bunch of riders. One of the few easier (but still challenging) rides that can even be shuttled is the recently re-opened Taylor Ridge Trail accessed off of Boulder Pass. Taylor can be ridden out and back from the lower trailhead to the Crest (around 20 miles with a ton of climbing) or shuttled for an easier one-way ride from the upper trailhead that still has at least 1,000 feet of climbing. Check trail conditions before going.
Stonerose Fossil Site: Anyone interested in fossils should definitely spend some time splitting rocks to find real, 49-million-year-old fossils at the Stonerose Interpretive Center and Eocene Fossil Site in Republic. The center is typically open starting in April.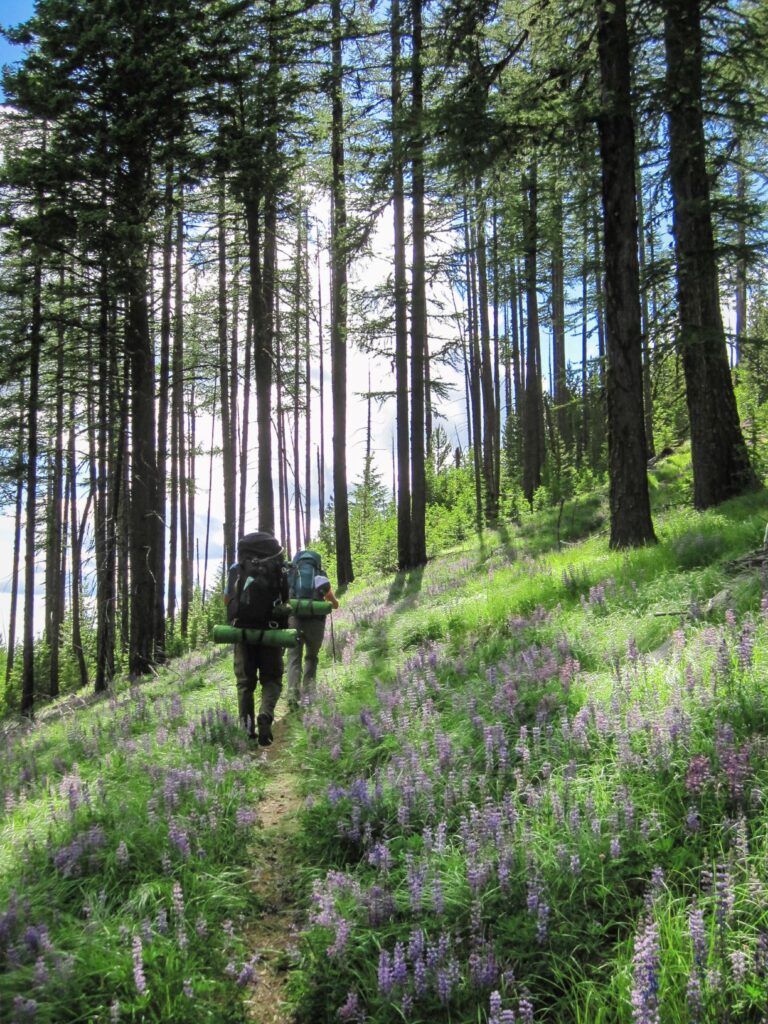 Pend Oreille River
The Pend Oreille River runs west from Lake Pend Oreille before turning north through Northeast Washington on its 130-mile run to the Columbia River in British Columbia. Boaters, paddlers, and wildlife flock to the river that has both reservoir-created slackwater sections and below-dam current. To the east, the Selkirk Mountains create a gorgeous, scenic backdrop to the river valley.
Best For: Paddling, boating, hiking, mountain biking, fishing, camping, scenic drives, history, wilderness, and wildlife viewing.
Lodging/Camping: You can find motel lodging in many of the small towns north of Newport, but for a unique, historic experience, check out the 110-year-old Washington Hotel in Metaline Falls that offers 14 rooms with shared bathrooms down the hall. For RV and developed tent camping, try the new Kalispel RV Resort owned by the Kalispel Tribe of Indians in Cusick. There are several Forest Service campgrounds along the river and at Sullivan Lake and plentiful free camping off of nearby national forest roads.
Top Picks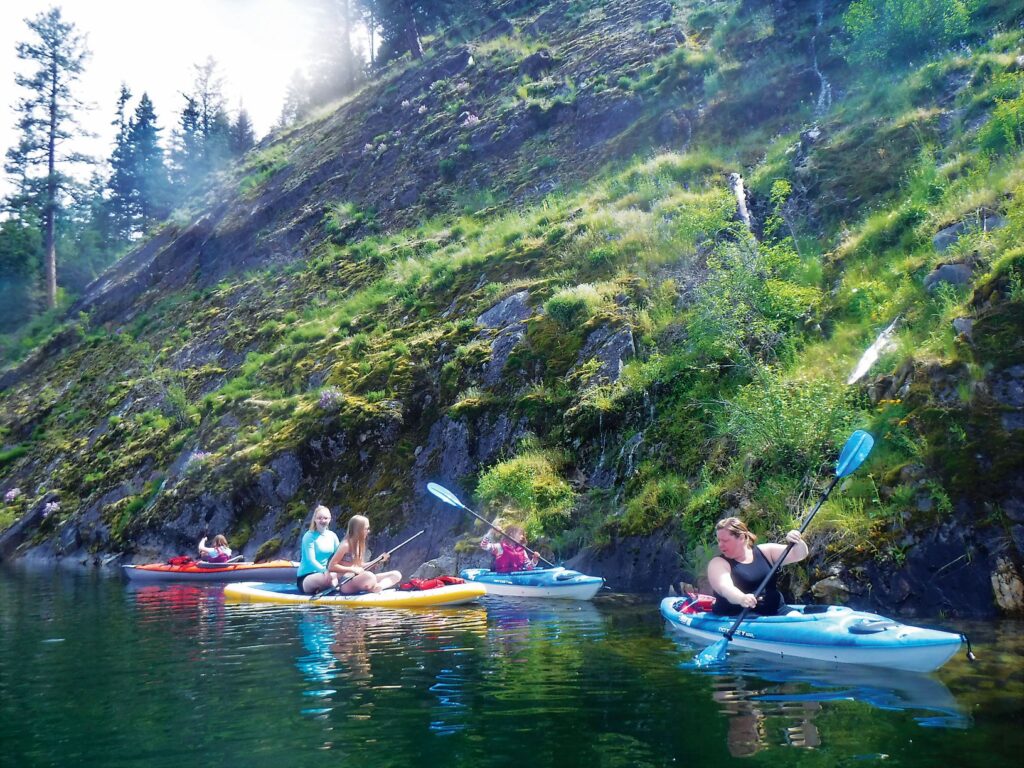 Lake Roosevelt
The 150-mile-long Lake Roosevelt, a reservoir created by the impoundment of the Columbia River in 1941 after the construction of Grand Coulee Dam, sprawls across Northeast Washington. From arid sagelands to pine and fir forests, the lakes scenic diversity and cultural significance is best explored by motorboat or paddlecraft.
Best For: Boating, paddling, swimming, fishing, and hiking.
Lodging/Camping: Two Rivers Resort at the confluence of the Spokane and Columbia rivers has an RV park and cabins for rent and there are VRBO options along the lake. Camping is where it's at on Lake Roosevelt though. The National Park Service manages several campgrounds, and many enjoy the excellent boat-accessed campsites. Or consider going in on a houseboat rental with friends or family for an experience of a lifetime.
Top Picks
Fort Spokane Camping, History and Hiking: Mix history and lake life at Fort Spokane. Spend the day or reserve an RV or tent campsite and spend your days swimming, paddling, boating, and exploring the historical significance of this beautiful, pine-forested place. Visit the historic Fort Spokane Visitor Center and Museum to learn about the native tribes that gathered here for thousands of years to fish for salmon and the more recent history of the U.S. Army's incursions into the area in the late 1800s. There are also three trails to explore: the easy Sentinel Trail, strenuous Bluff Trail, and moderate Beach Trail.
Boating & Paddling: Lake Roosevelt has 22 public boat launches where you can launch a wide range of boats, from kayaks to ski boats, as well as several private marinas. If you don't own your own boat, you can rent one from Lake Roosevelt Adventures for a day of touring, water skiing/wakeboarding, tubing, fishing, or swimming. There is also free first-come-first-served camping along the lakeshore at designated boat-in campsites and other areas that are at least a half-mile from developed areas (be familiar with National Park Service rules for boat-in camping on Lake Roosevelt). Strong paddlers with the right gear can also paddle to a beach camp.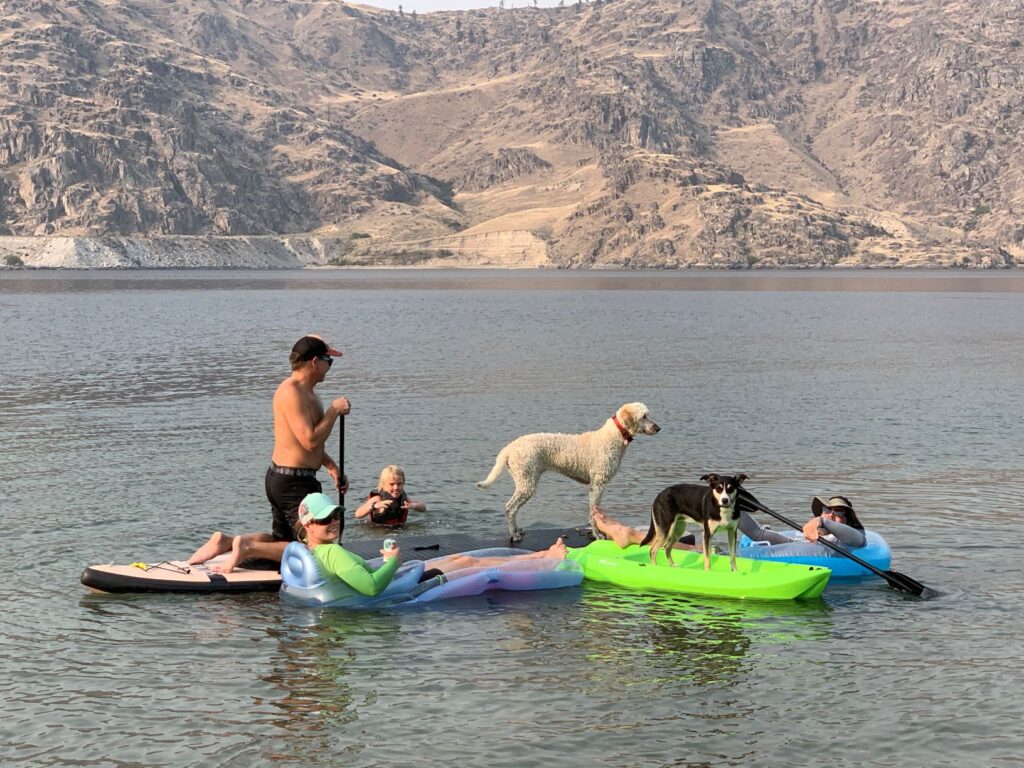 [Feature photo: Kettle Crest in northeast Washington, photo by Jon Jonckers.]