Water can be the perfect motivation to get kids hiking. Waterfalls, lakes, and rivers are fun to look at, providing a sensory gift for the ears and eyes. Even more fun is the promise of wiggling your toes in the cool soft water. Keep in mind that from late spring to early summer, the best hiking is found west and south of Spokane where the weather is warmer and the flowers bloom earlier.
Here are 5 favorite family-friendly hikes in Eastern Washington and North Idaho:
1. Fishtrap Lake–North: This 4-mi. roundtrip hike offers fantastic views of Fishtrap Lake and descends to the water in two spots. The trail wanders through ponderosa pine and aspen stands, making it perfect for a warm spring day. Wildflowers here are a great way to get young kids actively interested in the trail. WTA has two wildflower guides online ("Wildflowers Mountain," is a pdf that shows Cascade species but is also applicable to eastern WA; "Wildflower Guide," shows month-by-month blooms but is more limited). A Northwest Forest Pass is required, $30/annual pass good in WA and OR or $5 for day pass.
2. McKenzie Conservation Area: This property offers 3.3 mi. of trails to wander with a chance to look out over Newman Lake northeast of Spokane. This 420-acre area hosts a network of trails, great wildlife and bird watching, and a native plant garden. No parking fee.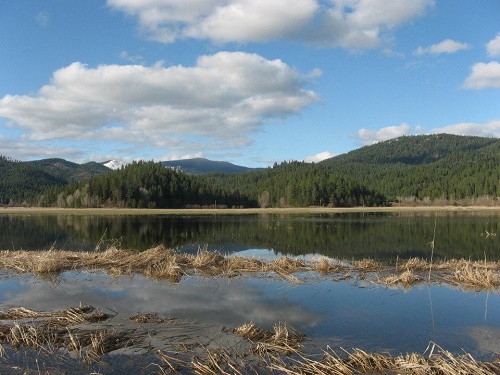 3. Tubbs Hill: Well-known because of its proximity to downtown Coeur d'Alene, this 2.5-mile trail never fails to disappoint. There are remarkable views from the shade of the trees and plenty of opportunities to wander down to the shore and dip your toes in the cool water. Dogs are welcome, and fishing is also allowed. Park along S. 10th St. just before it intersects Lakeshore Dr. as it is often less crowded here (no parking fee). Directions and a Junior Friends of Tubbs Hill Activity Book can be found online at cdaid.org.
4. Revett Lake: At 2.6 miles, roundtrip, this sub-alpine hike just west of the Idaho-Montana border is great for kids. Although there is a bit of elevation gain (915 ft) there is always the promise of something new to see. A waterfall awaits about ¾-mile up the trail at a bridge crossing the creek. The final climb is rewarded with a beautiful sub-alpine lake framed by steep slopes and a view of Granite Peak. The outlet stream to the left of the main trail is mostly swampy meadow, but there is some good rock-hopping and stream-exploring if you go far enough. A brush-choked trail leads to the far end of the lake. Hopeful swimmers be aware that this alpine lake is always very cold. Fishing is allowed, and there is no parking fee. Details can be found in 100 Hikes in the Inland Northwest by Rich Landers.
5. Sullivan Lake: Aspen, hemlock, and birch dot the shoreline of this prominent lake in the Colville National Forest. The fairly-flat Lakeshore Trail along the eastside of the lake lets little ones set their own distance, with plenty of opportunities to jump in the water and cool off. The 4-mile trail (one way) goes along the east side of Sullivan Lake connects East Sullivan Campground to the north with Noisy Creek Campground to the south. The best route begins at the trailhead near East Sullivan Campground where you will keep right to find the lakeside trail. Hike out and back, ending the day at the swimming beaches. No parking fee.
For driving directions and further details about hiking destinations within Washington State, visit wta.org.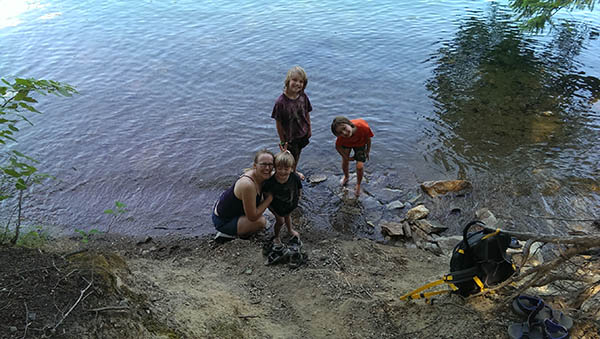 When she is not editing engineering articles, Crystal Atamian has found that she loves skijoring with her dog, trying new microbrews, and laughing at her sons' jokes. She wrote about snowshoeing in the December issue.