Biking as a family has never been easier. From bike trailers that hold two children and toddler balance bikes to trail-a-bikes and child-bike seats, there are creative combinations to ensure that each family member has a safe seat for the journey. More than great exercise, biking is a lifelong skill that teaches children about responsibility, independence and healthy habits. Always take along essential supplies – including a tire pump, patch kit, water bottles, snacks and bike lights –when you and your family head out to explore these fantastic bike paths.
Centennial Trail
As the most well-known paved pathway in Spokane – with numerous access points along its 37.5-mile span, from the Washington-Idaho state line to Nine Mile Falls – this primarily flat trail along the Spokane River is a great choice for families. spokanecentennialtrail.org
North Idaho Centennial Trail
Extends 24 miles from the Washington-Idaho state border and the Centennial Trail to Coeur d'Alene. nictf.org
Prairie Trail
The Prairie Trail in Coeur d'Alene is a 4-mile spur trail off the North Idaho Centennial Trail, making it a quintessential family bike path. Two kid-friendly access points include Riverstone Park (1805 Tilford Lane) and Ramsey Park (3525 N. Ramsey Road). Both provide restrooms and playgrounds. As you follow Prairie Trail northwest through town, it becomes more rural and scenic, eventually ending at Huetter Road.
Long Bridge Trail
Long Bridge, at Sandpoint's U.S. Highway 95 south entrance, includes a right-of-way for bikers and pedestrians that parallels the highway and is separated by a concrete barrier. After crossing the 2-mile bridge, continue biking along Bottle Bay Road around the lake's south shoreline. A parking lot to access the trail is located in downtown Sandpoint, one block east of 1st Avenue and Superior Street.
Fish Lake Trail
With trailhead access only minutes from downtown Spokane, Fish Lake Trail is popular and well-used. The trailhead is off S. Milton Circle, one block south of where Sunset Highway intersects with Government Way. Restrooms and a water fountain are available. After heading south for a few miles, adjacent to Highway 195, the trail becomes more woodsy and scenic as it veers west toward Cheney. 7.4 miles of paved trail are open to the public.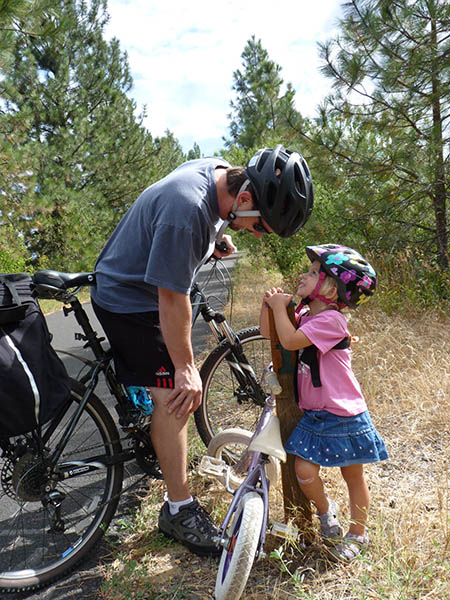 Columbia Plateau Trail State Park
Access points can be found near Cheney for this historic trail, though only 23 miles are currently open for public use between Cheney and Lincoln County. 4.75 miles pass through Turnbull National Wildlife Refuge. A Discover Pass is required for parking. Parks.state.wa.us/490/Columbia-Plateau-Trail
Trail of the Coeur d'Alenes
This rustic yet scenic 72-mile paved trail extends from Mullan, Idaho, southwest to Plummer. Family-friendly access points for the trail are located in Kellogg and Wallace, as well as Heyburn State Park where the trail crosses the historic Chatcolet Bridge, which marks the southern end of Lake Coeur d'Alene. The trail follows the lake shoreline through Harrison, where you can stop and enjoy ice cream from the Creamery & Fudge Factory. Pack along all the water your family needs – water is unavailable at trailheads, though you can refill your bottles at bike-friendly businesses in small towns along the trail route. Pay attention to posted warnings along the trail advising visitors to not touch any rocks or dirt along the trail that might be contaminated with heavy metals from past mining activities in the area. Friendsofcdatrails.org
Hiawatha Trail
Named a "Hall of Fame" trail by the Rail-to-Trail Conservancy, the historic 15-mile Route of the Hiawatha runs along the crest of the Bitterroot Mountains. It opens May 28 for the season (daily, from 8:30 a.m. to 5 p.m.) and is operated by the Lookout Pass Ski and Recreation Area. Starting at the East Portal trailhead, enjoy riding downhill the entire way, at a 2 percent grade or less, while passing through 10 train tunnels and riding over seven awe-inspiring trestles. The totally dark yet straight Taft Tunnel (1.66 miles) is an adventurous highlight – bike-lights and helmets are required and warm clothing layers are recommended, as the tunnel is cold even during hot summer days. Trail passes are available at Lookout Pass lodge (children age 5 and younger are free). Bike rentals are also available from the Lookout Pass lodge. You can also purchase a shuttle pass that provides your family and your bikes a bus ride back to where you started. Ridethehiawatha.com //
Finding the Right Children's Bike Helmet
When it's time to shop for bike helmets for your kids, keep in mind that local bike shops sell higher quality helmets than retail chain stores. "All helmets are regulated by the government, but certain helmets are safer than others," says Brenda Mangine, owner of North Division Bike Shop. A good child's bike helmet, she says, is adjustable like an adult helmet with side latch flip-locks, with retention systems on the back of the helmet so that the helmet shapes to the head. "Bell makes an inexpensive brand of helmet for big-box stores – they don't have a retention system or locking straps," says Mangine. Children's helmets are sized in centimeters according to head circumference at the widest part of a child's head. Here are some of the best options in the $30-$40 range that you can find at many local bike shops:
Bell: Zipper, 47-53cm; Sidetrack, 50-54cm.
Bontrager: Solstice for age 7+ (comes with visor), 48-55cm.
Giro (pronounced "jeer-oh"): Me2 for infants, 48-52cm; Rodeo for age 2-5 approx., 50-55cm; Scamp, two sizes, 45-49cm and 49-53cm; and Raze, 50-57cm.
Specialized: Small Fry, comes in a toddler size, 47-52 cm, and child, 50-55 cm; Align (universal adult helmet), 54-62 cm.
Family Bike Events
May 21: Kidical Mass at Chief Gary Park, 1 p.m. summerparkways.com/kidical-mass
June 21: Spokane Summer Parkways – Manito and Comstock neighborhoods, 6-9 p.m. summerparkways.com
July 9: Spokatopia Outdoor Adventure Festival at Camp Sekani Park, 10 a.m.-6 p.m. spokatopia.com
September 11: SpokeFest, Kendall Yards. spokefest.org
September 17: Kidical Massive 3-mile scenic ride starting in Kendall Yards, 1 p.m.
[Feature Photo by Amy McCaffree]