Carl Combs 
8km Master's Championships at Brea, CA, first 50+; also first 50+ at Bend, OR National XC Championships.
Best Local Run
Running on incredible trails with kids and coaches at NW Montana Running Camp (previously named Flathead Lake Distance Running Camp).
Favorite Local Race
So many great ones! Bloomsday is the easy answer, given the huge number of people involved and everything that goes along with it. Close seconds: Hot Summer Nights 5km series, St Paddy's 5, Partners-In-Pain, Trail Maniacs State Park Series, Festival of Miles, Cheney Turkey Trot, Hauser Lake 10km.
Running Weakness
My weakness is limited time to train, which requires focused effort to squeeze as much "quality" training in as possible.
Local Inspiration
This lady right here in Cheney. Joan Hisaw inspires me not only by just being a runner (she did heat up the track in her day), but also by her genuine love for people through the sport of running.
Go-to Gear
There's something about cranking a race cap down low that makes me feel faster than I really am.
Gunhild Swanson
Inspiring finish at Western States, multiple age group records at national ultramarathons.
Best Local Run
Riverside State Park from either the Fort Wright Cemetery trailhead or the equestrian area. It offers the most variety for running with the paved Centennial Trail for fun running with friends and great views as well as challenging singletrack.
Favorite Local Race
That has to be Bloomsday. I sign up twice for a double treat. First time around pushes me to run my hardest for a good finish time. Then I grab my second number and start over again. This time I get to experience the very heart and soul of Bloomsday. It's not all about the invited elite runners, nor the fierce open, masters and age-group competition, but about the family groups including children in strollers or babies in backpacks, the friends who challenge themselves to train and walk or run this one race every year, and the folks being pushed in wheelchairs surrounded by friends and family.
Running Weakness
Speed. In early spring I start weekly track workouts with the Bloomsday Roadrunners Club at the SCC track, plus tempo runs on roads.
Local Inspiration
Sylvia Quinn, age 79, and proud of it. She's my friend, running partner and travel companion. She's a Bloomsday Perennial, with the most age group wins of anyone ever. She was the Bloomsday race director back when the race reached its peak at 60,000 runners, and she challenges me to run hard on every training run we do together.
Go-to Gear
My trusty Garmin, particularly while running on trails. Its "back to start" feature helps me find my way when I explore unfamiliar trails, just to see where they might lead.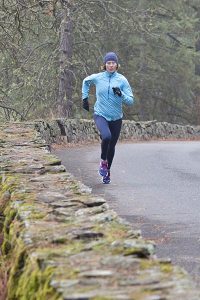 Rachel Jaten
Multiple marathon wins and two-time U.S. Olympic Marathon Trials competitor.
Best Local Run
Riverside State Park…so far. I still have so much to explore. I love trail running and it's great being by the water in the trees.
Favorite Local Race
My favorite local race is Bloomsday. I love that we bring in nationally ranked and international athletes to compete in our city. I also love that it's a race that gets everyone out the door.
Running Weakness
My running weakness is trying to run every planned workout exactly how it is written. I'm learning to listen for when to back off or have a workout based more on effort and feel rather than a set pace when needed.
Local Inspiration
Don Kardong. I love his story and I love what he's done for running in our community. My other favorite local runner isn't just one person, but the people for whom running does not come easily or naturally, yet they're out there putting in the miles and hopefully enjoying what Spokane has to offer.
Go-to Gear
Brooks Launch shoes – they're simple and lightweight and I can run on the road or trails in them.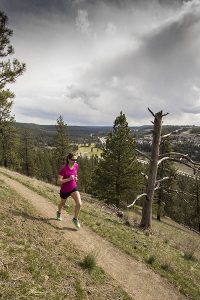 Rachel Bucklin
One of the Top 100 Female Ultrarunners in 2015.
Best Local Run
Steven's Creek/Iller Creek. It is beautiful, easy to access and challenging.
Favorite Local Race
Spokane River Run. It is a good community event and they do a great job putting on the race. It is also a fun family event with several different distances from 5km to 50km.
Running Weakness
Hills. This year I have to become a stronger hiker and hill runner. I have been doing hill repeats on the High Drive bluff, and I am trying to add more total vertical each week. I run steep, long climbs and make sure I include several climbs on each of my runs.
Local Inspiration
Gunhild Swanson. She is redefining the limits of age in ultrarunning.
Go-to Gear
I am a new convert to Hoka shoes, but I still love my Brooks Ravenas.
Ben Bucklin
Amazing ability to finish on the podium of nearly every ultramarathon he runs.
Best Local Run
The Big Rock and Rocks of Sharon outcroppings, views of the Valley and Selkirk Mountains, and probably the best view of the Palouse you'll see from anywhere make it such a unique and beautiful run. There's also the added attraction of watching the rock climbers on Big Rock, and you never know when you might end up face-to-nose with a moose.
Favorite Local Race
My favorite local race is the Spokane River Run 50k. The first half of the race runs through Deep Creek and the huge towers of basalt I've heard called the "Moon Rocks," which are my favorite parts of the park. Soon after coming out of Deep Creek, you climb to one of the best overlooks in the area with expansive views of the Spokane River, the surrounding mountains and downtown.
Running Weakness
Wanting to overdo it is my kryptonite. I would run twice a day every day if my body would allow it, but I've gone through a couple of years of nagging injury, and I am starting to learn that too much of a good thing can be bad for you. Cross training and strength training are an important part of a running routine.
Local Inspiration
I'm inspired by the Spokane running community as a whole. Spokane is a great town to be a runner. For what they've done for the community, Mike and Heidi Bresson inspire me. Thousands of kids get to run cross-country thanks to the Bressons' vision and dedication to building the Active for Youth program.
Go-to Gear
I never leave home without strapping on my Suunto Ambit. I am obsessed with Strava and tracking my mileage and vertical gain compared to my Spokane Distance Project teammates and other runners I follow. //