When it comes to planning a biking trip with kids, nothing quite compares with the ease, beauty, and endless side adventures and activities of a family vacation to explore sections of North Idaho's 73.2-mile Trail of the Coeur d'Alenes. Families with children of almost any age can enjoy segments along the easy-to-beginner, mostly-flat, scenic family-friendly paved trail—extending between the towns of Plummer and Mullan. While the full trail length would be daunting for kids, little legs can pedal shorter trail sections between towns that provide activities, amenities, and other delights for both parents and children.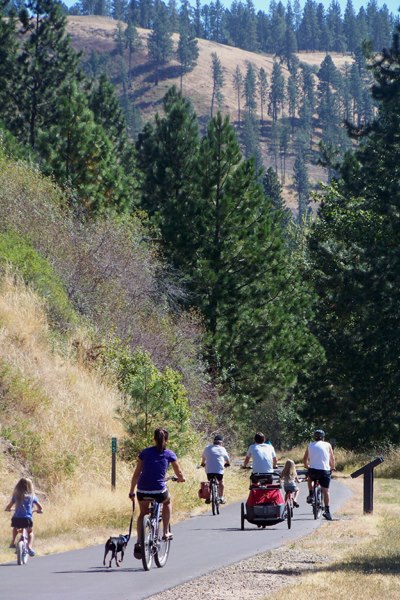 Trail Sections Best for Kids
Here are four sections and their kid-favorite highlights, organized by the three major trailhead communities—Harrison, Kellogg, and Wallace—with easy trail access, lodging, restaurants, entertainment, shopping, and other services for families.
Harrison to Lake Chatcolet
This trail section travels along the sparkling waters of Lake Coeur d'Alene's southeast shoreline. At one end is Heyburn State Park, where the bike trail crosses over Lake Coeur d'Alene along a former railroad draw-bridge, which marks the boundary with Lake Chatcolet. At the state park day-use area you'll find a trailhead restroom, picnic shelter, playground, and state park restroom and water spigot.
Staying overnight in Harrison provides time for families to enjoy all the friendly charm, natural beauty, and history the town has to offer, including a city park and playground, swimming beach, marina, and ice cream parlor, as well as a bike shop for gear rentals and bike maintenance and supplies. Check out more of the local attractions and amenities for families here.
Harrison to the Chain Lakes of the Coeur d'Alene River
Starting from the Harrison trailhead right in town, families will enjoy wilderness serenity as the trail travels along the Coeur d'Alene River and passes a series of small lakes, which are connected to the river by narrow channels. Moose, deer, and an array of bird species are commonly seen along this section of trail through the Coeur d'Alene River Wildlife Management Area. There are also numerous wayside points, as well as four trailheads along this stretch. The Springston, Medimont, Blackrock, and Bull Run trailheads each provide trail access near Harrison from Highway 3.
Because it's more than 20 trail miles between Harrison and Cataldo, families with young children should ride out-and-back from Harrison. Be sure to ride a reasonable distance that will keep the whole family happy. To experience the other end of the scenic Chain Lakes area, start riding out-and-back from the Cataldo, Blackrock, or Bull Run trailheads.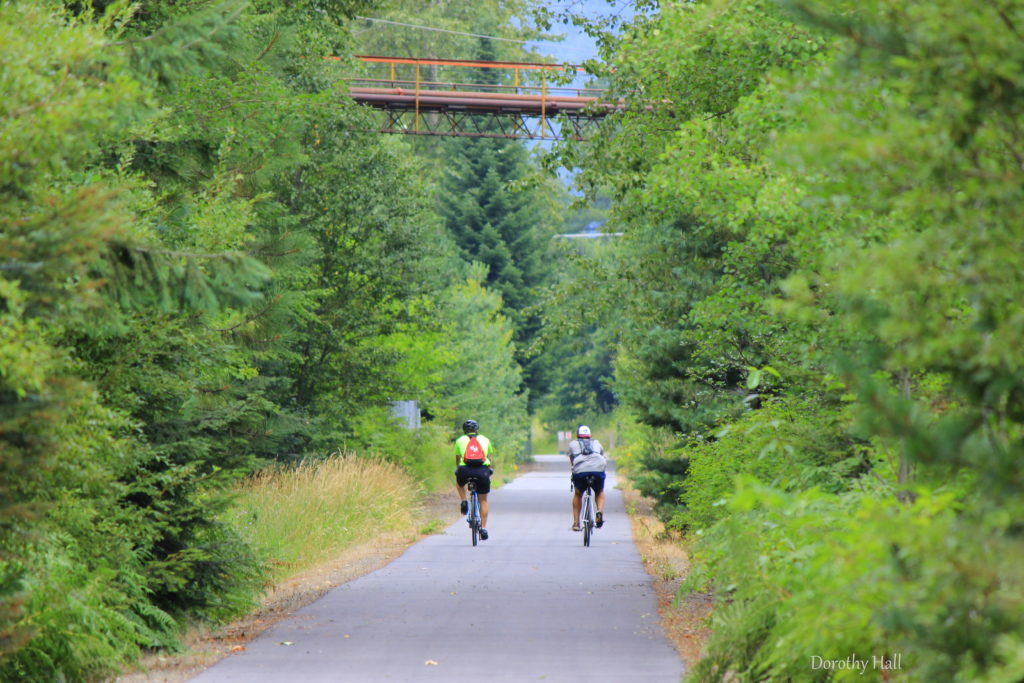 Cataldo to Enaville
This flat, tree-shaded section of trail along the Coeur d'Alene River connects families to two small towns. The trailhead in Enaville at the I-90 Kingston Exit is a short drive from lodging in nearby Kellogg, making this historic Silver Valley town a great basecamp for checking out this section of trail. Near the small community of Enaville, the Coeur d'Alene River splits into the North and South forks. In Cataldo, the Sacred Heart Mission, at the Coeur d'Alenes Old Mission State Park, is the oldest building in Idaho. Constructed in the early 1850s, it is listed on the National Register of Historic Places. Because the Trail of the Coeur d'Alenes doesn't directly connect with the state park, families should drive to the park.
Kellogg to Wallace
The most developed trail section with the easiest access to amenities is between these two Silver Valley towns. Both offer family-friendly activities, including museums and mine tours, as well as plenty of lodging, dining, and shopping options. Wallace also hosts many summer festivals and events, including the Huckleberry Festival every August. Here is a complete list of local attractions and special events along the trail and in other nearby North Idaho communities.
Family Biking Tips
To ensure your family bike-ride is safe and as easy and comfortable as possible, bring essential supplies with you, including a trail map; tire pump and bike tools and supplies to fix flat tires and any bike mechanical problems (e.g., broken chain); clothing layers; first aid kit; and plenty of water and snacks for everyone. You can download an interactive digital map of the trail that highlights trailheads, rest areas, historic sites, and parks here.
Be sure to follow Leave No Trace ethics—pack out all garbage. And of course, everyone should wear a bike helmet and obey road crossing signs. Keep to the right of the 10-foot wide trail unless passing another trail-user, whether a runner, walker, cyclist, or electric-wheelchair user. Try to limit long rest-stops to trail waysides and trailheads.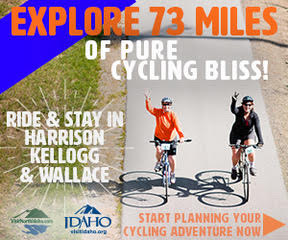 Planning Your Trip
A multi-day biking vacation on the Trail of the Coeur d'Alenes based out of Harrison, Kellogg, and Wallace provides the opportunity to explore different trail segments with time to play and rest, whether it's going out-and-back on the trail from town or driving among towns for different stays each night to explore other trail segments. Find more information about overnight accommodations in Harrison, Kellogg, and Wallace here.
(Sponsored Content)