Adults can more easily appreciate cycling's exercise benefits and transportation power through scenic landscapes—kids not so much. Here are family-bike ride itineraries to help motivate and energize your kiddos. Be sure to bring along plenty of water for everyone, trailside snacks, tire pump, and patch kit, as well as a first-aid kit.
Harrison, Idaho, via Trail of the Coeur d'Alenes: Start your ride from the Lake Chatcolet trailhead at Heyburn State Park (Idaho State Park Pass required) for a flat, 9-mile journey (one-way). Pack your own water and Leave No Trace supplies (e.g., toilet paper, digging trowel)—there is no water access or restrooms along this rustic, paved trail. Once you reach the town of Harrison on Lake Coeur d'Alene, take the kids to the Harrison Creamery and Fudge Factory Ice Cream Parlor, famous for its creative flavors. Visit the city's park, playground, and beach before returning to the trail. For the creamery's seasonal opening date and daily hours, visit facebook.com/HarrisonCreamery.
Kellogg & Wallace, Idaho, via Trail of the Coeur d'Alenes: Ride between these small towns on the paved trail and explore family-friendly stops in Wallace such as the Northern Pacific Depot Railroad Museum (open April-October), Sierra Silver Mine Tour (season opening May 1), and Wallace District Mining Museum (open May-October). In Kellogg, visit the Shoshone County Mining & Smelting Museum (season opening May 2) or do the Crystal Gold Mine Underground Tour, and eat at Hill Street Depot—a bistro pub with a great kids' menu.
Riverstone & Ramsey Parks via Prairie Trail in Coeur d'Alene: This 4-mile paved spur trail off the North Idaho Centennial Trail is family-friendly bike path with restrooms and playgrounds at each access point.
Liberty & Underhill Parks via Ben Burr Trail: This 1-mile paved community trail connects these two City of Spokane parks. At Liberty Park, in the East Central neighborhood, there is a playground, restrooms, and aquatic center (open during summer), while there's a splash pad, playground, and wooded hillside at Underhill Park.
Cheney and Fish Lake via Columbia Plateau Trail: Starting from the trailhead near Fish Lake Regional Park (Discover Pass required), ride the paved trail 3.75 miles to Cheney, where the trail intersects with Cheney-Spangle Road. At this trailhead, turn right and pedal into Cheney or continue riding the trail, which now converts to crushed gravel, to Turnbull National Wildlife Refuge. Family-friendly stops in Cheney include The Mason Jar, a café with a healthy kids' menu; Get the Scoop, a locally-owned ice cream parlor; and Sutton Park by the EWU campus. You can also start your ride at the Cheney trailhead and pedal out-and-back to either Fish Lake or Turnbull. Visit wta.org for more trail details.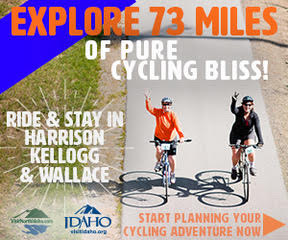 Sand Creek & Serenity Lee Trails, Sandpoint, Idaho: Accessible from downtown Sandpoint, at Bridge Street, on the west side of the Hwy 2 and 95 overpasses, Sand Creek Trail heads north along the creek, which is popular with paddlers. Along the way, you'll find benches and wetland viewing areas. (Note: On Google maps, Sand Creek Trail is labeled as Sandpoint Byway Trail.) The trailhead for Serenity Lee Trail, another paved multi-use trail, begins behind the Bonner County Courthouse (1st Ave/Lake Street), near the overpasses for Hwy 2 and 95—parking and restrooms are available. It travels along the highway peninsula's eastern shore, passing Dog Beach Park and crossing the 2-mile Long Bridge, using a wide pedestrian/bike lane. The trail continues on the other side of the lake, traveling into Sagle, Idaho.
Kendall Yards via Centennial Trail: Start east of downtown Spokane, even if it's simply Riverfront Park and bike with your kids to Kendall Yards where you can get ice cream from Brain Freeze, visit Spark Central (during drop-in hours), or eat lunch at Veraci Pizza. Ride further west on the trail to Olmsted Brothers Green, a neighborhood park at Nettleton Street, with a playground and grassy field. Hello Sugar donut shop is across the street.
Mission Park via Centennial Trail: This 13-acre park along the river in Spokane's Logan neighborhood, east of downtown, has a playground and, when seasonally open, a splash pad and city aquatic center. //
Plan Your Family Ride
For trail map and park information, visit these websites.