Part of the glue of the Spokane running community is its variety of run clubs and the people who make them happen. A few dedicated running group leaders shared about their unique groups and what running has meant for them.
Dominic Bartoletta, the Lantern Run Club
Each Tuesday at 6 p.m., the Lantern Run Club gathers at the Lantern Taphouse in South Perry for a 3-ish mile option and a 5-ish mile option, followed by specials on pints and food. The welcoming, fun vibe of the group is represented by its route descriptions, which mix meandering wordplay and facetious asides, with names like "Oh Hiiiiiilllll No" and "A Tale of Two Parks."
For instance: "Back on April 17, 2018, tall and slow alike joined us for the third and final running of 'Le Internationale,' a romp through what we mistakenly believed was the International District of East Sprague Avenue. It was at or about that very time that we realized the route did not in fact traverse the International District, but instead delivered us about a block or two from its eastern edge. Unfazed by our lack of geographical knowledge, and emboldened by our newfound knowledge regarding our lack of geographical knowledge, we now bring you the newly minted 'Le NATIONALE,' a run with all the same roads, the same directions, and the same hills as Le Internationale, just with a different name."
The man behind these words is one of the club's leaders, Dominic Bartoletta. Running club leader, he admits, is not anything he ever imagined he'd be. "I have a hard time thinking of myself as a runner," he says. Though he ran sporadically starting in college, his background was in football. He didn't even know run clubs existed as recently as seven or eight years ago. "I had no idea," he says. But thanks to a friend's invitation, he got connected with a couple of local running groups, and a few years ago when The Lantern's owners asked him to take over the leadership of their group (alongside Conor Craigen), he said yes.
The goal is to make the group inviting for all. "When you make [the descriptions] lighthearted, people read them and think, 'I can do this,'" Dominic says, even when the routes in question include arduous hills. The once-small group now has weekly turnouts of a hundred participants or more, and a range of runners and walkers of all ages.
Dominic says the various routes have provided introductions to hidden pockets of Spokane: the Perry Street steps, the Ben Burr Trail, the volcanic outcropping at the top of Cliff Park, a spiral-bottomed ramp that spans 1-90. It's given him a bigger community, and it's a good counterpoint to his career as an attorney. "I do find that I feel better and think better when I've been exercising," he says.
He remembers running alone last winter as a cold snap set in. A reporter on the street stopped him for a quick interview. When he saw the clip on TV later, he was surprised by the caption: "Dominic Bartoletta, Runner," he recalls with a laugh. Deep down, though, he knows it fits him as much as anyone. "As long as you run, you're a runner," he says. "There's no secret to it."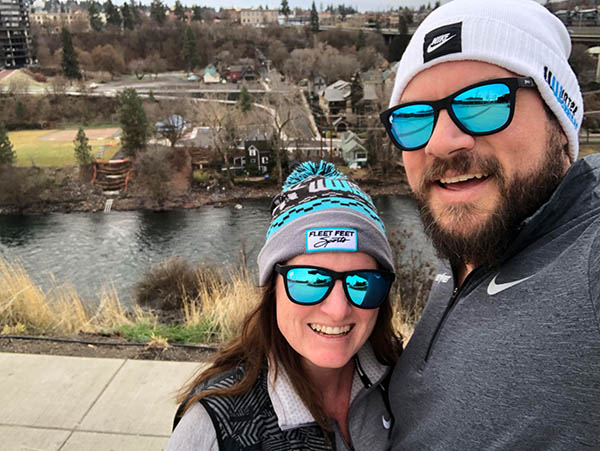 Jessicah Travis, Fleet Feet Northwest Running Club Lead
Jessicah Travis was first introduced to running when she was in her mid-30s by Wade and Julie Pannell, owners of the Spokane locations of running store Fleet Feet (as well as the others that make up Fleet Feet Northwest). It transformed Jessicah's and her husband, Casey's lives and health so much that when the Pannells invited them to move from McCall, Idaho, to Spokane and start working for Fleet Feet, the answer was a clear yes.
For the past five years, Jessicah has coached and coordinated running groups for Fleet Feet's Northwest locations. She has a special affinity for the No Boundaries groups, which focus on helping beginning runners cross the finish line of their first 5K. She got an insider's view on running's power to transform when she and her husband were new runners and needed to lose weight for their health. Through running she lost 45 pounds and he lost 65. In the No Boundaries groups, she continues to have a front-row seat for others' transformations, and the vital role community plays in motivating and encouraging runners to keep going.
Part of what she gets to do with these new runners is "help them find their new trajectory of their lives," she says. "We've watched people from all kinds of life circumstances overcome things to get across that finish line," like women diagnosed with breast cancer who've run through chemo. For one couple in the Winter Warriors group, the husband lost his eyesight a couple of years ago and now he and his wife run together with the group, "all through winter together, hand in hand," Jessicah says.
More recently Jessicah has felt the support of Fleet Feet's running groups more keenly. In July of 2017, doctors discovered that there was a tumor connected to the main artery of her eye, entwined with the optic nerve. She rapidly began losing eyesight. "By September I only had a pie slice shape left, and it was minimal at that," she says. Her vision at that point was 20/250—she was legally blind, with no depth perception or ability to see color. In 2018 she had a full craniotomy with nerve reconstruction, and later a second surgery to create a titanium barrier between her brain and her eye. The risky surgeries overcame some complications, including the double vision/bouncing that had become a problem after the first surgery, and enabled her to run again. Though there are long-term side effects, she can now run with no bouncing and has 20/30 full color vision.
Jessicah credits her surgeons with the amazing success of her operations, and her supportive running community with encouragement that's helped bring her through.
"I say now that although I was coaching my group of runners, they were coaching me every step I took," she says. "They have been with me when I've fallen—I couldn't see the pothole without depth perception. They have been with me when I reached a full 3-mile run again post-surgery. The love in the running community has been endless."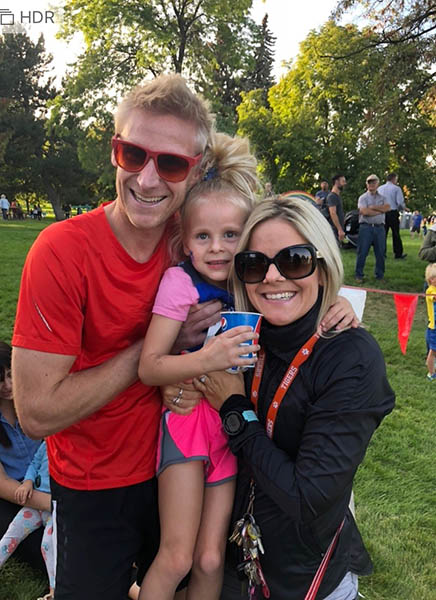 Heather and Andy LeFriec, Spokane Swifts and Spokane Distance Project
For married couple Heather LeFriec (president, coach, and co-founder of the Spokane Swifts) and Andy LeFriec (one of Spokane Distance Project's co-founding members and current vice president), running is a major part of day-to-day life. They formed their groups (in 2008 and 2010, respectively) to bring together likeminded people who wanted to push each other to get stronger and faster.
"Misery loves company," says Andy. "If you're doing this on your own, you're missing out on a great opportunity to bond with other people with the same interest." Both LeFriecs note that the camaraderie is a major draw of their teams. When you connect regularly with other runners, good things happen: you'll train harder, sign up for more races, and have people to go through the highs and lows with—of running and of life.
"For me it's a community," says Heather. "And for my husband and child. Madeleine talks about the Swifts all the time," she says of their kindergartner.
One household with two dedicated long-distance runners means there are twice the workouts to fit in, twice the running-related commitments (for instance, Andy sits on the Bloomsday board; Heather is on the Active4Youth board), and plenty of logistical puzzles to solve. Prized morning run time is parceled out ("My mornings are Thursday and Sunday. Somehow I get two and she gets five," quips Andy). Andy's mom babysits every Tuesday evening, which is practice time for each of their groups, and she also covers Bloomsday. "She's great. I don't know if we'd be able to do it without my mother-in-law," Heather says.
There are always new negotiations and details to work out between "co-parenting, scheduling, who's going to do what race," says Heather. "That's caused a few fights," she adds with a laugh.
On the flip side, there's a common understanding that comes with a shared interest—like recently when Andy, knowing Heather wanted to sign up for an ultra but was hesitant to pull the trigger, registered her as a surprise. They get each other. "You have a bad day, you have a bad workout, you have a bad race or a really good race—the other person understands what you're going through, what you feel," says Andy. They have someone to bounce workout plans ideas off, to talk through how they're feeling and how hard to train.
Even though it can be a bit of a scheduling nightmare, the LeFriecs realize running is key to their well-being, and that a healthy, active lifestyle is something they want their daughter to see. "She just assumes everybody's parents run," says Heather. Even more importantly though, she says, is that their daughter is witnessing her mom and dad as people who understand the importance of "having a passion in your life."
"We've both realized how much running fuels our soul," says Heather. "It's important for us to make the time for each person to get to do what they like, what feeds their soul."//