Kids never remember their best day of television, but they will never forget summer camp—where they adventured outdoors, were mentored by caring adults, and overcame challenges. Here's our annual list of regional summer camps and nature-based schools that provide unique opportunities for outdoor adventure and hands-on learning about nature, science, and outdoor skills—with something for every child, any age, and every family.
Between the Rivers Gathering
Annual Ancestral Skills & Self-Sufficiency Gathering for families, May 27-June 1, with hands-on daily classes to learn wilderness survival and homesteading skills, among other related subjects. Event takes place at Grouse Creek Farm in Valley, Wash., north of Deer Park. Children under age 8 are free when families register for the full event; includes primitive camping sites and two daily meals. Daily registration also available.
Bloc Yard Bouldering Gym Day Camp
Family-friendly climbing space located in north Spokane that offers 5-day indoor climbing camps for age 6-17. Bouldering doesn't require ropes or climbing equipment other than climbing shoes, and walls are no higher than 15 feet. Camp includes lessons about climbing technique, safety, and etiquette.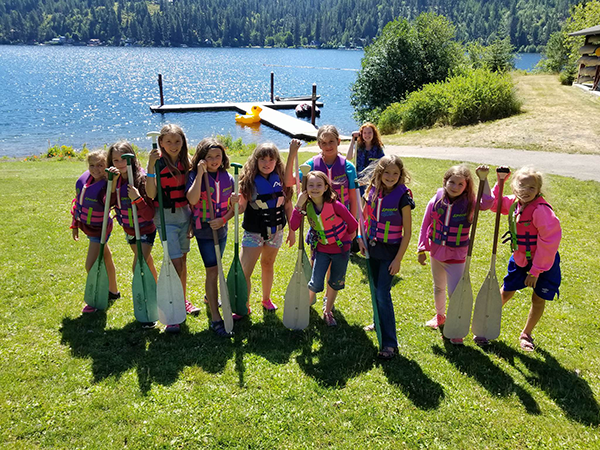 Camp Four Echoes
At this Girl Scout camp along Lake Coeur d'Alene in Worley, Idaho, girls sleep in whimsically-named areas, like Teepees in Sky Meadows or Treehouses in Smugglers Cove. The regional Girl Scouts of Eastern Washington and Northern Idaho offers a full summer of programs for girls entering 1st-12th grade (troop membership not required for participation). Themed camp sessions include activities such as waterfront recreation (kayaking, canoeing, sailing, and windsurfing); nature exploration, hiking, biking, and outdoor skill-building; and STEM activities.
Adventure-based sessions for girls in grade 7-9 include Idaho Adventures with ziplining, lake canoeing, and biking the Hiawatha Trail, and Canoe North Idaho to review the basics of canoe paddling and navigating on moving water before experiencing a multi-day canoe trip off-site. Teens in grade 9-12 can join leadership camps to learn skills to be a Counselor Assistant and practice advanced outdoor cooking techniques and how to belay on the rock-climbing wall. Family camp weekends are in May and August.
Camp Gifford
The Salvation Army's camp at Deer Lake offers zip-lining, climbing, archery, swimming, paddling, fishing, and hiking recreation. Sessions include Discovery Camp (age 7-12) and Camp Cougar (age 13-17), where teens learn wilderness and survival skills and experience high and low ropes-course activities.
Camp MiVoden
Located in the forest along the northern shore of Hayden Lake, Idaho, Camp MiVoden offers overnight camps for age 8-16. Traditional sessions are Adventure, Junior, and Teen Camp; and Ultimate camp sessions include Cowboy Camp for age 10-16 (horsemanship, riding, and equestrian skills). There are also Extreme Teen Camp sessions—that include whitewater rafting, rock climbing, and learning survival skills—and Wakeboard Camp sessions (age 12-16). Operated by the Seventh-day Adventist church, there are also summer Family Camps.
Camp Spalding
Located at Davis Lake near Newport, Wash., Spalding offers a unique Pioneer Camp, where kids sleep in authentic 18' Sioux teepees, cook meals over campfire, and hike to an overnight campsite. Sessions are offered for different grade-based age groups. Spalding, a Presbyterian-affiliated Christian camp, hosts traditional sessions for campers entering grades 2-12, where kids stay in cabins and eat in the dining hall. All campers enjoy nature and waterfront activities, such as canoeing, along with other recreation options such as horseback riding, rock climb rappelling, archery, and more. Family sessions include a "Mom, Dad, & Me Overnight" in June (for children entering grades K-2) and Family Camp in August.
Camp STIX
This specialized one-week camp for youth living with Type 1 diabetes, age 9-18, takes place at Camp Reed (STIX is an independent non-profit organization and not affiliated with YMCA). It provides 24-7 medical care and diabetes education, as well as the traditional camp experiences, with the support of volunteers, medical staff, social workers, cooks, and program staff. Camp TWIGS Day Camp is for T1 kids age 6-8, at Camp Dart-Lo.
Camp Fire Inland Northwest
Only accessible by boat, Camp Sweyolakan (Swe-o-la-kan) on Lake Coeur d'Alene has overnight camp sessions for boys and girls age 6-18, and camps for families and adults. At Dart-Lo Day Camp, located along the Little Spokane River, children age 3-18 enjoy outdoor activities like games, pool swimming, and a low ropes course.
Girl Scouts Spokane Program Center
At the regional program center, near downtown Spokane, there are summertime Day Camps for girls, grades K-8 and grades 9-12. For the younger girls, there are camps like Leave No Trace, which focuses on hiking and activities to learn about cooking outdoors, shelter building, and other outdoor skills; and The Great Outdoors, which includes compass navigation with hiking and geocaching. For teen campers, adventurous activities like canoeing, sailing, and kayaking; hiking; and low and high ropes challenge courses are included in day camp sessions.
KEENs Pond to Pines
Based in Ellensburg, Wash., the Kittitas Environmental Education Network (KEEN) offers summer day camps with nature-based, hands-on learning for K-9th graders, at Helen McCabe State Park. Each week offers a different theme, such as Survivor Kid and Junior Ranger.
Lutherhaven
A variety of programs are offered by this Christian camping organization among its three properties in North Idaho, which includes its main camp at Lake Coeur d'Alene, Shoshone Creek Ranch Camp, and Shoshone Mountain Retreat.Sessions for teens, grades 7-12, include Trek Camp, with camping and river-rafting along the Clark Fork River, ziplining, and canoeing; and Wake on the Lake Camp, which focuses on powerboat watersports.
Peak 7 Adventures
Experienced outdoor teens, 15-19 years old, who are ready for a hardcore challenge can apply to join the Bower Adventure Course (BAC)—a 50+ day outdoor expedition leadership program to learn backpacking and mountaineering skills, experience rock climbing and whitewater rafting, and become certified in Wilderness Medicine. Based in Spokane, Peak 7 also helps families and youth groups plan personalized adventure trips.
Saint George's School—Summer Day Camps
Located along the Little Spokane River in north Spokane, Saint George's offers sessions for campers in grades 3-5, such as Adventure Camp, which includes hiking, rock climbing, kayaking, and fort building; and Outdoor Math Enrichment Camp, which applies math concepts in the great outdoors. For older youth, there is Rocket Camp and Science Camp, with field- and lab-based activities to learn about local wildlife, plants, and more. There is also Soccer Camp and Lifetime Sports Camp, which teaches badminton, pickleball, archery, indoor bowling, and disc golf (grades 6-12).
S.O.L.E.—Selkirk Outdoor Leadership & Education
This Sandpoint, Idaho-based non-profit outdoor education organization has summer Junior Naturalist Day Camp sessions for age 4-9; Leader of the Day Camp for age 10-12; and Teen Trek for age 13-16, with separate sessions for males and females.
Spokane Parks & Recreation—Outdoor Adventure Camps
Day camps for age 8+ include activities like paddling, hiking, rock climbing, horseback riding, and disc golf. There is also Advanced Youth Wilderness Survival Camp, Adaptive Summer Adventure Camp, and Horseback Riding Camp (for ages 8-13). For youth and families, there are 1-3 day adventure-trips to experience stand-up paddling, whitewater rafting, kayaking, canoeing, and hiking.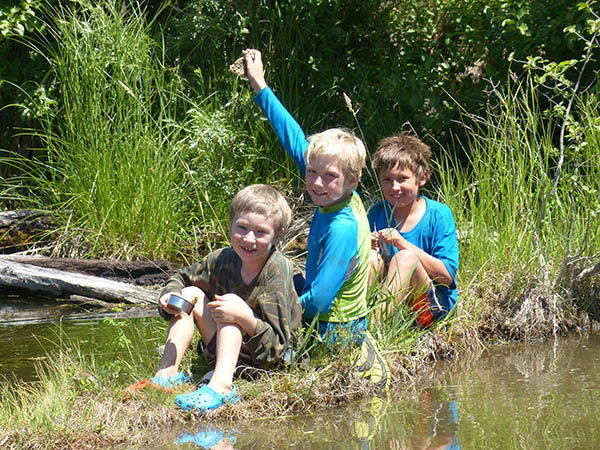 Twin Eagles Wilderness School—Day & Overnight Camps
Based in Sandpoint, with program events in Spokane, Twin Eagles specializes in helping children connect with the natural world and develop self-awareness through nature-based activities, wilderness and adventure challenges, and survival skill-building, such as foraging, wildlife tracking, and fire and natural shelter-building. Week-long Day Camps (age 6-13) are offered with three different themes: Nature Adventurers, Wilderness Survival, and Nature Ninjas—with sessions in both Sandpoint and Spokane. Overnight camps (age 10-18) include nighttime scout games and wilderness survival camp-outs. There are also skills workshops and retreats for adults and families, including mother-daughter and father-son wilderness programs every spring.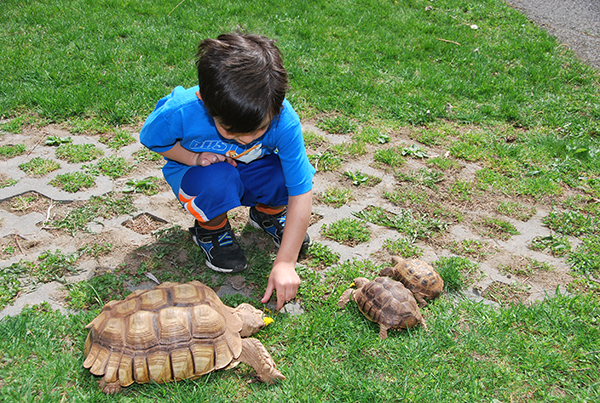 West Valley Outdoor Learning Center
In addition to spring open house events for families (April 13, May 18, and June 22), there is Animal Summer Camp, June 17-20, for ages 7-14 to learn about animal adaptations, nature's engineers, and how birds fly.
Wild Walls Indoor Climbing Camp
Youth age 9-14 will learn top roping, knot typing, belaying, ascending, rappelling, bouldering, slacklining, and crate stacking at week-long day camps at Wild Walls Climbing Gym, in downtown Spokane.
WSU Cougar Kids Camp
Themed day camps at Washington State University's Pullman campus, hosted in partnership with the Outdoors Program, are tailored for children entering grades 3-6.
Washington Trails Association (WTA)—Youth Volunteer Vacation
Trail work crew projects for teenagers, ages 14-18, are week-long opportunities to develop outdoor and leadership skills while building and maintaining hiking trails as a team. Students earn a Northwest Forest Pass, and service hours can be applied to school requirements.
YMCA Camp Reed
Located at Fan Lake, north of Spokane, YMCA hosts overnight mini (grade 1-2) and traditional camps (grade 3-9), where campers enjoy canoeing, hiking, mountain biking, ropes course, climbing wall, and horseback trail rides.
NATURE SCHOOLS
Looking to make the outdoors part of your child's everyday life? Try one of these education and childcare programs that provide experiential, play-based outdoor learning opportunities and incorporate environmental curriculum topics.
Harvard Park Children's Learning Center North
Offers preschool (age 2.5+), before/after school care, and summer camps, featuring a hands-on learning environment and park-like playground for daily outside play. Summer Camp (mid-June through August) includes science experiments, weekly field trips, water play, games, and gardening.
Into the Forest Outdoor Learning Center and Preschool
Founded in August 2017, this year-round center and private school—on Spokane's South Hill—provides programs for three age-groups: 1-2 years old, 3-5 years (preschool), and age 6+/elementary-school (before/after-school).
Little Woodland Adventures Forest and Nature School
This newly-founded private school—affiliated with Into the Forest (above)—is enrolling now for summer camps and for its fall preschool program. It provides play-based outdoor learning experiences using the natural world to educate the whole-child and deepen children's connections with nature. Curriculum includes place-based activities, life skills, gardening, and more.
North Wall Schools
Accredited, private K-6 school and early childhood program (infants, toddlers, preschool), in north Spokane, that serves the needs of gifted and talented learners. School campus includes a Nature Trail for experimental learning about botany and wildlife, and students enjoy active, outdoor playtime year-round.
Pioneer School
A K-5th grade accredited, non-profit school for gifted, talented, and highly-capable learners. Located in northeast Spokane Valley, it's known for its high academic standards, small class sizes, and unique, topic-focused experiences that enhance classroom learning—including expeditions, outings, and field-trips for camping, biking, hiking, skiing, and other recreation.
Plum Tree School
A private, home-based preschool for ages 3-6 in Spokane that focuses on play-based learning, creative arts, domestic life skills (e.g., cooking, baking), hands-on nature exploration, and mindfulness. 
Saint George's School
Located on 120-acres along the Little Spokane River, the campus for this private, independent school (no religious affiliation) is an integral part of the school's entire K-12 curriculum, providing hands-on experiences to enhance classroom learning related to the sciences, physical education, art, and other courses. For example, students learn paddling skills and then monitor the river's health, as it flows through campus, for the Spokane Riverkeeper program. The Outdoor Club provides recreation activities and trips for students in grades 8-12.
Tinkergarten
A national network of teachers and child-development experts who facilitate local community, play-based learning experiences for babies age 6-18 months and children age 18 months-8 years old. Using Tinkergarten's specially-designed curriculum, classes take place locally at John A. Finch Arboretum (Spokane), Rocky Hill Park (Liberty Lake), Broadmoore Park (Hayden), G.O. Phippeny Park (Coeur d'Alene), and the University of Idaho campus in Sandpoint.
Twin Eagles Wilderness School
From October through May, the monthly youth program for ages 6-13 and their families takes place at Indian Springs in Spokane, one Sunday each month (9 a.m.-3 p.m.). Children enjoy nature-connection mentoring and hands-on activities like making fire by friction and building natural shelters, animal tracking, and participating in group challenges. Twin Eagles' Homeschool Nature Program, for ages 6-13, is organized in three seasonal blocks with one day a week spent with Twin Eagles instructors to learn wilderness and survival skills and experience nature-based mentoring.
West Valley Outdoor Learning Center
Though affiliated with the West Valley School District in Spokane County, the center is available for use by all students of all ages, to connect them to nature through experiential learning. Programs include wildlife habitat, conservation, birds of prey, water ecosystems, and STEM activities. Center hosts monthly, theme-based public open house events.
Windsong School
This private school inspired by Waldorf Education, located on the Mukogawa Fort Wright Institute campus near Spokane Community College, offers parent-child and nursery/preschool (age 3+) programs, mixed-age kindergarten, and classes for grades 1, 2, 3, 4, and 6 for the 2019-20 school year. Students enjoy at least one hour of outdoor time each day. //