Children and families can learn bike safety and handling skills at the Bike Safety Rodeo hosted by Rotary Club of Colville, Wash. The Rodeo takes place on July 31, starting at 9:30 a.m. in the parking lot of the SCC Colville Center (local branch campus of Spokane Community College).
The bike rodeo is free for kids who are registered for the Blazing Saddles Little Pepper Family Ride and $5 for all others.
The event includes bike and helmet fitting and a bike safety/mechanical check provided by staff from Adventure Peddler Bike Shop in Colville. There will be 8 stations for learning bike safety and handling/control as well as fun games. Children will receive a certificate at end of the course.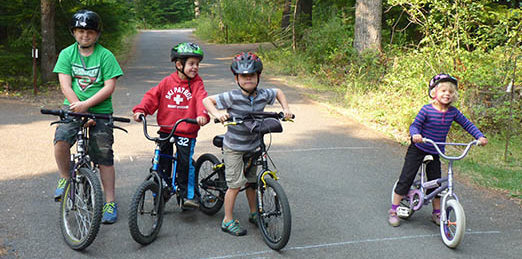 Registration/permission forms will be available at Adventure Peddler, Chamber of Commerce, and other locations.  Forms can be returned to a drop box at Adventure Peddler.
For more information, visit the Rotary's Kids and Family Bike Safety Rodeo event page (on Facebook) or contact the Rotary Club of Colville at rotaryclubofcolville [at] gmail.com.
For more stories about biking with kids, visit the OTO archives.