One of my favorite memories of childhood was going on family rides around our Spokane Valley neighborhood. It introduced me to riding bikes at an early age, helped me discover the world around me from something other than a car window, and served as a great family bonding experience.
As I got older, before we could drive, my friends and I rode all over the valley and even made a couple long pedals to places as far away as Coeur d'Alene.
The point here is you'll be doing children a huge favor by taking them out riding. Being outside on and around bikes at a young age will help them develop a life-long passion for this fun, healthy outdoor activity.
It may not always be easy, but it's worth it. Here are a few things I learned riding with my son over the past five years that you might find helpful.
Being "over-prepared" on a ride with kids can make the difference between happy family and hell on wheels.
Get the right bikes and gear.
You can totally get by with fixer-upper used bikes and one of many types of on-bike kid seats for young children to sit securely on your bike.
Or if they are old enough to ride, pick up a new or used balance bike or pedal bike for older kids. A basic set-up like that will be great for riding neighborhood streets or paved pathways like the Centennial Trail in Spokane or North Idaho.
If you're looking for higher-functioning, more comfortable bikes and kid haulers like bike trailers, cargo bikes, or trailer bikes, visit your local bike shop or get hunting online asap as some COVID-related bike and accessory shortages will continue at least through 2021.
If you want to ride dirt trails or do longer family rides, see #5 below for some tips and gear recommendations.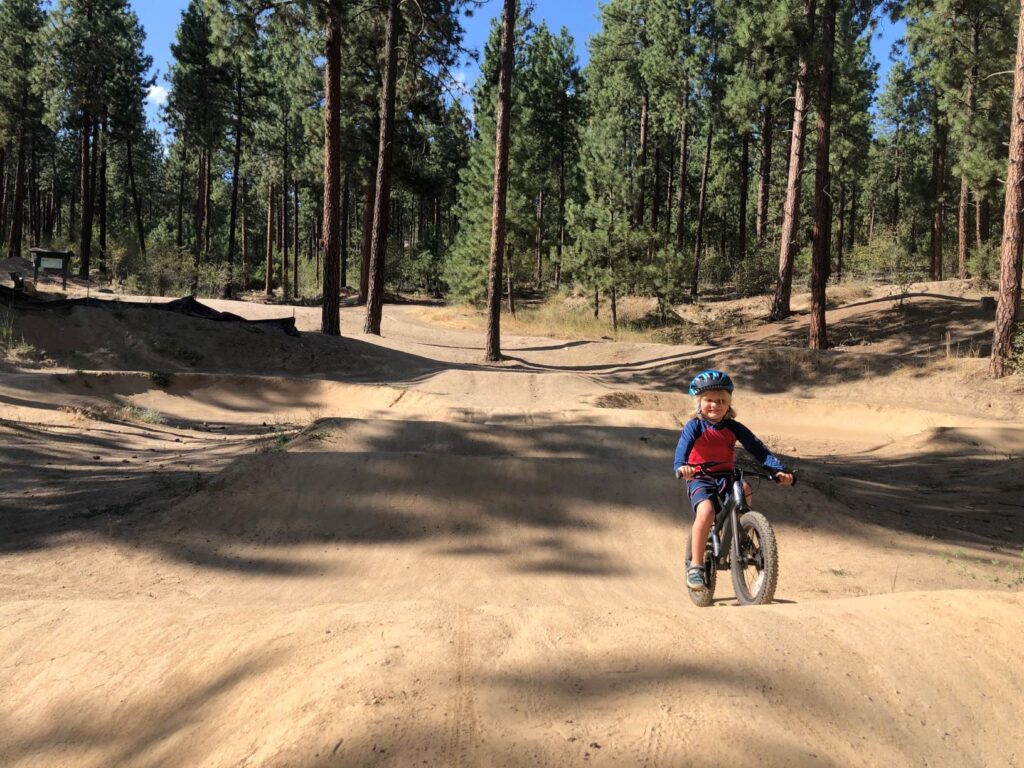 Be prepared.
Being "over-prepared" on a ride with kids can make the difference between happy family and hell on wheels. Water or juice and snacks are a must and will inevitably ward off a meltdown.
But here are some other things to throw in your backpack, bike bag, or panniers if you'll be riding further than a mile or two from your house: a change of clothes, baby wipes, changing kit for young kids, toilet paper and Ziplock bags for trash/soiled clothes, hand sanitizer, sun protection, extra layers and jackets, money and masks for planned or unplanned stops, first-aid kit, bike tools and tire repair kit, your phone and a backup charger, and helmets for everyone.
Ride to fun destinations.
Some days kids may rejoice at the mention of a bike ride, yet there will likely be other times it feels like you just informed them that Christmas has been canceled.
To help get kids more excited to ride, try making it a ride to a destination they love or soon will love. A safe ride to a nearby playground is an obvious choice. In Spokane, there are many playgrounds along or nearby the Centennial and Ben Burr trails.
Or try riding to an ice cream shop, swimming spot, a friend's house for a play date, a pump track or skate park, a farmers' market for fresh fruit, or a fun natural area where they can run wild in the woods and have a snack or picnic before heading home.
Don't confuse riding with kids with getting exercise.
If at least one person in your family is always trying to squeeze in a workout, they will likely be disappointed on a family ride with young kids. Riding with kids, depending on their age and ability level, can be painfully slow at times and prone to repeated, random snack breaks and detours to explore nearby attractions.
That's not to say there aren't some great ways to get exercise while riding with children (see #5 below), but most family rides will not satisfy an adult rider with Tour Divide ambitions.
My advice: get your exercise beforehand, chill out, and enjoy a slow pedal with your clan.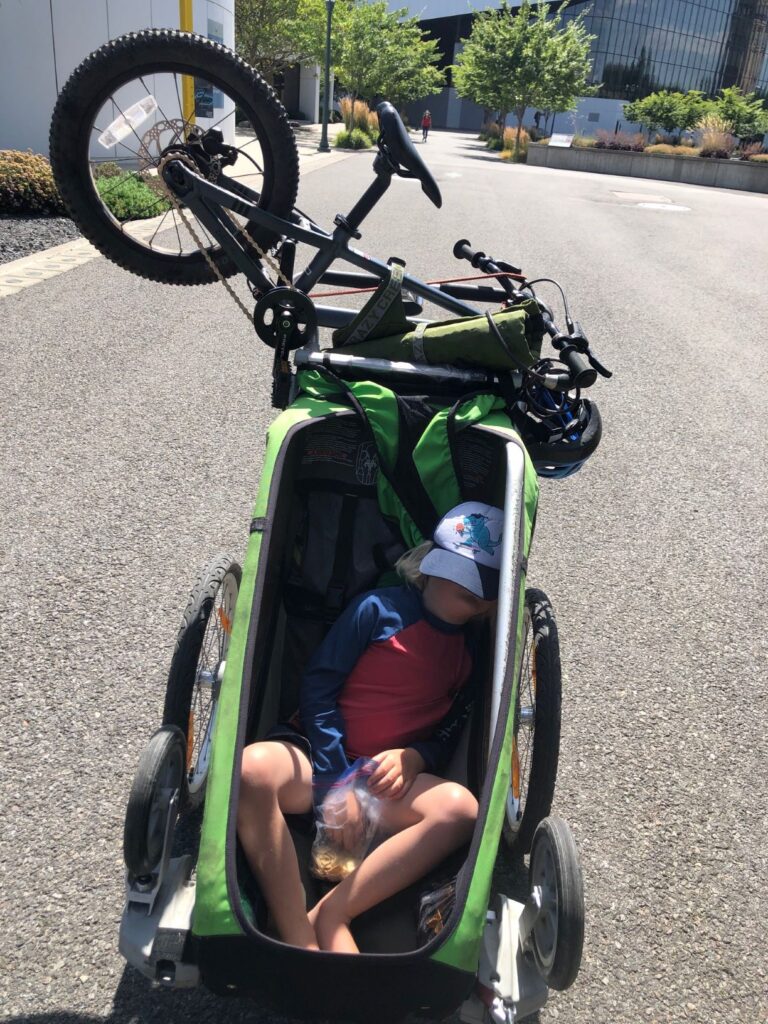 Ride farther with your kids and have more fun too.
If you want to do longer rides with kids or get into riding dirt trails, you will need to invest in the right bikes and accessories. When kids are young and content to sit and sleep in a bike trailer, you can crank out miles of riding together and make everyone happy.
When they are older and able to do some riding themselves, try a trailer bike (also called a trail-a-bike) that's connected to an adult's bike. They get to pedal some but don't always need to, and you can ride farther together.
I have also used a Weehoo trailer bike for riding Riverside State Park singletrack with my son since he was 3 years old.
Now that he is older and able to ride up to 7 miles some days, we've been riding our own bikes on the Centennial Trail from our house to the Camp Sekani pump track where he then rides in circles for an hour like a maniac. After all that, he's ready to crash for a nap in my Thule bike trailer while I pedal all of us back home with his bike strapped to the back of the trailer.
However you do it, the important thing is to get out there and ride whatever distance with your kid or kids early and often. Ride safe, be prepared, and you'll never regret it.
Originally published as "What I Learned About Riding With Kids" in the May-June 2021 issue in the annual Inland NW Family Outdoors Guide special seciton.
Derrick Knowles is co-publisher and editor-in-chief and was the original senior writer when Out There Monthly was founded by Jon Snyder in 2004.
Read more stories about biking with kids in our archives.