Northwest weather can be finicky in the summer—cloudy and too cool for swimming; other days, it's too hot for a hike. I have a child who can feel overexerted quickly when exercising in the hot sun yet swims for hours. My other child can better tolerate heat, but gets bored after swimming too long, and needs an array of recreation with thrills for adrenaline boosts. This means I always have to bring lots of supplies to the lake so there's "more to do"—so I Sherpa-carry our inflatable stand-up paddleboard, floaties, and sand toys.
Now that my kids are getting older, they are more willing to take a break from waterplay to explore park trails. And when we're camping, it's nice to take a morning hike (or paddle) and then head to the campground beach or dock when the sun is higher in the sky.
Also, older kids and teens need independent experiences, like venturing along a trail solo or with a friend. Nature inspires soul-searching, and anytime our kids can get more screen-free serenity and exercise, the better.
These are eight of our favorite regional lake parks that offer great hiking and swimming options for hot summer days. Please note that most parks prohibit dogs on the beach, so it's best to leave your furry kid at home.
NORTH IDAHO
City Beach & Pend d' Oreille Bay Trail (Sandpoint): Walk the flat 3-mile trail, out and back, which follows the shoreline of Lake Pend Oreille. City Beach has it all, with plenty of lakefront sand.
Farragut State Park (Athol): Beaver Bay Beach requires a steep downhill jaunt from the parking lot and restrooms, but once you arrive there's plenty of lakefront, calm water, and trails to explore in the forest all around the bay. Trails are also accessible right from the parking lot.
Round Lake State Park (Sagle): An easy trail loops around the lake and the beach has two docks, paddle gear rentals, and a PFD loaner station.
Tubbs Hill (Coeur d'Alene): Hike the trail, which can be a bit rocky and rugged for little kids, but you don't need to go far to find a small sandy beach spot for private playtime. Hike in with all of your stuff, but you'll need to hike back to the trailhead to use a porta-potty. (Restroom available at nearby McEuen Park.) Other nearby swim settings are Sanders Beach or City Beach.
WASHINGTON
Bear Lake Regional Park (Chattaroy): Hike the trail around the lake. Trees and grass hug the shoreline, so there isn't a beach—rather, there are cement steps down to the water, which starts at a depth of about three feet. However, there are some spaces between trees to access the water.
Fish Lake & Columbia Plateau Trail State Park (Cheney): Walk the paved trail and enjoy the calm lake, popular with locals for fishing, paddling, and beach play for kids. Park at Fish Lake Park and then walk up to the state park trailhead.
Liberty Lake Regional Park (Liberty Lake): The park has miles of trails to choose from and the day-use beach—though a smaller lakefront compared to other parks—has great sand, a dock and roped-off swim area, and plenty of lake for paddling. Spokane County Parks daily fee required.
Waterfront Park (Medical Lake): A popular park with a main parking lot that fills quickly, but the layout is sweet and lake water is spring-fed, so relatively warmer than larger lakes. Walk the paved Medical Lake Trail along the west shore.
This story was published in the Inland NW Family Outdoors Guide in the May-June 2021 issue.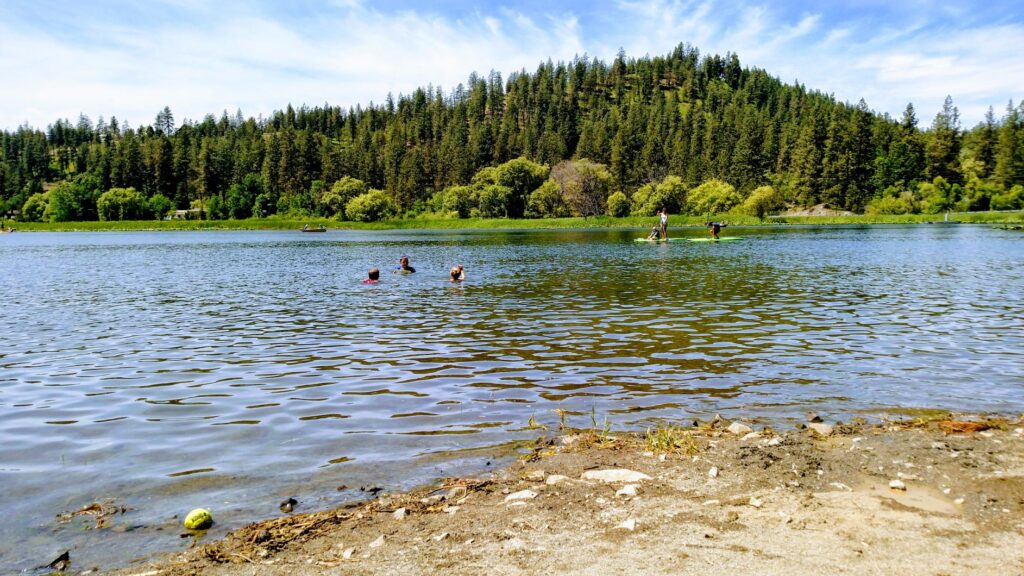 For more swimming stories, visit the OTO archives.