Almost all of my running is on pavement, but in the heat of summer I've been craving every bit of foliage-shaded ground I can find. I've contemplated becoming more of a trail runner, but other than a few off-road runs here and there I haven't really gone for it.
Wanting to get a better sense of the world of backcountry and alpine running, I contacted Ken and Stephanie Eldore, who own Priest Lake Multisports. Their organization puts on many backcountry races each year.
"We both got really interested in trail running instead of road marathons because that's where we live in North Idaho," Ken says. "We've got all of this beautiful terrain and backcountry." Out in nature, runs are naturally quieter, more serene. Trail races have a different feel, Ken says, because runners are more spread out over the course. You're not elbow to elbow. "Runner density gets really spread out on a trail race…It's you and the cedar trees and the huckleberry bushes."
"Once I did my first trail 50k I kind of never looked back," says Stephanie, who is now training for 100-milers and is a member of the Altra Red Team. The increase in distance and shift to trails has been a really fun progression she says. "I much prefer the trails, the beauty of it, the challenge."
There's something special about both the terrain and the people you encounter in backcountry running. "When I'm in a road race, surrounded by so many people, aid stations, cars, I don't really have time to relax and unwind and kind of let go of things," Stephanie says. "When I'm out on a trail, whether I'm in a race or not, it's been very therapeutic for me. I can process grief, process life stresses."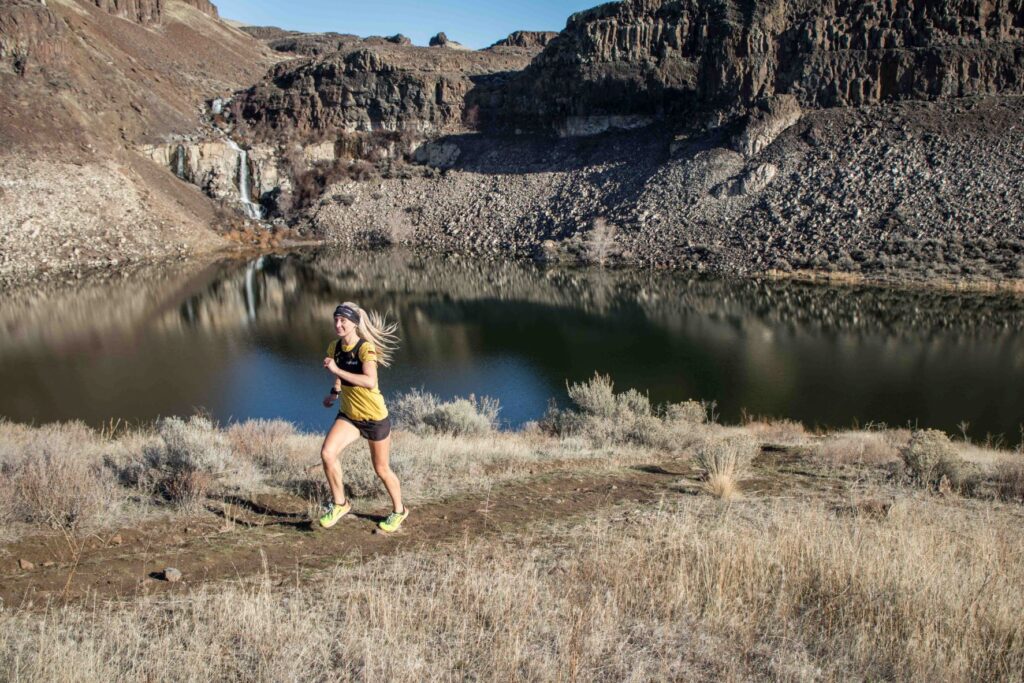 Trail running is also lower impact. "I notice my body handles it a lot better—my knees, my stomach, everything," says Stephanie. The people they've met through trail running and organizing backcountry racing make up a community they treasure too. "I also really love the group of people you meet at trail races," says Stephanie. "It's kind of a mellower, lower key group of people. It's very supportive."
Ken agrees. "Trail running affords somebody to take on more of an individual athletic pursuit. It's common for people to do more of a hiking combination with running, versus trying to beat the clock," he explains. People seem to enjoy trail races more for the feat itself than their finish time. It's about "the challenge of the individual doing it—their own self-accomplishment and not to PR the clock out there somewhere."
New trail runners can start small, looking for local loops or out and backs without a lot of elevation gain. Make sure to pack your own hydration and fuel, a whistle, and bear spray, and be prepared to handle your own navigation. Though she's never felt a sense of danger from animals, Stephanie has encountered plenty. "I've seen bears and I've seen moose, all sorts of critters. Just carrying [bear spray] gives you a little extra confidence."
Chances are you might become just as hooked as the Eldores have—and you could also find yourself quickly plugged into the trail running community. "One of my first trail races I headed out on my own," says Stephanie. "Within five miles I met a group of ladies. We ended up running the whole race together and we just became literally lifelong friends. You end up meeting likeminded people. I've just really loved it."
To register for one of Priest Lake Multisports' events (which range from 5ks up to ultras), go to priestlakerace.com.
Sarah Hauge is a Spokane-based runner, writer, and editor.
For more Run Wild column stories, visit the OTO archives.