Landscaping, planning, and garden design beautifies your garden or lawn by simply using the colors, shapes, and styles of plants and landscaping materials. Including a piece of art, fair trade sustainable décor, water feature, creative functional piece, fun lighting, or mural takes your yard or garden to a whole new level and turns your outdoor space into a delightful place to hang out.
Shop Local
First, check out the yard art at your local nursery or garden center. Pick up something locally crafted and consigned at New Leaf Nursery in Hayden, Idaho. Discover an Olla clay watering system or shop fair trade Eangee outdoor art at Vicki's Garden Center in Spokane. Eangee crafts eco-friendly, fair-trade products and designs for your fence, shed, yard, and patio. See their artisans at work at Eangee.com.
A lot of local lawn art crafters post on Facebook Marketplace (search "garden art") and pop up at markets, fairs, and shows. One of the best places to find locally-made metalwork, glasswork, wind features, woodwork, and birdhouses for your outdoor space is the annual Art on the Green during the summer at North Idaho College in Coeur d'Alene.
You can also shop elegant statues or quirky birdbaths at Concrete Works Statuary in Spokane Valley or order a custom piece of steel art from Iron Mountain Studios in Post Falls.
Hire an Artist
The Inland Northwest is full of artists passionate about taking their art outside. Hire one of them to paint a mural on your fence, garage, or shed, and bring fresh color to dark areas. Mallory Battista, an artist based in Spokane, finds inspiration in the natural beauty that grows around her and enjoys enlivening garden spaces with murals.
"Big murals on public streets are fun," she says, "but the personal spaces in people's yards are just as important." You can also ask your local art gallery for a reference or check out the signature on your favorite wall mural around town and reach out to that artist online.
Rather than cut down that old or dead tree and haul it to the dump, consider hiring Jeff May to sculpt it into a unique timber wildlife piece that can grace the same spot.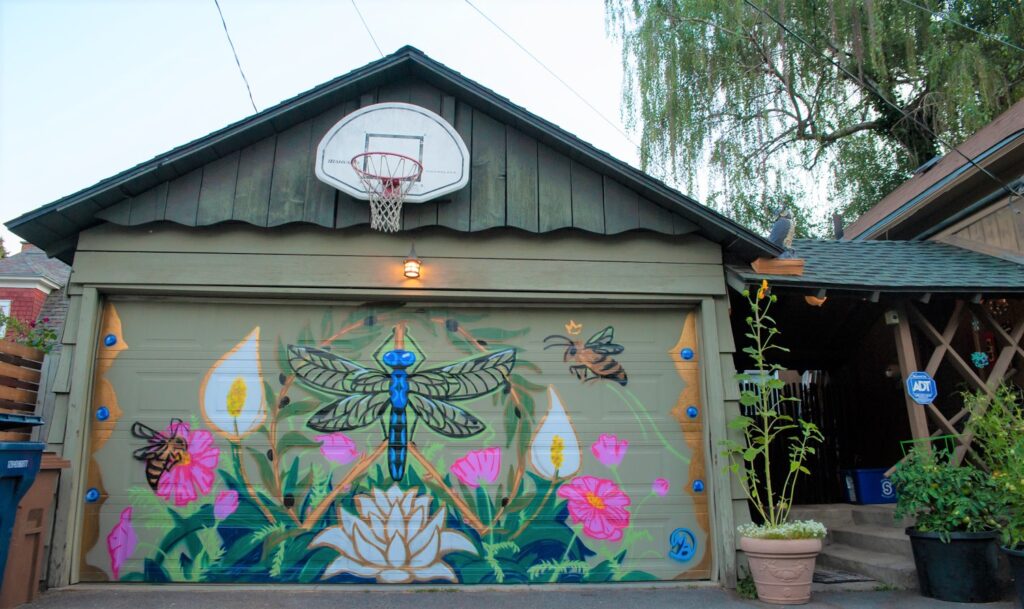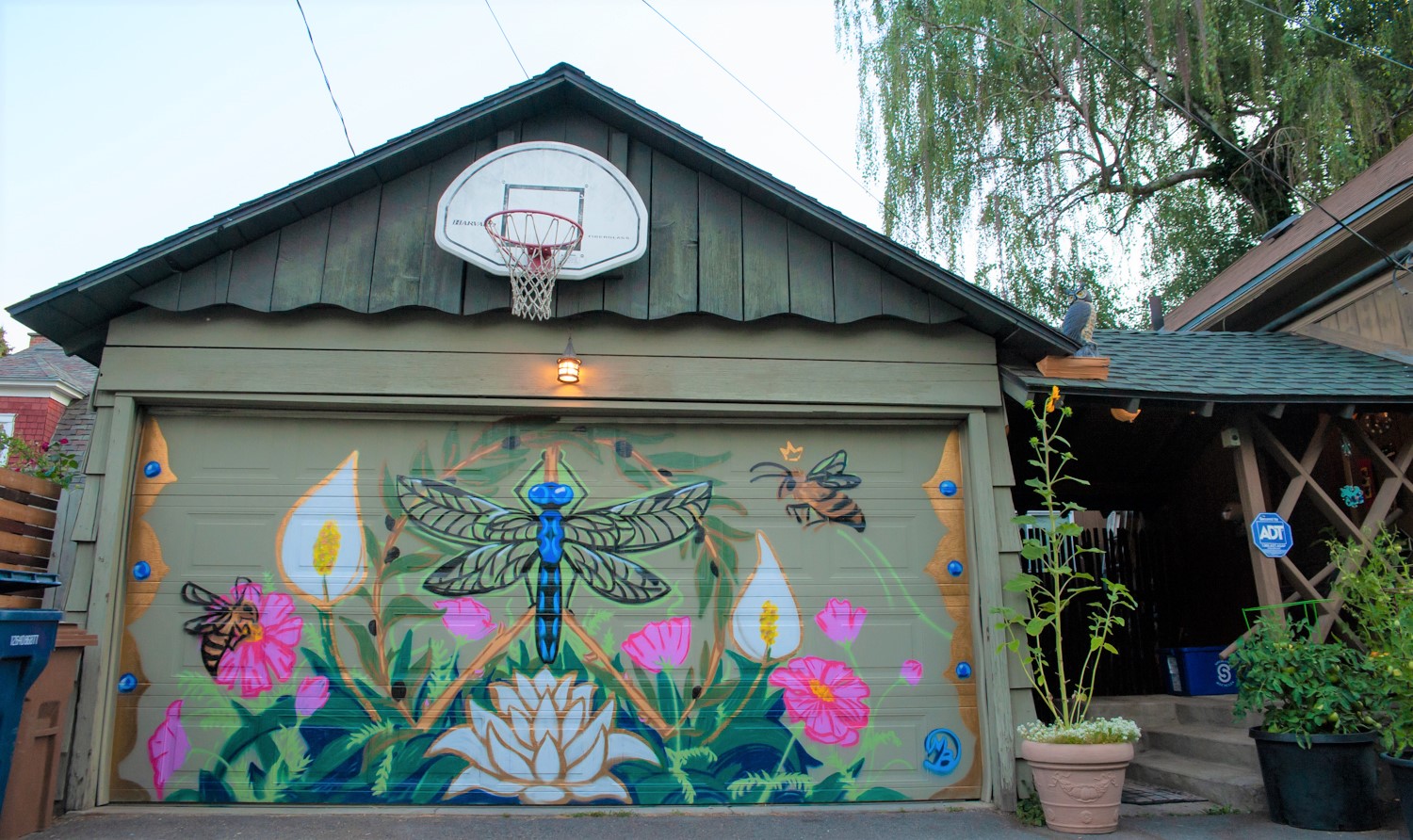 Do It Yourself
The smallest splash of color or light in a yard can make a significant difference. A quick YouTube or Internet search will provide you with a multitude of ideas to craft your own creative, sustainable, and recycled garden décor, such as recycle CDs or mismatched silverware to make a chime that can deter birds.
Or create mosaic garden art using broken dishes or glass. China plates and glass bottles can also be used as colorful edging around flower beds. Old furniture like chairs, wagons, bed posts, tubs, ladders, doors, and iron bed frames, make great planters and colorful fixtures among the greenery.
Do you have plants in pots or buckets? Have a garden art day with your kids and decorate your containers with chalk paint. Then, in a few weeks, go back out and do it again! Put a pinwheel in a few of the pots to shimmer and spin in the breeze and deter pesky birds from pecking your berries and greens.
Add something functional but also colorful, such as a hammock or hanging chair, a log bench, solar string lights, a trellis swing, or strategically-placed boulders. An immersive and calming place to relax will make your yard the perfect hangout spot on any sunny day.
Finally, gather up some sticks and stones, dust off those pebbles you picked up on the Oregon Coast in 2019, and build your own natural pillars and other creative formations. All you need is some string, non-toxic glue, and a little imagination. Then, look around you for inspiration as you build your own art into the natural landscape.
Originally published as "Beautifying Your Yard With Art" in the July-August 2021 issue.
S. Michal Bennett is a freelance writer based in northern Idaho who enjoys crafting stories, adventuring in the outdoors, digging into new and traditional culinary delights, and reflecting on life in print.
For more Outdoor Living stories, visit the column archives.