The other day on one of my typical running routes in Spokane, I made a left turn two blocks earlier than usual. Less than a mile from my house I passed a string of homes I've never seen before, despite countless hours spent walking and running around my neighborhood. Then, the road culminated at the top of a stone walled, overgrown path leading down to a park. I felt transported. Where was I, again? It was a kind of magical, slightly eerie, secret-garden moment, and it only happened because I had gone ever so slightly off the beaten path.
Getting off the beaten path is one of the motivations for the many runners and walkers who have attempted the feat of traversing every street of a given city or town. This challenge—commonly hashtagged #everysinglestreet on social media—gained popularity in 2018, when long-distance runner Rickey Gates ran 1,317 miles around his adopted hometown of San Francisco over 45 days. This feat (which he recently discussed on Dirtbag Diaries podcast episode 159) has inspired many others.
Tom Griffen, a runner and walker who moved from North Carolina to the Inland Northwest in 2020 to become Fleet Feet's Director of Training and Leadership Development, is getting to know Spokane by walking every one of its streets.
"I moved here right as COVID hit," he says. "I'm a middle-aged single man with no kids and no pets…it's really hard to meet people," especially under pandemic circumstances.
Having already completed many ultramarathons as well as a walk across the country from LA to Brooklyn (he wrote a book, With a Good Heart, about that journey), walking Spokane's streets offered a safe way to make deeper connections with his new home and the people who make up its landscapes.
Griffen thinks of his on-foot journeys not as the means to an end, but the thing of value itself. "My intention is not to rush to get this done," he says. "I think that's the appeal of walking—to move slower. The slower movement through life can afford me the opportunity to see things I would have missed if moving fast."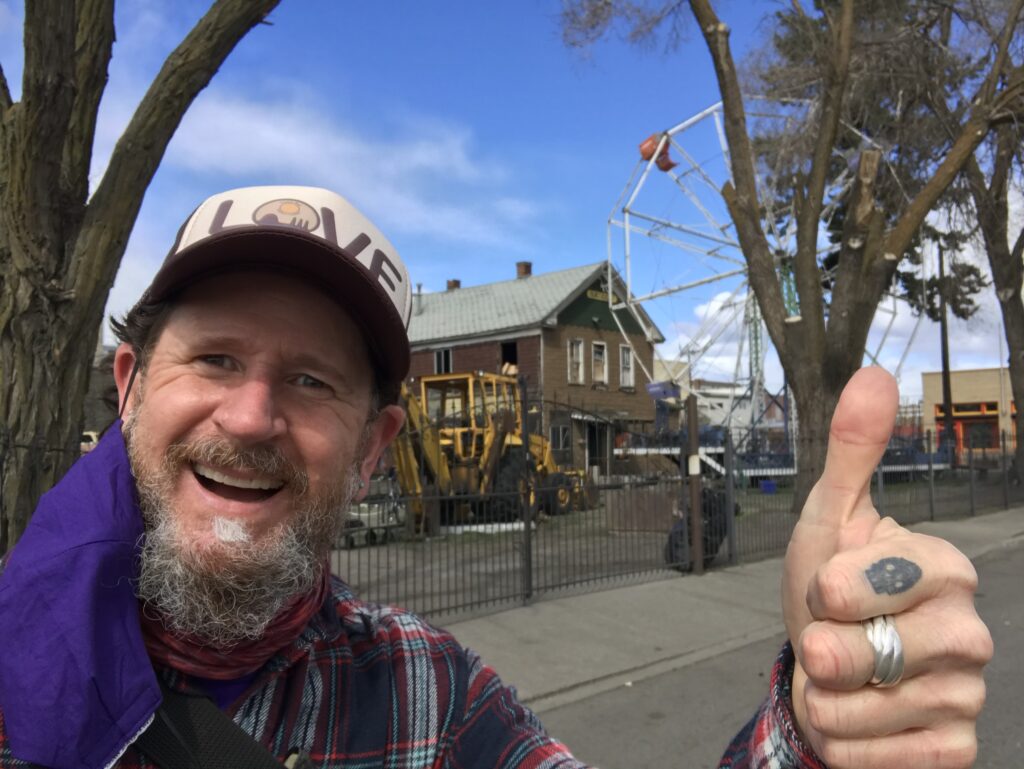 Griffen lives downtown and is a foot commuter who often builds his destinations around new destinations, which affords him an up-close look at the city's architecture and distinctive neighborhoods, as well as casual ways to connect with others.
One spring Saturday he wanted to get a library card and asked himself, "Where can I go and build a walk around that?" He chose Hillyard and set off on the day's trek. "While I was there I had a wonderful conversation with a librarian. It was so heartwarming to walk in, pick up my library card, have a socially distanced chitchat." He ended up doing a 20-mile roundtrip walk that day, and the fuel, he says, "came from that five-minute exchange with another human being."
In addition to the people he encounters, "what I find most alluring is the distinct personalities of the various parts of town." He's getting to know Spokane's history and looks up landmarks he's passed after he gets home and marks that day's route on a paper map (citystrides.com is an alternative, web-based method for tracking routes that links up with Strava).
In every neighborhood he's visited, "there's always waves and acknowledgement" from other people. "I get a sense that there's this openness and welcome feeling. "There's kindness everywhere, and if you're receptive to it, you will find it."
Sarah Hauge is a writer and editor who lives in Spokane with her husband and two daughters. She wrote about her longtime love of walking in the March-April 2021 issue of Out There.
Read more Run Wild column articles in the OTO archives.