We got to wondering what being a river guide was like during a global pandemic and asked a few guides from ROW Adventures to share their stories of time on the river last season.
Guide: Karoline Woodhead
Years spent guiding: 7
Favorite regional river: Salmon River
When you find something you love in the outdoors, it's a joy to share it with others. Karoline Woodhead started her rafting career at age 17 which gave her a chance to share her love of rivers. "My favorite thing about guiding is introducing people to new, wild places that I care about and watching them fall in love with them," she says.
Woodhead started out working as a "swamper" on the Middle Fork of the Salmon River, helping guides set up camp on multi-day raft trips. She progressed to leading half-day trips on the Payette River just outside of her hometown of Boise, Idaho. She was then drawn to ROW Adventures because of the many rivers that they run, and the relationships that they promote between the guests, guides, and the wilderness they recreate in. This will be her second season with ROW.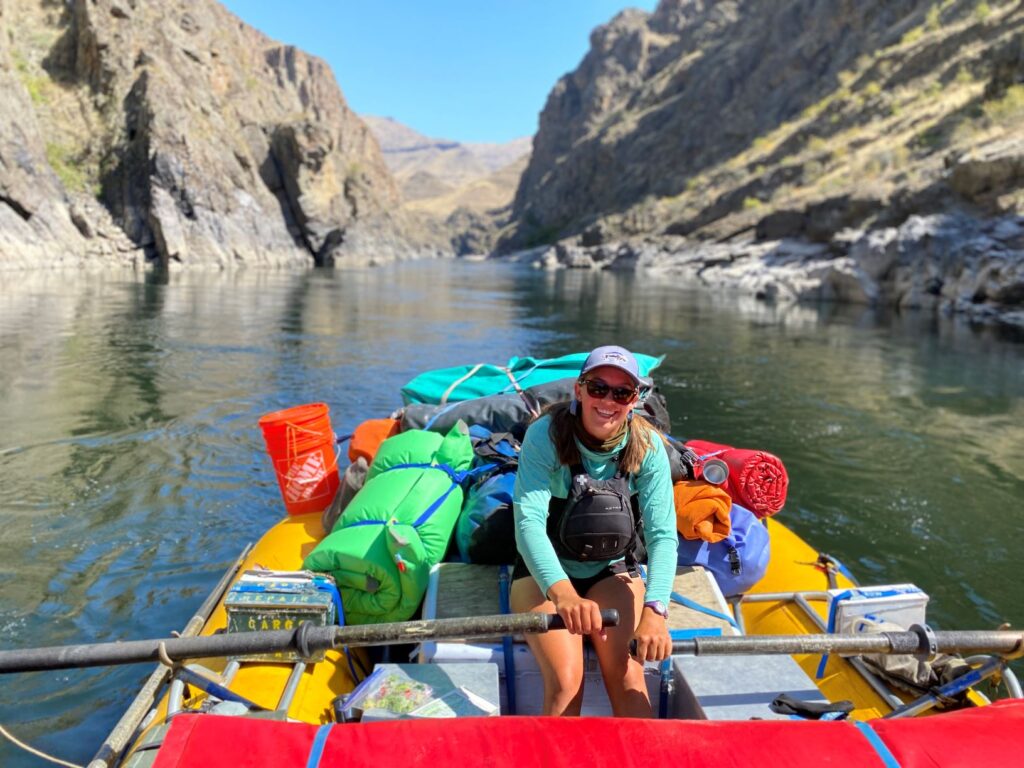 Last season, when the Covid-19 pandemic broke out, guiding brought Woodhead a small sense of normalcy and peace in a difficult year. "River guiding last season was different than normal years, especially knowing that we were coming in contact with guides and guests from all around the country," she says. Guides adopted extra precautions like mask wearing, cleaning regimens, and social distancing both on and off the river, Woodhead explains. "Even with the changes, I never felt like the experiences or memories of the river were affected."
This season, Woodhead looks forward to guiding new rivers, taking on new leadership positions, and continuing to hone her skill of gear packing.
Guide: Tom Scarborough
Years spent guiding: 19
Favorite regional river: The Rouge
For Tom Scarborough, whichever river he's currently rafting is his favorite. This seems a suitable answer for a seasoned river rat. Following his guide training in 2002, Scarborough has worked as a regular guide, a returning guide leading trips, the manager of the Middle Fork of the Salmon, and is in his 11th season of managing ROW's Rouge River outpost.
Scarborough's favorite thing about guiding river trips is the simple clarity that comes from connecting with nature, both for himself and his guests. "[There's] the feeling of living at the river's pace, and being in the moment. I can forget the rest of the world for a little while," he says. "What goes hand-in-hand with that is the disconnection from the now commonplace connection of email, phone, Internet, and the modern distractions that they create. On a river trip you get to slow down and interact with people the old-fashioned way, face to face."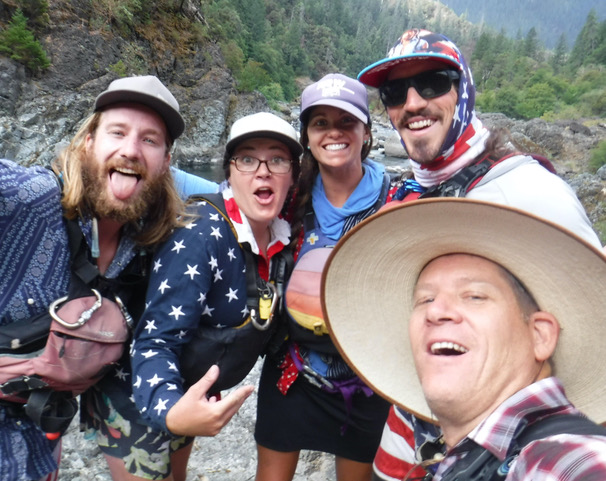 That face-to-face interaction was of course a bit different on the river in 2020. Last spring, when the pandemic broke out, Scarborough says everyone was quite nervous, not knowing if the things they were doing to contain the virus would be enough. With the introduction of vaccinations and an increased knowledge about the virus, he is feeling hopeful and better prepared for the 2021 season, though he says he knows it will be important to stay vigilant in the outdoor industry.
"People have seemed very appreciative to have a safer, outdoor vacation to participate in," says Scarborough of the previous season amongst COVID. "We get to be part of making memories for our guests, and with the in-real-life experiences we take people on being harder to come by, we are helping to ground and connect people a bit more than they have been in a while."
This season, Scarborough looks forward to building a new crew of river guides and working as a team to bring people those authentic experiences. His favorite part of being a ROW manager is that he gets to teach, mentor, and also participate on the crew trips.
Guide: Kim Cunningham
Years spent guiding: 5
Favorite regional river: St. Joe River
After hearing the story of Kim Cunningham's first rafting trip, you might not assume she'd end up working as a guide. In November 2016 Cunningham embarked on the Yaak river in Northwest Montana with some friends. She wore mismatched and borrowed cold weather gear and didn't exactly know what she was in for. As her friends approached a large rapid they planned to portage, they hit a bump and Cunningham flew out of the boat.
"I managed to have my first swim on my very first day of rafting above a big rapid in one of the coldest water temps I have rafted in less than optimal gear, and somehow I still loved it enough to decide to become a river guide," she says.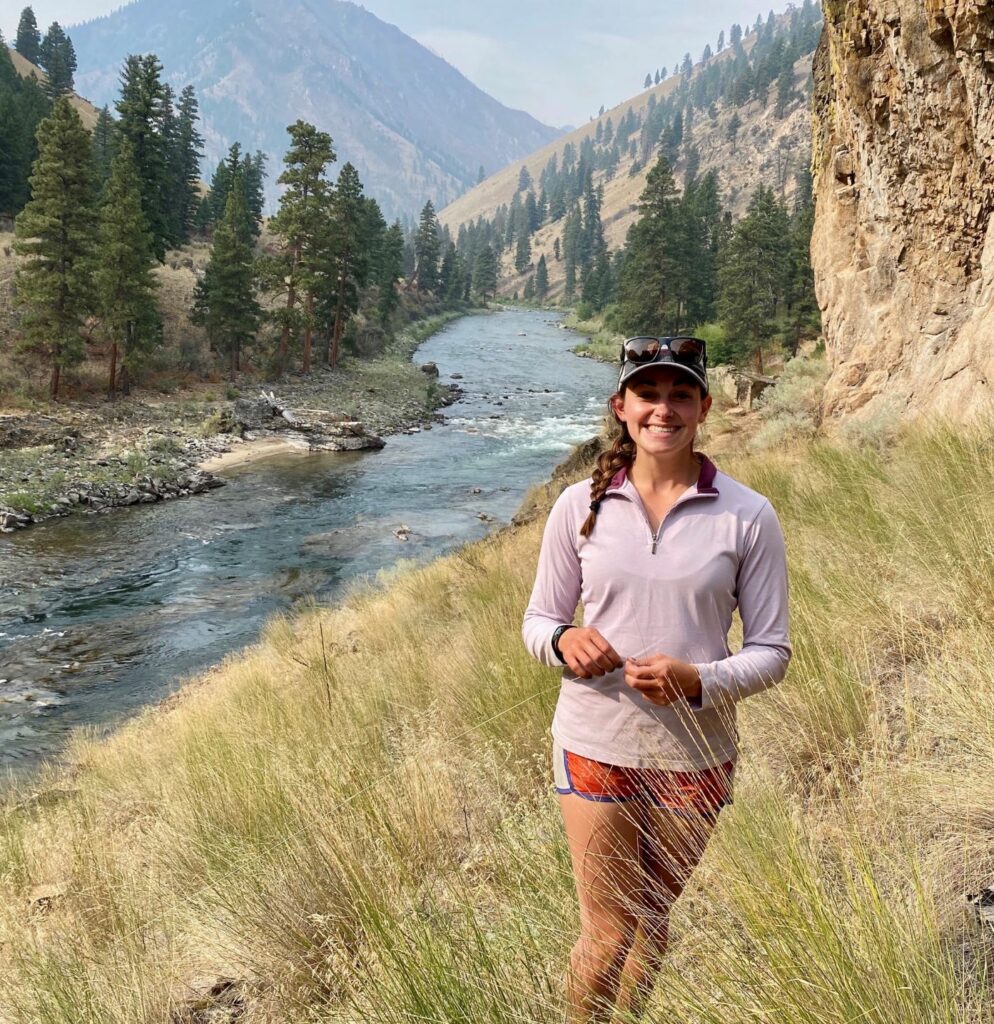 Cunningham lives and teaches in Coeur d'Alene, Idaho, which puts her at convenient proximity to her favorite river, the St. Joe. She is starting her fifth season with ROW Adventures and has led guided trips all over Idaho. "I love getting to see people experience the river and push themselves to try new things," she says. "The most challenging thing is managing groups with varying levels of river experience to make sure everyone has fun at their own level and pace." Last season, there was the extra duty of managing the social dynamics of the trip while maintaining social distance. Kim continued to encourage guests to get to know one another and have fun.
In 2021 she looks forward to traveling more and is eager to grow as a boater and learn the technical rapids of the Middle Fork in her second season on the Salmon River.
Lisa Laughlin is a freelance writer living in Spokane. She enjoys paddleboarding, trail running, and backpacking. She wrote about hiking Beezley Hill in the Nov.-Dec. 2020 issue of Out There.