On April 17, 2021, Nick Sweeney and Kyle Tarry, both from Spokane, along with Matt Zavortink and Aaron Nelson, from Oregon, completed the first ascent of Mount Hood's Cathedral Ramp. This route sits high on Mt Hood's northern aspect, starting off the Eliot Glacier at about 9,000 feet and features four pitches of ice and rock through the headwall. And it's a dream come true for these talented alpinists.
The name "Cathedral Ramp" is an ice feature named in Bill Mullee's 2014 Mt Hood guidebook. Tarry and Sweeney have been climbing partners for years and planned to make the first ascent as a pair. However, just a few days before their attempt, Tarry learned that Zavortink and Nelson had the same ambitious goal. The climbers quickly agreed that competition wasn't necessary and discovered that sharing the route was a ton of fun.
In order to really appreciate just how significant this first ascent is, it's important to look into Sweeney's past. During a nasty mountain bike crash on Spokane's Beacon Hill, Sweeney broke his wrist. Since he couldn't ride during his recovery, he started visiting the cliffs at Minnehaha, and started itching to try rock climbing as soon as his cast was off.
Then, in college, he took climbing courses through Eastern Washington Universities' outdoor program. His instructor, Kevin Klim, made a huge impact on his life. "Kevin's way of approaching the mountains and focus on mountain safety influences me to this day," says Sweeney.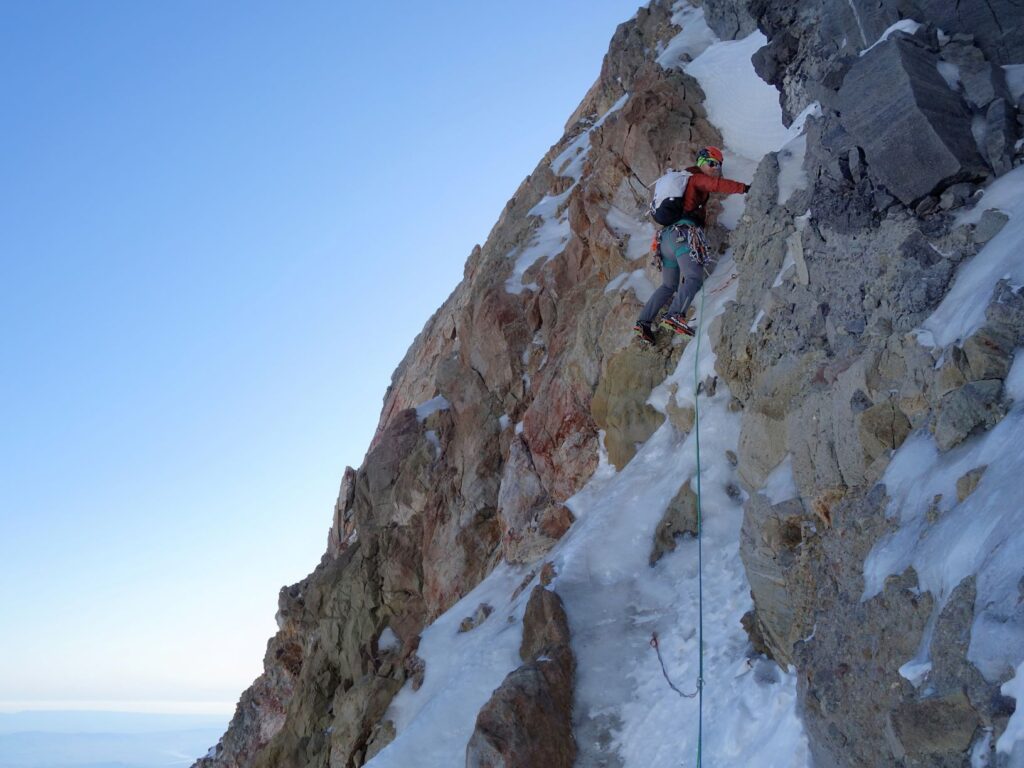 After college, Sweeney met Tarry, and they started hitting some of the biggest and toughest routes in the Northwest. The pair climbed Liberty Ridge on Mount Rainier and the Northeast Rib on Johannesburg Mountain. With a laugh, Sweeney admits that Tarry climbs smart, fast, and never turns down a lead. "Really, you can't ask for much more."
Fast forward to 2020, and like for many of us, a lot of plans were changed or modified. However, all of the climbers involved maintained a certain fitness level, and they always kept their eyes on the special route on the north face of Mount Hood. Once everything lined up, and the weather was perfect, they pulled the trigger and summitted the highest point in Oregon by a path that no one else had ever traveled.
For anyone interested in the nitty gritty details of the Cathedral Ramp route, including the approach and the ideal gear, you can visit Sweeney's alpine climbing website at Spokalpine.com. His website also chronicles his climbs on roughly 40 other routes, such as Harrison Peak, Liberty Bell, and Dragontail, which makes it a great resource for any other Northwest rock climbers and mountaineers.
Originally published as "Climbers Team Up For First Ascent Of Mount Hood's Cathedral Ramp" in the May-June 2021 issue.
Jon Jonckers articles and images have been featured in Out There since 2006.