If you're like my family, once you learned that regional ski swaps were canceled because of COVID-19, you felt a twinge of panic. How to find a set of bigger used skis and boots for a growing kid? What to do with old gear that you were hoping to sell at the swap?
Thankfully, three local small businesses that specialize in used gear have a mountain of snow sports gear available. These shops are like mini de facto ski-swaps—but that depends, of course, on people bringing in their used gear.
Rambleraven Gear Trader
Located on Spokane's Division Street hill, Rambleraven Gear Trader (formerly known as NW Outdoors) has options for consigning, selling, and trading in used gear, as long as items are clean and functional. Consignment value is assessed right away. For trade-in gear, Rambleraven owner Mark Schneider determines an item's value based on quality, condition, age, and product demand. All used footwear is disinfected before being placed on display. 
Now available is a "full line of new and used alpine and cross-country skis, snowboards, and snowshoes," says Schneider, as well as new winter accessories like hats, gloves, socks, and buffs. There are also used accessories, except socks. "Youth winter clothing and gear is always in high demand," he says. (Bring in your gear, families!) The shop's website, Rambleraven.com, has a full catalog of current inventory that's updated in real time.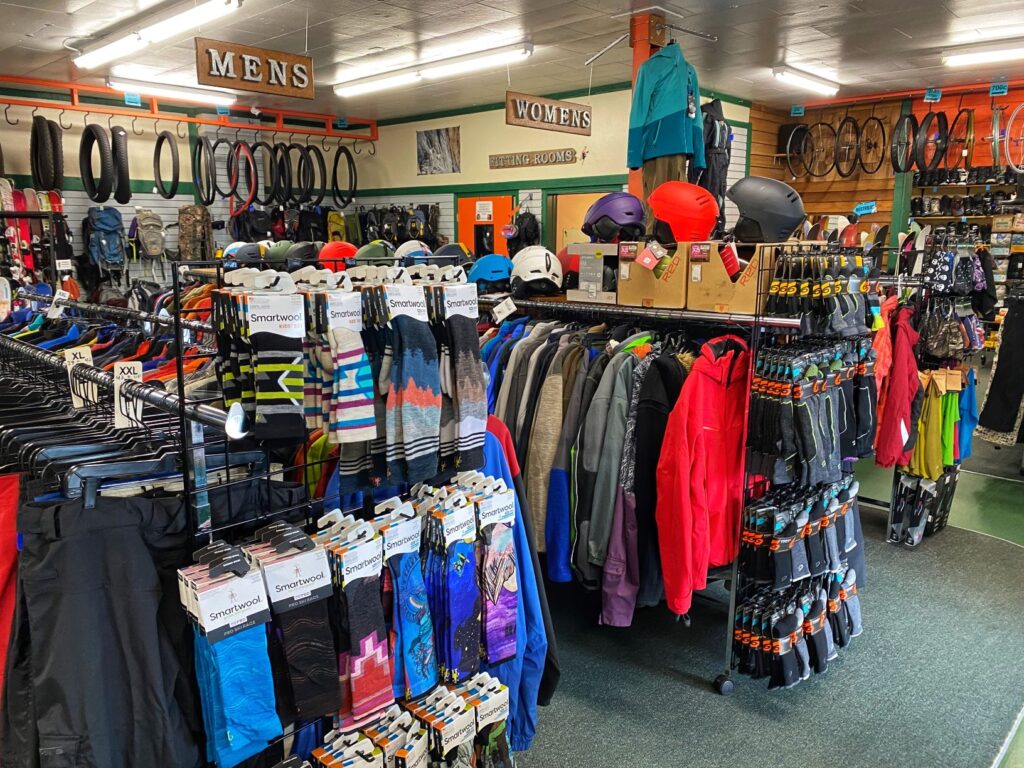 Sports Creel
With a large following of loyal customers, Sports Creel, located next to The Bike Hub in Spokane Valley, is known as the place to go for downhill ski gear—the shop's sole winter focus.  
Busy since August, store manager Micah Genteman says, "What's happening right with the snow skis sales industry is a carry over from what happened with spring and summer gear. We have a busier shop right now than we've had in past seasons during November. The lack of ski swaps has people coming in earlier with a purpose in mind."
Don't wait until ski season starts to dial-in your gear needs, he advises. Sports Creel's all-ages trade-in/trade-up program is popular, especially for youth gear. Anyone can bring in their clean, functional old skis, for example, and the trade-in value is applied to the purchase of brand-new or used skis. That trade-in credit can only be applied to the same gear type—boots for boots or skis for skis.
Sports Creel's COVID-19 safety protocols include "disinfection systems for used boots and helmets, for trade-in, and after being tried on," says Genteman. "We have invested in an automated, robot ski tuning-system—no technicians have to touch it." And the shop's 3D scanner ski boot-fitting system is mostly a "non-touch system," he says.
In anticipation for busy days when Sports Creel is at indoor capacity, staff is devising a system so people don't have to wait outside in the cold. "Since it's a fluid situation, we're doing our best to keep ourselves and customers safe," Genteman says.
Play It Again Sports
Located in the Five Mile Shopping Center off West Francis Avenue in north Spokane, Play It Again Sports sells new and used ski and snowboard gear and buys used gear from customers. "We pay cash on the spot, or trade in for store credit," says store owner Jared Fields. Ski and snowboard gear rentals for all ages are available on a daily or seasonal basis, while supplies last. "In anticipation of La Niña we have ordered double our normal inventory in skis and snowboards," says Fields. 
An experienced ski swap shopper and deal finder, Amy McCaffree downhill skis with her husband and their two children. She writes the Out There Kids column and contributes to the Family Winter Sports Guide annual special section.