The more-than 60 kilometers (37 miles) of trails at the Mt. Spokane Cross-Country Ski Park provide an abundance of opportunities for every level of Nordic skier, and attract everyone from the casual beginners to the hard-core long-distance enthusiast. Three main events during the season cater to this range of skiers.
Winterfest (Jan. 28)
Winterfest is a smorgasbord of activities designed to meet virtually every skier. Beginner and novice skiers can dip their toes in Nordic skiing with $5 classic or skate-style lessons. All levels and ages of skiers can take part in the Donut Dash sprint race, free hot lunch, Altai backcountry ski demo, and immersive sit-ski and blind-ski experiences. Intermediate and experienced skiers can hone their skills at the waxing clinic or bring their canine buddy to the skijoring clinic (being pulled on skis by your dog—how cool is that?).
Date: Sunday, Jan. 28 from 9 a.m.–3 p.m.
Price: $5 for 45-minute lessons. $25 for skijor clinics. Lunch and all other activities are no charge, courtesy of the Spokane Nordic Ski Association.
Information and registration: Spokanenordic.org/winterfest. Registration is required for lessons and skijor clinic.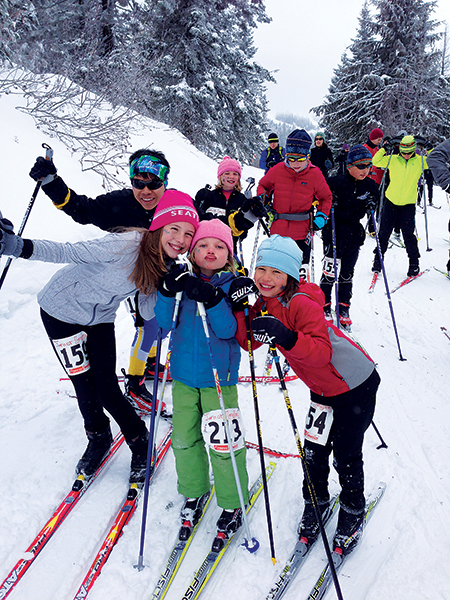 Langlauf (Feb. 18)
Langlauf, now in its 28th year, bills itself as "the biggest and oldest cross-country race in the Pacific Northwest." This 10k classic-style race has layers of traditions: beyond the intense competition that, for many, is a years-old rivalry, there is also the effort to re-capture the past with the "woolies" contest, where people race in their finest traditional woolen garb. The awards ceremony is a rousing celebration as dozens of high-end raffle prizes are given out. Young kids just aiming to finish join those who have participated every year since it was launched. A sense of community swirls around the entire day.
The race takes place on the traditional 10-kilometer course and has wave starts to accommodate skiers of all abilities and speeds. Langlauf is a 501(c)(3) nonprofit with proceeds from the event going back to the Nordic ski community in the form of grants for trail improvements and financial aid for youth race team athletes.
Date: Sunday, Feb.18 from 8:30 a.m.–1:30  p.m.
Price: $30 before February 11
Information and registration: Spokanelanglauf.org
Spokane Nordic Challenge Loppet (March 11)
A Loppet is a non-competitive, long-distance ski event. The Spokane Nordic Challenge offers 20, 30 and 50 kilometer options, with the 30 and 50 K options offering stellar views from the Outer Limits trail that extends for miles into Idaho and looks down into the valley and Spirit Lake below. Many participants use the Loppet as a year-end training goal. In past years, upward of 20 youth as young as age 6 have participated, and there are always entrants in the senior and masters categories; this truly is an all-ages event to close out the season.
Date: Sunday, March 11, from 8 a.m.–3 p.m.
Price: See website. Early registration ends Feb 16.
Information and registration: Spokanenordic.org/challenge-loppet
Finally, women should check out the Souper Bowl snowshoe and ski event Feb. 4. Learn more at Spokanenordic.org/events. //
After a two-year absence, Brad Thiessen re-joined Spokane Nordic Ski Association as Director of Engagement in fall of 2017. He last wrote about Nordic skiing on Mt. Spokane in October 2017.