Film Festival Promotes Backcountry Fun and Education on Feb 1
The Backcountry Film Festival is all about celebrating the human-powered experience of recreating in the winter months, and the responsibility that comes with it. The films are put on by the Winter Wildlands Alliance, a nonprofit comprised of over 100 grassroots environmental organizations and backcountry partners who aim to inspire and bring awareness to winter recreation management issues.
Aside from highlighting all the human-powered awesome of winter athletes, the films promote backcountry education and call communities to become better stewards of their winter landscapes.
The Backcountry Film Festival is currently on tour, and plans to land in Spokane this week on Thursday, February 1. Admission is $10, and all funds stay local: hosted by Gonzaga Outdoors and The Spokane Mountaineers Foundation, all money raised will go to the protection of the non-motorized recreation area of Lookout Pass-Stevens Peak.
Ranging from personal adventure to daring expedition, these films are thought-provoking and inspirational. Read on for a short description of the films and venue information.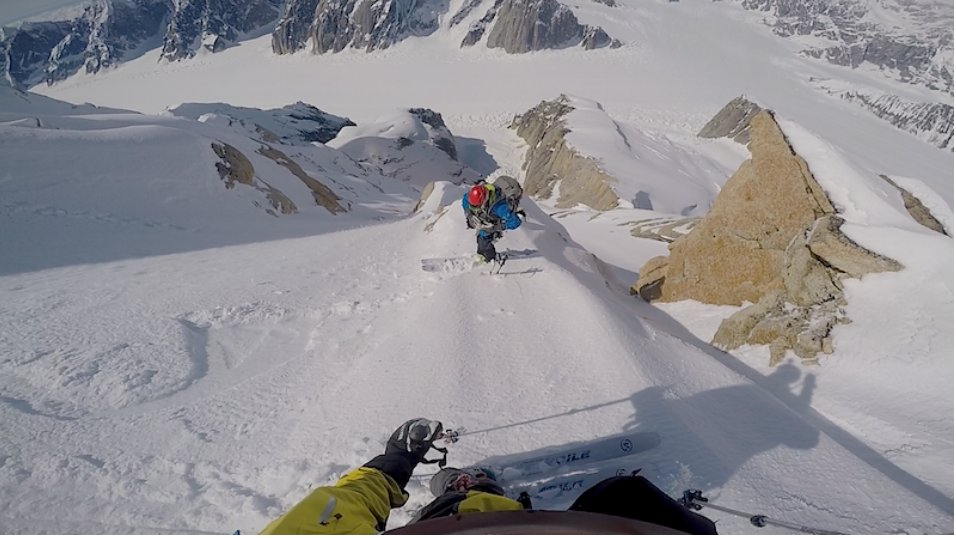 The Films
"The Space Within" — a young boy explores the tidepools of a deserted tropical beach and finds something mysterious washed up into the rocks. The space within this object speaks of another world, suggesting a sort of magic the young boy has never seen before.  (5 min, 28 sec.)
"Ruth Gorge"—Noah Howell and Ben Peters embark on a skiing expedition to Alaska's Ruth Gorge. They find great weather, and, with a bit of luck and a lot of preparedness, they tackle two incredibly steep skiing lines in one of the most beautiful settings on the planet. (8 min, 1 sec.)
"Below 0"—This film is an animated short that uses a fictional documentary to promote the theme that ecological problems are also moral problems, since the well-being of humans depend on ecological solutions. (4 min, 54 sec.)
"The End of Snow"—Join Dr. Jane Zelikova, a tropical ecologist living in the mountains of Wyoming and Colorado, on a journey into the mountains to ponder the past, present, and future of snow. She presents a picture of an inescapable future for the West. (20 min, 35 sec.)
"Follow Through"—A decade after becoming fascinated with the guidebook The Chuting Gallery, which features 90 ski mountaineering lines across Utah, and being met with laughter when she vowed to ski them, skier Caroline Gleich follows through. (21 min, 48 sec.)
"Genesis"—Among the stunning mountains of Alaska's Chugach, three powder professors engage in extensive study and experimentation to get closer to answering the age-old questions: how did life begin, and what makes life worth living? (5 min, 50 sec.)
"Idaho 12vers Project"—Join Mark Ortiz on his self-filmed adventure as he skis all of Idaho's 12,000-footer peaks. (12 min, 10 sec.)
"Adventure Not War"—Follow Stacy Bare on his ongoing project, Adventure Not War, as he works to promote world peace and understanding through adventure. (7 min, 35 sec.)
Venues and Ticket Info
Wednesday, January 31: Films show in Moscow, ID, at the Kenworthy Performing Arts Centre at 7:00 p.m. All proceeds go to the Wallowa Avalanche Center. $10 per ticket, available at doors. Organized by the University of Idaho Outdoor program and the Winter Wildlands Alliance.
Thursday, February 1: Films show in Spokane, WA, at the Hemmingson Auditorium, Hemmingson Center Basement. Doors open at 6:00 p.m. Films start at 7:00 p.m. Tickets are $10. Organized by the Spokane Mountaineers Foundation and Gonzaga University Outdoor Programs, proceeds will go to support the Lookout Pass-Stevens Peak winter recreation area.
For more, visit Winter Wildland's Backcountry Film Festival website.