If ever I wanted to be adopted by a town, I'd like to be able to call Fernie my home. In fact, in a single weekend visit it already feels like that. It isn't the way everyone greets you with quaint Canadian charm, eh (they do), or the surrounding mountains in which the town is nestled (they are indeed awe inspiring). It isn't the 200 miles of sweet trails, the ski resort five minutes from downtown, or the river that runs through it.
It is the outright sense of community stoke that is palpable in every person you meet, the great collaborations they've made to create their Perfect Place on the Planet, and their pride and excitement in sharing it with, well, anyone who wants to come play in their backyard.
Mark Gallup of Fernie Bike Guides greets us in full ride gear and a grin on a Saturday morning. We're standing inside his shop, which appears to be the raddest grown-up dream come true: literally owning all the kit you could need for any adventure. Then taking other people on their adventures.
Today he's taking us on a rideventure on the new trail system development that starts about… four feet from downtown. Fernie is known for its skiing and mountain biking, but recently it's welcomed a new breed of riding into its community planning: fat biking. It is born of the collaborative efforts of the Fernie Trails Alliance, an umbrella organization that works with land owners, developers, and government to plan and develop trails for multipurpose use. What is most evident here is how inclusive those efforts are, how many volunteer hours go into them, and how these trails are the heart blood of the community – whether they are cross-country skiers, mountain bikers, or people walking their dogs.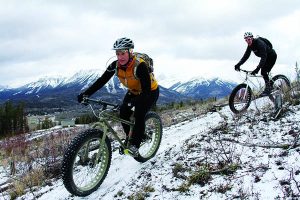 The snowfall is limited on our early-season ride, but it does not diminish the quality of the trails, obviously built with love. We've filled the void of the gap season with fat biking. When mountain biking is over and the ski runs aren't ready, we'll still be in the trees with smiles as wide as our tires.
We wind our way into the hills (which is a cute way to refer to the dramatic, jutting Rocky Mountains surrounding us) while Mark explains every inch, connection, and piece of history related to the trails. Every trail has a story, from those named after the granddaughter of a trail-builder extraordinaire (Ruby's Way), to those that are part of a new housing development (the Montane Trails) that includes a community farm and a historic barn.
We ride out to the new warming hut, donated by some generous outdoor aficionado to the Fernie Trails and Ski Touring Club. It's Global Fat Bike Day, so we start a fire in anticipation of more riders to come, warm our toes, and soak in the views.
Mark tells his own story. There is something to be said for a town when a legendary photographer who has traveled the entire world and seen all the wonders it has to hold decides that Fernie is the best place to make a home.
On our second day, we play tourists in a town where every shopkeeper and cafe server treats us like old friends. And then, of course, we head over to Fernie Alpine Resort. Its proximity to town makes it perfect for a half-day adventure, but with as many runs and diverse terrain as it offers, let's be realistic: You'll be there until the bell rings.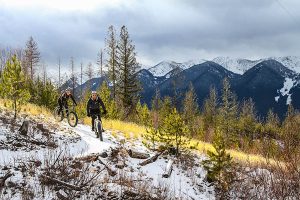 The best part about this home away from home is that it is just over a 3-hour drive from Sandpoint (a tick more for those to the southwest of us). Along the way, you pass Stone Hill in Montana (bring your climbing gear!) and more property porn than you could ever dream of homesteading.
It's a perfect weekend getaway, and if you're lucky, you might just find a Canadian to adopt you.
Around Town
Get a guide, borrow a bike, tune your skis, find everything for your adventure needs – The Guide's Hut and Fernie Bike Guides: These guys know everything there is to know about Fernie, from where you find the best trails to the conditions of the day. Whether you are skiing, climbing, riding, hiking, or looking for a stiff martini, they'll have the answers and the gear. They also maintain reservations for all the backcountry huts if you're looking for overnight adventures. Theguideshut.ca and Ferniebikeguides.ca
Breakfast: The Blue Toque Café
This little gem of a cafe, tucked into the Art Station on 1st Avenue, has the most creative, delightful breakfast we've enjoyed in a while. Fried kale with bacon and eggs, omelets, gluten-free options, beautiful fresh fruit, and a strong cup of coffee to warm your soul and wake your body. The art on the walls makes for great conversation too.
Post-ride grub: The Brick House
Pub style, only better. And just so you know you're in Canada, they probably have some curling on the TV too. These guys serve up everything from a wicked sandwich to a dense salad or a slab of steak. Beer and wine, friendly staff, and apparently some pretty good live music in the evenings.
Where to Stay
Fernie has no shortage of hotels, B&Bs, and campgrounds. The Park Place Lodge right off the highway was a perfect location to walk to downtown, access local trails by bike, and scoot over to the ski hill. The Park Place Lodge gets extra points for a super friendly staff, those kind of cozy plush beds you just sink into, and legitimate shower pressure (because really, no one wants to feel like they are getting peed on). Also if you are traveling with kids, they have a great pool and play area, though I'm not sure if it is visible from the cocktail bar. //