When last winter failed to develop into anything even resembling winter, I was forced to reconsider my outdoor options. While the skis sat unused in various corners and the snowshoes were tossed carelessly behind the couch, I started sorting through my backpack gear while browsing through guidebooks, looking for something new. I recruited a few friends to join in on the fun, and we settled on Juniper Dunes Wilderness.
Located northeast of Pasco, Washington, Juniper Dunes comprises a little over 7,000 acres of BLM-managed designated wilderness. A permit is required for overnight access, but it's free and easily obtained from the BLM office in Spokane. Group size is capped at eight to protect the fragile landscape. While most wilderness areas are at high elevation and difficult to get to during winter, Juniper Dunes becomes more accessible in the winter months through an adjacent ORV park, where loose summer sands can entrap vehicles. Even in winter, four-wheel drive is recommend, but the sand has a higher moisture content and is therefore more compact. BLM recommends parking at the upper ORV parking lot and information area and traveling to the wilderness gate on foot.
I confess our group of six never located the wilderness gate, but it hardly matters. From the ORV park we walked east until we reached the wilderness fence, which we easily clambered over. This is the only wilderness I have ever encountered that has a fence around its boundary, a fence designed to keep motorized vehicles out rather than keeping anything in.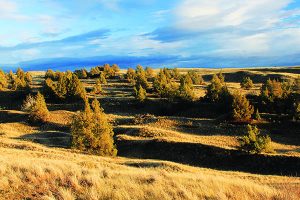 There aren't any trails here, where windstorms have a way of shifting the landscape into constantly new configurations, so we wouldn't have gained anything by locating the main entrance gate anyway. Carry a map and compass or a GPS, or better yet, carry all three. The terrain varies from 500 to 1,000 feet of elevation, but a quick look at the topo map reveals that ridges and valleys are stacked together throughout the wilderness, making it easy to lose one's bearings without constant attention to the map or use of GPS waypoints.
The land lends itself well to wandering. We only carried our full packs a short distance before establishing a base in a protected spot. There is no source of water in Juniper Dunes, so we needed to carry our water for the weekend in addition to our food and backpack equipment. We stashed what we didn't need at the tents, hanging food in tall junipers to keep rodents at bay, and marked a GPS waypoint so we could find our way back. Then we went in search of the juniper forests. The largest western juniper groves in Washington are found here, with some trees reaching astounding heights and widths. Some of the state's largest sand dunes are also found here, making it feel like a visit to the ocean, minus all the water.
The only drawback to a winter trip is the speed with which darkness descends. No campfires are allowed within the wilderness, so dress for the cold that comes with nightfall and bring a book or catch up on sleep.
Getting there: Take I-90 west then Highway 395 south toward Pasco. Exit 395 via US-12E, then bear northeast on Kahlotus-Pasco Road. Turn left on Peterson Road, which turns into Juniper Road and ends at the ORV park.
USGS 7.5 Minute Quadrangles: Glade, Levey SW, Levey, Levey NE, Rye Grass Coulee. More info: Blm.gov/or/resources/recreation/site_info.php?siteid=270. //