Comfort is a relative word to apply to camping. I'm perfectly comfortable spending days at a time in the backcountry, but I recently heard of a couple who planned a summer trip in their RV, powered by generator, to a campsite less than half an hour from their home. They did so in order to return home for hot showers each day.
Through advance planning and preparation, it is possible to enjoy a winter trip while staying warm and dry. The first step is to read up on what to expect where you intend to go, and watch the weather forecasts for changing conditions (and know when to change plans accordingly, always communicating that plan to someone at home).
Home Sweet Snow Camp
I have comfortably made camp in my little REI Quarter Dome tent, with all its well-ventilated mesh, set up on a snowy base, even when temperatures dipped into the single digits. I opt for a closed-cell foam sleeping pad for better heat reflection in winter, and I bring a telescoping snow shovel to dig a level platform for the tent. I enjoy getting creative in camp design, with snow walls to block wind and a separate kitchen area complete with seating and a cooking platform. Sometimes it is possible to create an ideal campsite on snow in a place that would be a lousy campsite in the summer. I also find it's possible to experience complete seclusion in a spot that might be overly busy in the warmer months.
When it's unusually cold, I boost the warmth rating on my down sleeping bag (with its optimistic 20 °F) by bringing along my bivy sack in addition to the tent. I never winter camp (and seldom summer camp) without my down booties for my always-too-cold feet, which I put over a pair of wool socks reserved for sleeping. Extra layers of either fleece or wool constitute my winter PJs, and I top it off with a wool hat and mittens.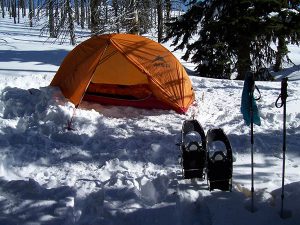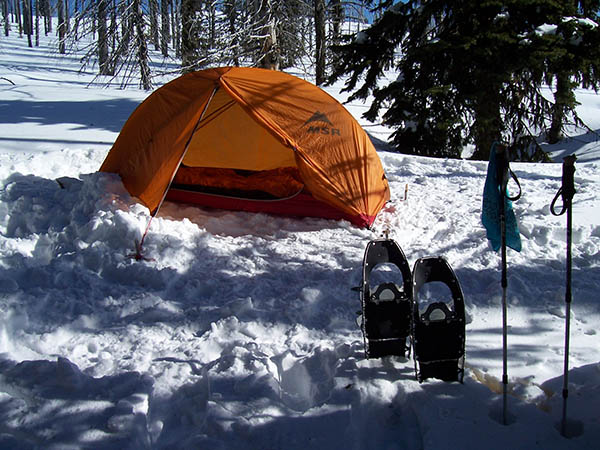 Layering for Warmth
While hiking to camp, it's possible to generate enough heat to strip down to base layers and still break a sweat. As soon as I stop, however, my first task is always to change to dry clothes before my core temperature drops. In case my feet get wet, I keep a pair of neoprene socks in my pack. When I was a child, before I learned of the existence of neoprene, my mom would put empty bread sacks over my dry socks. They served the same purpose, and they're still a nice, cheap option or contingency plan. In camp, layers are my best defense against the cold. I go for fleece over my base layer, then a down puffy jacket, then an insulated shell, and I can generally stay toasty.
Cooking, Drinking and Not Freezing
Hot beverages also help keep the cold at bay. If I bring my canister stove, I purchase a four-season fuel mix for winter use, and I keep it insulated inside the pack until ready for use. If I'm doing more than boiling water, I pack my white gas stove instead, as it tends to be more reliable in cold weather. I never set it up directly on the snow, and I always add a little starter water to the snow I plan to melt in order to avoid scorching the bottom of my pot.
Keeping the water in its liquid state can be a challenge on winter trips. I keep bottles stashed inside the pack instead of in the outside pockets, and store them upside down so that they don't freeze closed. When it's really cold, I keep my bottle inside a water bottle parka. Everything is stored inside the tent at night, including the water filter, which can otherwise freeze and become useless.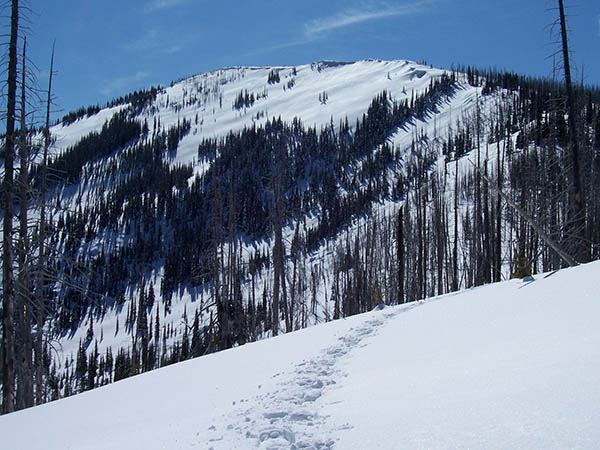 Dry Boots and a Well-Lighted Camp
I also never go out in winter without my gaiters, which keep the snow outside my boots. The boots vary from trip to trip: I find it equally fun to launch winter backpack trips on Nordic skis, backcountry skis, or snowshoes. Depending on the steepness of the terrain, winter trips are the perfect opportunity for hauling extra gear in on a sled.
Finally, I pack extra headlamp batteries since the sun goes down early on a winter trip at our latitude. Instead of waiting impatiently for long sunny days to return, I like to make the most of all opportunities to explore our local trails, even when those opportunities arise in January. //
Winter Camping Spots—Local Favorites
Priest Lake: the east and west side and upper lake all offer options depending on how far you're willing to walk/ski
Sherman Pass: Columbia Mountain or Sherman Peak can be great
Kootenay Pass: south side of the highway has more mellow terrain close to the highway—avoid the many avalanche areas
Lookout Pass: many options, but be aware of the considerable avalanche risks in many places
Lolo Pass: summer hiking trails make great winter camping trails
Anywhere with hot springs nearby!// (OTM)