I'm standing in a snowdrift on Spokane Street in downtown Rossland, British Columbia. As is typical of streets in old mining towns in the mountains, Spokane Street is incredibly steep, and today it's been made skate-rink slick for the upcoming bobsled competition, the centerpiece of the Rossland Winter Carnival.
Next to me, two women discuss, with the earnest competitiveness that characterizes Canadian sport, the storied lineage of a particular bobsled and its prospects for the day. It's a conversation at odds with the scene before me: four competitors, clad in spandex and Viking helmets, careering sideways down the street at 70 kilometers per hour in a coffin on runners. I could be forgiven for thinking the bobsled race was the bleary-eyed outcome of a booze-fuelled dare the night before, rather than a (somewhat) serious sport.
In 1898, Norwegian miner Olaus Jeldness, known as the Father of Competitive Skiing in Canada, initiated the Rossland Winter Carnival, the nation's oldest. It's his bobble-headed visage that floats above the flame twirlers and antique fire trucks at the carnival parade the Friday night of the carnival. And it's his stoically sportive Nordic spirit that permeates the proceedings in this active town.
But despite the fact that everyone seems fit enough to be a Patagonia catalog model, it's a laid-back place: No one will balk at you wearing your toque — Canadian for "hat," rhymes with "spook" — in a restaurant. And despite a slate of activities that are, or should be, fuelled by beer, the carnival has a family-friendly air; high-tech strollers abound.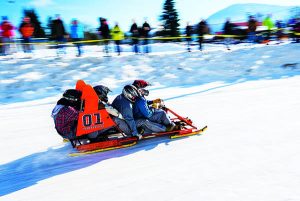 A bright, cloudless afternoon, the tail end of a high-pressure weather system, follows the bobsled competition; bad for skiing, good for carnivalling. Sunglasses and lip balm fly off the racks at the local gear spots. On Queen Street, participants in "The Game" Rail Jam competition huck themselves into the blue sky above the bank building. Behind the beer garden, a team of hippies dominate the beach volleyball competition, their flailing dreadlocks punctuating every high-rising stuff and spike. Even the beer garden seems well-behaved, the revelers finishing up their beers and mulled wine by early evening.
The next morning, I wake to four inches of snow on the ground and more in the air. I eat my breakfast scramble at Clansey's in silence, the café empty as the streets outside. For the first time in weeks, Red Mountain Resort has fresh powder, so the party's over. It's time to ski.
This year's Rossland Winter Carnival is set for January 28-31, 2016. Check out the full event schedule at Rosslandwintercarnival.com. //