Here's an energy bar recipe with a healthy ratio of protein, fat, carbohydrates, minerals, and electrolytes. They're a mixture of slow and fast burning goodness for sustained energy and less risk of going cannibal on your biking buddies. It is fuel that tells your brain to tell your body it's okay to keep going.
Ingredients:
1/2 cup ground hazelnuts or almonds (toast these babies up for some real flavor)
1/2 cup unsweetened coconut shavings
1/2 cup oats, musli, bran flakes, corn flakes – whatever you've got in the cupboard. If you're paleo, you can use ground or sliced nut mixtures
1/4 cup juice sweetened cranberries
1 cup chunky almond or peanut butter
1/4 cup honey
2 ounces 100% cocoa bar
1 Tsp. sea salt, flur de sel, celtic salt, or otherwise
Directions:
Melt cocoa, honey, and almond butter in a small sauce pan while stirring.
Set aside to cool.
Mix all your dry ingredients, then add warm liquid mixture to dry goods. This should make a sticky, crunchy mixture that hardens when it cools.
Dump the mixture onto a baking sheet and, using a piece of baking paper, press it into a firm square. (Be liberal in your squishing or they'll fall apart later.)
Set in fridge or freezer to chill.
Remove, cut into little squares or bar shapes, and wrap with wax paper. They store for weeks in the fridge.
Eat them. Share them. Never bonk again.
Ammi Midstokke is the owner of two birds nutrition, where she seeks to find the balance between food dogma and cupcakes. More recipes and ramblings can be found at Twobirdsnutrition.com.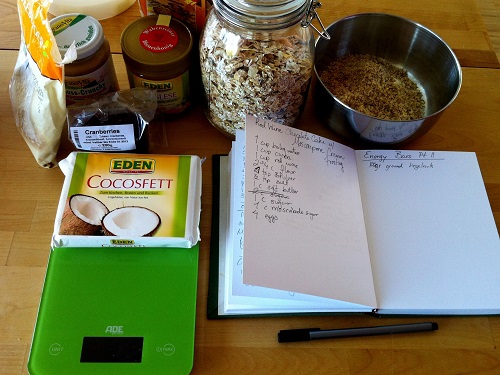 Visit the OTO archives for more recipes and stories about food & drink or to read more of Ammi Midstokke's Eatology column nutrition advice.