For eight years, 93-year-old Sylvester VanOort has packed his truck, left South Dakota behind, and driven "straight down I-90" to Kellogg, Idaho, to ski Silver Mountain and Lookout Pass. "I'm the only WWII veteran left at both mountains, and I'm the only one left in Oacoma and Chamberlain, South Dakota, who is active, playing golf, and going to the grocery store," says VanOort. "Gosh, I'm so lucky, so lucky."
VanOort grew up on a farm in South Dakota during the Great Depression. "Some people called it the end of the world," he recalls, "but we got used to it." In 1944, at the age of 18, and after a deferment and a failed physical, VanOort was drafted into the Army. He was weak and thin from his laborious and impoverished childhood, but the Army changed his life. "During that summer," he says, "I became strong. Army food was fabulous." He grew six inches and gained 40 pounds, finishing his European Theatre training at six-feet-tall. But the timing of his training meant he would not fight in the Battle of the Bulge, the final battle in Europe. Consequent training for the Japan conflict lasted beyond Nagasaki and Hiroshima. So, time took him to Hawaii where he served as sergeant-in-charge at the Headquarters Records Office processing military cases for the Office of the Hawaii Military Police.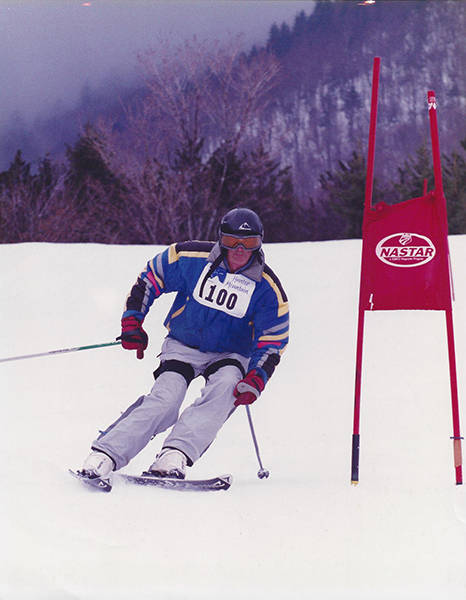 After returning home, VanOort decided to use his GI Bill benefits and enroll in college. At the ages of 8, 13, 15, and during his time in the military, he had survived intense, near-death experiences. He was still alive, and he was determined to take control of his life. He settled in New York and studied for the next seven years to earn his Masters in Theology and Education. He then dedicated his life to serving others—building churches, challenging others to healthy living, and teaching kids and young people. It was in New York, about 30 years ago, that he first strapped on a pair of skis and fell in love with the sport.
For the past few decades, he taught skiing and even competed as an amateur skier. He has skied some of the best resorts in New York, Colorado, and Utah but always stuck to the groomed runs. Then he discovered the wonders of skiing powder in North Idaho.
"It's so soft and quiet," he says. "It is just beautiful making the turns." With powder, he explains, "you feel like you're on a cloud. With everything else, like when you walk, you feel the bottom. You don't feel the bottom on powder. It's the next best thing to being up in space."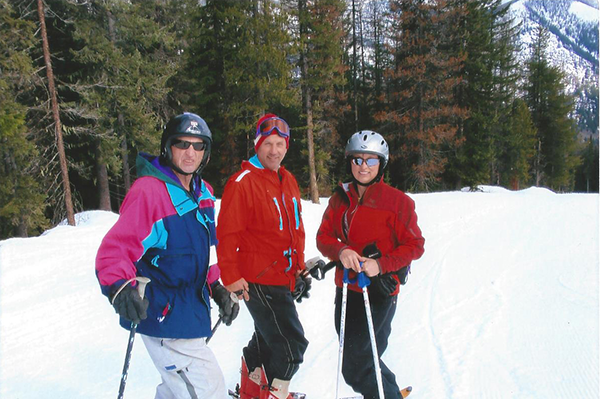 Two years ago, VanOort once again faced life-threatening news from doctors. He was diagnosed with a grapefruit-size aneurysm and was told he had one chance in ten of living. But VanOort knew he wasn't done with life. The leaking aneurysm was removed within minutes of it bursting. After the surgery, the surgeon told him, "You have a new artery. Now, you can go skiing."
Recovery meant a year off from his beloved ski trip to the Silver Valley, but in February of 2017, although he was a bit weak, VanOort was back in his condo in Kellogg and running the slopes with his daughter, Kathy. Kathy, a patroller at Hoodoo Ski Area in Sisters, Oregon, and retired Air Force Captain, joins her dad each year to ski and revel in the powder. "She takes a month to ski with me," he says, "and helps me at times with my skis and boots." This year, his son, Marcus, also came up from Florida to ski with him, and VanOort is feeling back to his old self. "I'm glad to be alive and back again," he says. "I am stronger, despite being a year older."
As a veteran and an over-90 adult, VanOort skis free at both Lookout and Silver. He is overwhelmingly grateful for their generosity, and he enjoys every minute of runs he takes—especially the powder runs. "I can see myself right now going to 95!" he says. "I don't have any prostate trouble, my mind is pretty darn good still, and my legs are fabulous."
So, next February, when you're riding the gondola at Silver with a few strangers, check and see if one of them is an energetic gentleman wearing a sign that says "90+". Say hello, listen to one of the best stories you've heard in a while, and then try to keep up with him on the next run. //
SPONSORED BY Ski the NW Rockies
Originally published in the March 2017 print edition of Out There Outdoors under the title "90+ Powder Hound."
Feature photo: Plattekill Mtn, NY, 1995. // Courtesy of the VanOort family.
If you liked this article you might also enjoy other passholder profiles including the former NFL Linebacker in the lift line at Mt. Spokane, and the Hoskinson Family who have skied Silver Mountain for over 20 years.