A folded-up newspaper on top of a blue lunch bag in Mount Spokane's patrol lodge lets me know that Tom MacLeod is already skiing first tracks. Over six feet tall and fit, charming, and friendly, MacLeod—who turns 67 this January—is a regular at Mt. Spokane Ski & Snowboard Park. He has been a season pass holder for 38 years, since moving to Spokane in 1979. As a patrol alumnus, he enjoys the benefits of the patrol chalet, along with current patrollers and their families.
Born in Duluth, Minnesota, MacLeod learned to ski in 1955 when he was 4-years-old. "It was not common back in the day to ski as a family, but my dad just got the idea that we were going to be skiers," he says. So, along with his parents and older sister, they skied the runs and used the rope tows at Mont du Lac in western Wisconsin.
MacLeod's first pair of skis were wooden; he doesn't remember the maker but knows the bindings released. Today, he uses Rossignol Soul 7 skis. "It's so much easier on my legs…they turn really nice. I'm amazed at how technology has improved the skiing experience," he says.
As MacLeod grew up and then became a student and football player at the University of Minnesota, he continued skiing whenever he could. "That's how you stay in shape for football—you ski. I called it high altitude training at the time," he says.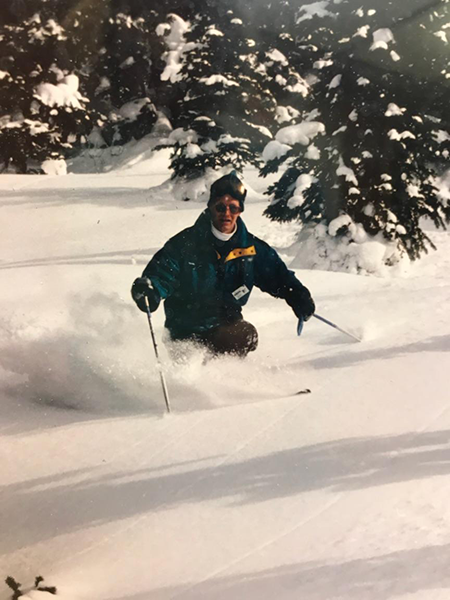 After college graduation in 1967, the Green Bay Packers drafted MacLeod into the NFL at age 22. The following season he transferred to the Indianapolis Colts and was a professional linebacker for 6 years—missing one season to recover from a torn Achilles tendon and playing for two more seasons after that. "I have my legacy [from] of all that," he says, referring to the physical impacts of football tackles and hits since he was in 7th grade. "It adds up after a while…You don't want to play in the NFL too long or else you can't be a skier."
MacLeod even managed to hit the slopes while performing as an athlete. "When I was playing professional football, my wife and I would take a ski trip every spring. After I decided to [leave the NFL], I was looking for a place where I could ski and build homes, and Spokane looked like a good place for that," he says. "But there was a hell of a recession at the time." So after relocating, with no job but time to ski, he joined Mt. Spokane's Ski Patrol and started his first season. Before too long, he passed the firefighter exam for Spokane County and was stationed at District 1.
In the mid-80s, MacLeod "retired" from patrolling but remained a loyal season pass holder. "You can't beat powder—that's what's so nice about the backside of Mountt Spokane. A lot of people don't even know about it, which makes it even better," he says. A man of routine, MacLeod skied regularly five days a week each season until 2001, when he retired from his 20-year firefighting career. He then reduced his schedule to four days. About 10 years ago, he tore his other Achilles tendon, which was his only significant ski injury. Last season, when he started feeling pain in his knees, he decided to do only half-days on the mountain. And this season he plans to ski three rather than four half-days each week.
"I'm trying to put my body back together so I can keep skiing," says MacLeod, who also does gym workouts. "I'm just getting old. I have to adapt, but I don't have to like it." MacLeod also skis once a week with Faye, his high school sweetheart and wife of nearly 47 years.
While MacLeod is regular fixture at Mt. Spokane, every year he lives out his dream ski trip: heli-skiing in Nakusp, British Columbia, with Canadian Mountain Holidays. "If you want to ski powder, it doesn't get any better." //
Amy McCaffree, who writes the Out There Kids column, is enjoying her 15th winter as a Mt. Spokane season pass holder. Her favorite ski runs are Rock Slide, Teakettle, and—especially with her kids—Crash & Burn.