Photo Credit: Idaho Tourism
The spring months are a special time to visit the Silver Valley and Wallace, Idaho, with a bike or quiver of bikes in tow. Crowds are unheard of this time of year, and there are a variety of ride types with varying distances, trail and road surfaces, and elevation gain to choose from. There is snow-free riding on the paved Trail of the Coeur d'Alenes, gravel routes with climbing that may require pushing or riding through snowy patches, and some scenic back-highway road rides.
The historic mining town of Wallace, Idaho, is an up-and-coming biking hub thanks to easy access to North Idaho's two world-class biking destinations—the 73-mile Trail of the Coeur d'Alenes and 15-mile gravel-surface Route of the Hiawatha—but there are plenty of lesser-known paved and gravel routes nearby too. If you're heading out to ride any of these trails or routes in the spring, be aware that conditions and weather can vary wildly, so plan accordingly.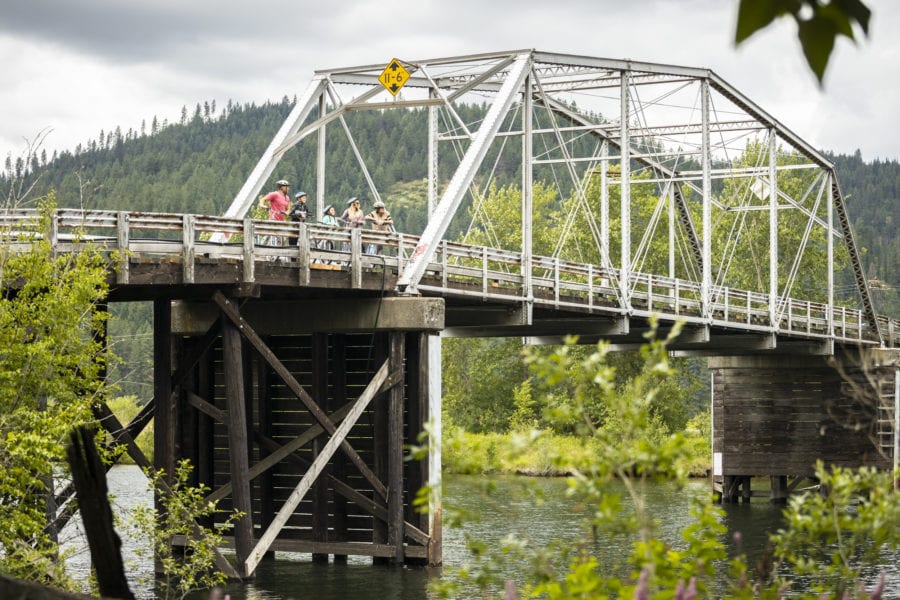 Trail of the Coeur d'Alenes (paved path)
The Trail of the Coeur d'Alenes runs right through Wallace as it carves a path across the Idaho Panhandle through rolling hills of pine and fir and across wetlands. This trail is best for road or gravel bikes once the snow has melted or fat or mountain bikes when patches of snow persist. Schedule a shuttle with the Wallace Inn (208-752-1252) and make the one-way, 56-mile ride back from the town of Harrison, Idaho or have the shuttle drop you off at one of several trailheads closer to Wallace (here are some recommended ride routes). Enjoy the beautiful scenery and plan a pit-stop along the way for food and beverages (the towns of Cataldo, Enaville, and Kellogg have pubs/breweries along the trail). Keep an eye out for local wildlife such as eagles, swans, hawks, moose, or elk, especially on the sections of the trail between Harrison and Kellogg. Check out our article about wildlife viewing along the Trail of the Coeur d'Alenes for more info.
Find all the info you'll need to plan your ride on the Friends of the Trail of the Coeur d'Alenes website. Avid local rider and friends group president Rick Shaffer shared a few of his favorite sections of the trail. "You don't need to do a huge section or the whole trail," explains Shaffer. He suggests the 10-mile stretch along Lake Coeur d'Alene or the 35-mile section along the Coeur d'Alene River between Pinehurst and Harrison. "That section is like biking through a zoo. Elk, moose, deer, hundreds of birds, and there is water on both sides of the trail in some places. It's just incredible." Shaffer also recommends the stretch from Mullan to Osburn in the Silver Valley. "It's downhill, in the trees, and it follows some whitewater sections along the river." Note that there will likely be snow on the trail at least in places between Wallace and Mullan, with the snow lingering in the Mullan area at least through April (spring 2022).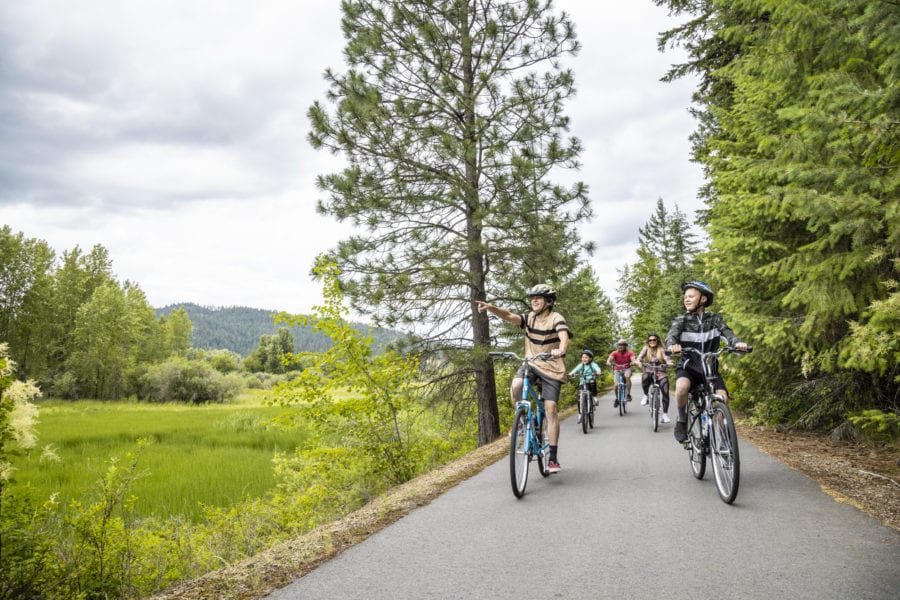 Northern Pacific Trail (NorPac Trail is gravel with snow possible)
Best for fat bikes in early spring or gravel or mountain bikes in late spring, this trail runs along the old Northern Pacific rail bed and goes from Mullan, Idaho, into Montana. Start your ride in Mullan for a shorter pedal, or add some miles by starting in Wallace. The NorPac is a multi-use, 12-mile trail with multiple surfaces, including pavement, compact dirt, and gravel, but you may also encounter lingering snow and ice up higher depending on the season. There are historic kiosks scattered along the route that climbs up and over Lookout Pass. This trail is best suited for gravel or mountain bikes, but a fat bike may be the right choice for early spring rides where running into snow is likely. Find all the route info you'll need here.
Riding the NorPac and other Wallace-area trails in the early season where riding through or on snow is a possibility is its own unique draw, says Shaffer. "The contrasts of color are the best of the year with white snow, green grasses, flowering plants, blue sky, and bright sun. It's photographic nirvana." Cycling through short and even semi-long patches of snow, he says, adds a bit of excitement and adventure, be it on the Nor-Pac or Trail of the Coeur d'Alenes. "Patches of wet, snow, and icy trail surfaces all add to a cyclists riding experience with new elements of unsure trail surfaces. You need to maintain a balance of enough speed to blaze through a snow field but not torquing too much that you have to bail out of the saddle."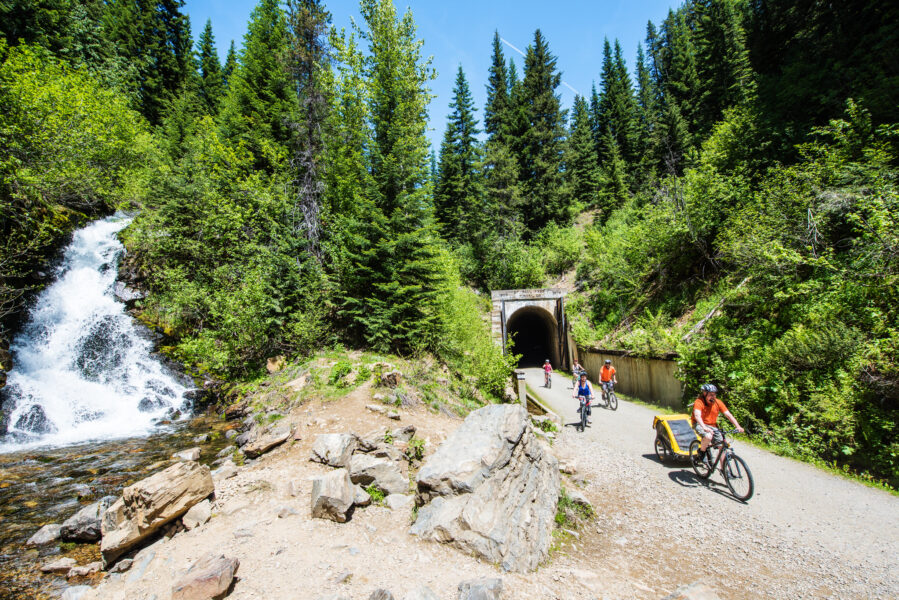 Wallace to Burke Historic Road Ride (paved with gravel extension possible)
This relatively easy ride right out of Wallace is a great road or gravel bike ride that will take you through several small, historic mining towns on the 7-mile pedal to the once-thriving mining hub of Burke. The Friends of the Trail of the Coeur d'Alene Trail website describes this paved road route as fairly smooth with long sweeping curves light vehicle traffic. The climb is steady, gaining 1,000 feet on the way to Burke, but is gradual and not difficult. Continuing past Burke, the road turns to gravel and can be ridden on a gravel or mountain bike several thousand feet up to the top of a Cooper Pass once the snow melts away. Call the Wallace Inn and ask for Rick Shaffer for road and trail condition information (208-752-1252).
Nine-Mile Road to Dobson Pass (Paved with Loop Possibility)
Start this ride in Wallace on the Nine Mile Road (6th Street in town). This paved, maintained county road sees little vehicle traffic on the 6-mile climb to the top of Dobson Pass. Expect an 8 percent climb for 4 of its 6 miles with over 32 corners. After reaching the summit, the ride down the other side is a 12 percent grade. Make this a shorter out-and-back by turning around when you've had enough climbing or turn the ride into an epic loop.
The Friends of the Trail of the Coeur d'Alenes group describes this loop route as going over the top of Dobson Pass, turning right on the River Road at Babins Corner/Prichard, and after many miles turning left at Enaville and onto the Trail of the Coeur d'Alenes back to Wallace. Locals call this ride the Enaville Triangle, Sans Burmuda. It's a super 58-mile loop. Additional miles can be added by taking a right a right over Kings Pass to the gold mining town of Murray for some good food and beverages and then heading west on State Route 9 to Prichard and on the way to Enaville. Call Rick Shaffer at the Wallace Inn (208-752-1252) for road conditions information in early spring.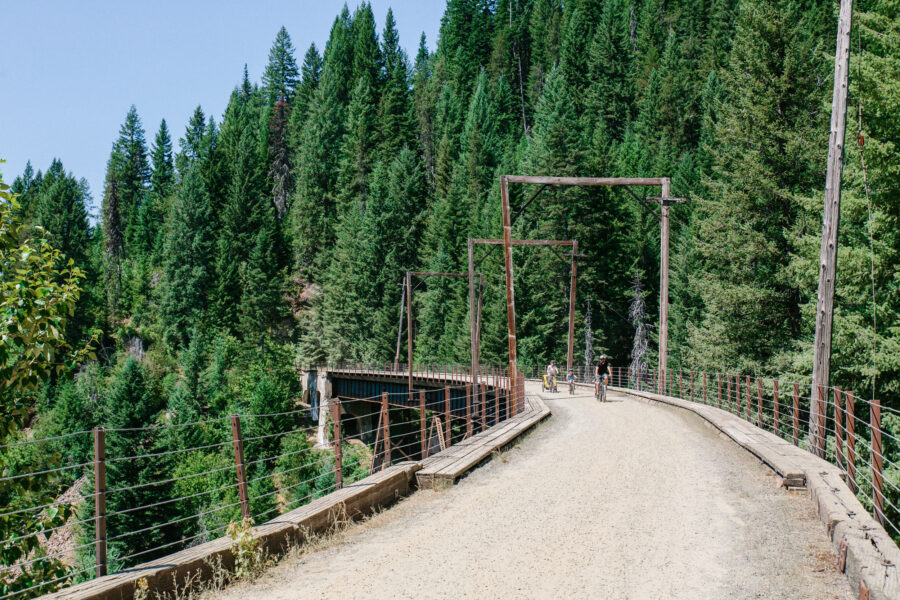 Late Spring and Early Summer Riding Options Around Wallace
Route Of The Hiawatha: With opening day typically in late May, the Route of the Hiawatha is a breathtaking gravel-surface ride that's suitable for the whole family. This rail-to-trail path will take you over seven historic, sky-high trestles and through 10 train tunnels on a slight downhill grade the entire way. Enjoy spectacular views of the Bitterroot Mountains on this 15-mile ride that is suitable for most adults and children who are comfortable riding a mountain bike or other bicycle with good traction tires for several hours. To complete the ride, a trail pass is required. Reserve your passes in advance online.
To make the ride easier, there is a shuttle service for a small fee that will bring you and your bike back to the top of the trail after your ride is done. The route is famous for St. Paul Pass, or Taft Tunnel, which is a 1.66-mile long tunnel that goes under the Bitterroot Mountains at the state line between Idaho and Montana (bring your bike light!). You can also rent bikes and child trailers and other gear from Lookout Pass.
Lengthen your ride by beginning at Lookout Pass' parking lot (4,730 ft. in elevation) and following the old Northern Pacific railroad grade into Montana until you reach Taft Tunnel and the start of the Hiawatha. On the NorPac, the Borax Tunnel is closed, although there's an easy detour around it. Note though that the shuttle service does not provide service to Lookout Pass. You can also head east from the Hiawatha on the Hiawatha Olympian further into Montana for additional riding. The route of the Hiawatha is a 7-mile drive from Lookout Pass (where you can rent bikes), which is just 12 miles east of the town of Wallace. Shuttle services from Wallace or Kellogg may be arranged via the Wallace Inn.
Route of the Olympian: Technically, this ride is a continuation of the Hiawatha Trail on the old Milwaukee rail bed, though it's totally separate from the Route of the Hiawatha. You'll continue to ride through tunnels and over scenic trestles, following the St. Regis River. This trail is a flat trail and free to ride; however, it is not a maintained trail and some trestles are unrideable.
Old Milwaukee Railroad Trail: Starting from Pearson and traveling 35 miles into the town of St. Maries, Idaho, this trail is great for gravel riders. Composed of compact dirt and country gravel roads, you'll ride along the beautiful St. Joe River.
More Wallace, Idaho, Bike Riding Resources
Check the Friends of the Coeur d'Alene Trail website for current trail conditions and closures depending on the season for all of the routes covered in this article. You can also purchase Digital GPS files for most of the above-mentioned trails.
Wallace, Idaho, Lodging & Dining
In and around Wallace you'll find modern and historic hotels, motels, B&B's, vacation rentals, and RV parks, depending on the amenities you're looking for. And they're all just minutes away from downtown and recreation options, with many places to rest your head within walking distance from historic downtown Wallace's many excellent restaurants, bars, and breweries.
Newcomers and long-time locals alike continue to build a culinary and nightlife scene in Wallace unlike any other Inland NW mountain town. When you get back to your hotel after a day playing in the mountains, get ready to wander downtown Wallace for an experience that's part historic walking tour, full of gastronomic surprises, and includes enough breweries, wine-sipping spots, and late-night bars frequented by locals with a penchant to party that will keep you out later than you planned.
(Sponsored Article)