An irresistible passion for rivers conjures liquid thunder in Steve Bailey's dreams. His whitewater kayaking expertise emerges from thousands of hours ascending currents, catching eddies, boofing rocks, and dropping into hydro hellholes on flood-stage rivers.
Recirculating waters have held him close to breathlessness, and Steve has been trashed in the roils and coils of winter froth. He has surfed the waves of opaque bluedom. Steve's helmet cam videos on YouTube betray a stout courage and prowess on big water. He is a calculated risk taker who executes paddle strokes and body shifts that are aligned for joy in pools and drops and falls.
Growing up in Spokane helped prepare Steve for the outdoor adventures he has launched in the far reaches of our watery planet. Despite a raft of commitments to his family, community, and 25-year career in the fire service, when Steve turned 40, he and his wife agreed: He needed to celebrate in a distinctive way. What follows is a sort of return to that distinctive flow.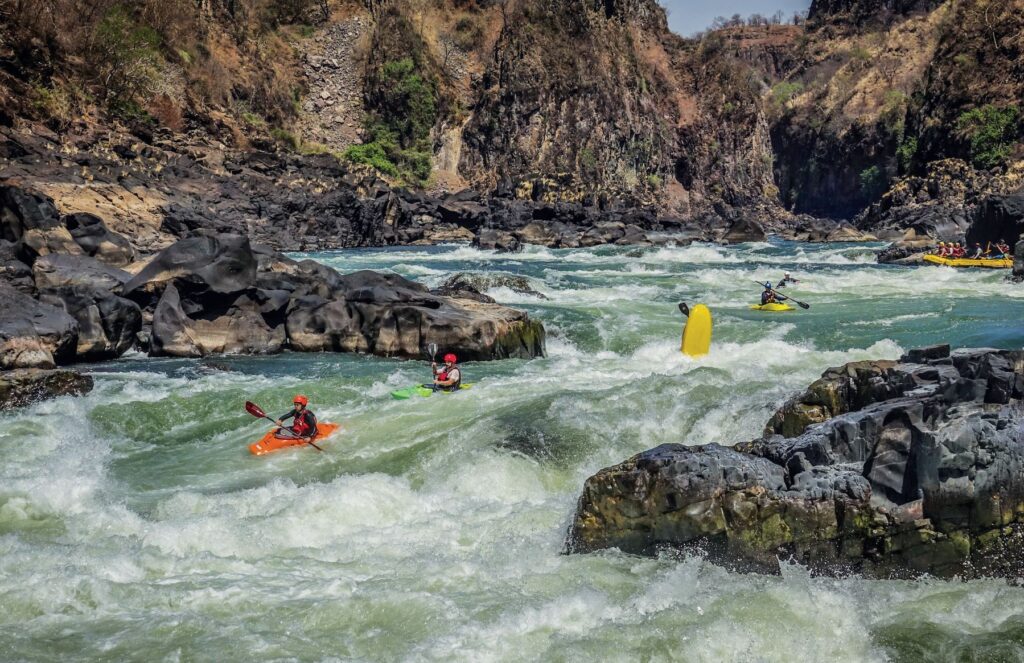 Q: Steve, what's your background as a kayaker?
A: A coworker took me to Liberty Lake to teach me to roll. Then we floated the upper Spokane from Barker to Sullivan. The next day we headed to the Alberton Gorge on Montana's Clark Fork River, where I swam three times. I got beat up a lot, but just had so much fun.
Soon after, I found out a high school friend was taking a kayak class at EWU. Then a group of four or five of us met up on the Spokane River, got hooked on the sport, and started going every day. Nobody had solid rolls, but we would help each other out with t-rescues and swims. We couldn't get enough.
At one point I think I was putting down close to 150-180 days a year on the water.
Q: How did the Zambezi show up on your radar?
A: When I started kayaking in the early 2000s, the Zambezi and Nile kept popping up. Guys from that area like Steve Fisher and Corran Addison heavily promoted those rivers in their videos and magazine articles. It was powerful water.
There are different facets of kayaking: you can do big water, steep creeking, freestyle, river running, park-and-play. That big stuff was just so much fun.
In those first few years, I just decided, one of these days I want to go to the Zambezi or the Nile. On the Nile, there was a dam project. Some of the rapids still exist, but a lot are gone.
And the Zambezi is slated to have another dam constructed in the next few years. The rapids are numbered 1-21, and from where the dam construction is planned, it's going to flood all the way back to No. 5.
So when I turned 40 and my wife asked "What do you want to do for your birthday?"
I said, "I want to run the Zambezi before it's gone."
Q: How did you prepare?
A: By the time I flew with my boat to Livingstone, Zambia, I had been kayaking extensively for 18 years. At that point, the skill set was there.
But to prepare for that powerful brand of whitewater, I boated the Kootenai River in Montana. Some refer to it as the Little Zambezi, or the Montana Zambezi.
On days when I couldn't find other kayakers, my dad would drive the shuttle so I could do 4-5 laps in a day and practice the moves I would need in the Batoka Gorge.
In our area, in addition to the Kootenai, we have the Lochsa River, the Salmon, the Snake, Tumwater Canyon on the Wenatchee—all big-water style. That training on rivers within striking distance of Spokane allowed me the confidence to just jump right on the Zam when I got there.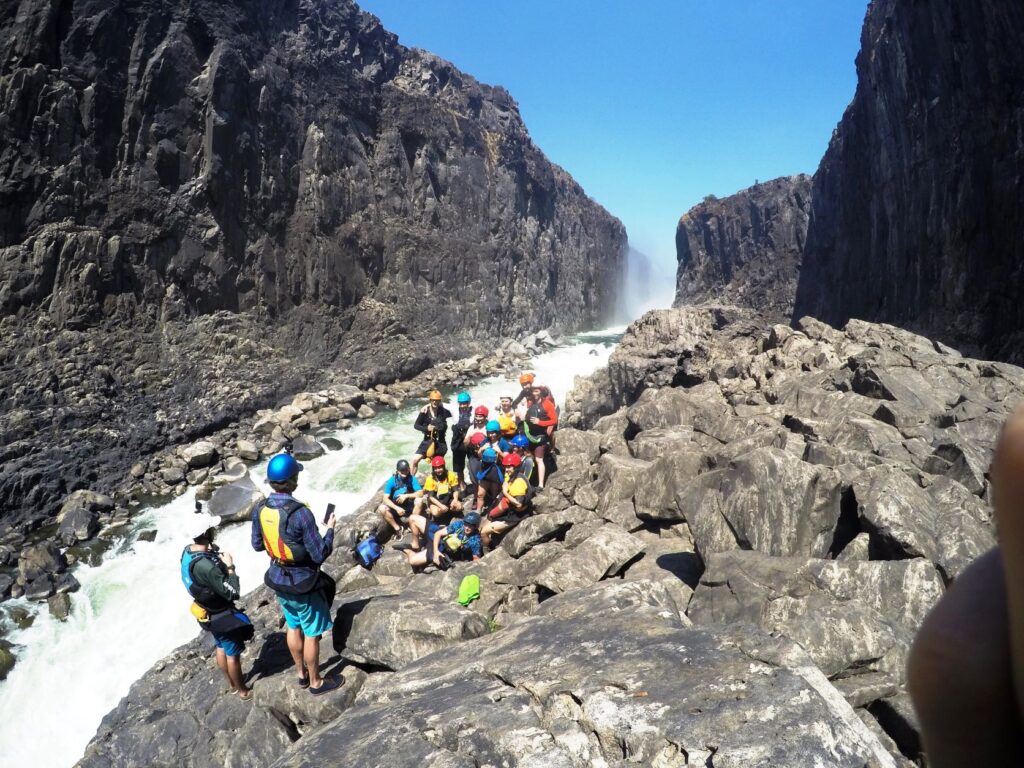 "The Great River"
This river of Steve's allure has surged with enough volume to carve 1600 miles into the land from the Central African Plateau to the Indian Ocean. Journeying through six countries of south-central Africa, the Zambezi and its wetlands and tributaries count as one of the continent's most biodiverse ecosystems; the Z also ranks as Africa's fourth longest river.
Translated from the name given by the indigenous Tonga people, "Zambezi" means "The Great River."
Steve had read about the famous rapids of the Batoka Gorge and confronted their surface tension in his mind. Soon, they would meet him in swells and crests. The parched lands above and the sheer basalt walls would be forgotten.
All Steve had visualized before boarding the plane for Africa would be replaced by the bwoosh and crash and hiss of canyon waters. His plan was to put in below Mosi-oa-Tunya National Park, the site of Victoria Falls, a UNESCO World Heritage site. On Steve's descent, Zambia would be river left, Zimbabwe to the right.
Q: How was your first run on the Zambezi, putting in right below Victoria Falls?
A: For me, it really was how I wanted my first experience on the Zam to be. I was full of excitement to be there and run the big rapids.
My two friends and I met some other kayakers who said they would be willing to show us the lines. The catch was that one of the rafting company photographers had plans to take photos, so we weren't going to have time to scout. We had to be willing to just run the rapids, top to bottom, based on verbal beta and reading the river as we went.
The first run was pretty cool coming into the top of those because the Zambezi's pool-to-pool, but with a steep gradient between the pools. So you'd be getting the information on "You need to be just left of center, or moving center," or, "There's a big hole over here, another big hole over there…and you don't want to be there."
Over the years I have found that I prize not having too much information about a new run. I really value that raw experience of taking what little I know about a river or rapid and putting it together with what I am seeing and feeling as we scout or drop into the action.
Nothing compares to that feeling of the final push off of shore and then eddying out into swift current. That moment of no return and complete focus on what is in front of you.
Q: How challenging were the rapids?
A: My favorite style of whitewater is big water rivers, and the Zambezi definitely lived up to its reputation with fast and steep rapids. Unfortunately, we caught a drought year. The water level hadn't been that low since sometime back in the late 1990s.
The rapids were still sizable but came with an added difficulty of having more obstacles or hydraulics to avoid. The lower water required making additional moves to navigate the drops. Each had its own dynamic. The trip was over two years ago, but I can still see the line of descent for rapids 1 through 21!
That first lap was about getting to have that raw experience, the second lap was to clean up and memorize all the lines, and all runs after that we focused on playing with different features or perfecting the lines of the more difficult rapids.
The final lap saw us paddling down from the traditional takeout to the site of the proposed dam. We wanted to see and experience the full length of the Zambezi before it was too late.
Q: Back here in Spokane, why do you care if other people are running rivers?
A: As you can tell, kayaking just really grabbed me, and the boater community has been very welcoming. Some of the more experienced paddlers got me involved in supporting the sport.
As I gained experience as a kayaker, it was satisfying to share knowledge on gear, technique, and rivers, to sit in an eddy and give someone a tip that has helped me learn a trick. And then watch them go from flopping over and having to roll, to throwing a big loop or linking a cartwheel. Scouting a big rapid, helping them pick the line, leading them down, and watching the explosion of genuine, happy excitement after nailing the line and catching the bottom eddy.
For people who say, "I always wanted to try that!" if you give them an avenue, they could really respond. Then that's another person who might later teach somebody else.
The goal is not to get as many people as we can on the river, of course, but we're trying to encourage the people who truly embrace what's happening. They in turn help make experiences more enjoyable for other people on a river trip or an afternoon surf session.
Q: How else do you give back to the river running community?
A: I helped establish the new Trailer Park Wave access point and preserve the access at Dead Dog Hole, Barker Bridge, and Sullivan Hole. I was part of the Spokane whitewater park proposal process from the beginning all the way until the project died.
Also, it became clear that whitewater kayaking, rafting, and snowboarding were good ways to help returning veterans. Consequently, I have spent years working with the Spokane Veterans Center and the Veterans Community Response group to help provide for those who can benefit from the services and activities.
Running Back Home and Into the Future
Outdoor adventure travel has motivated Steve Bailey to juggle shifts and finances. He bids goodbye to family and friends with an awareness that objective dangers await.
On the Zambezi, Steve sought a clarity required by Class V whitewater, a boundless sensibility as a visitor to people and places on the edge of survival. He ran 21 rapids (just) in time and came back to the wild waters and community of home with reveries and hallucinations for his next titanic river.
Originally published as "Running Before It's Gone: Steve Bailey and the Zambezi River" in the March-April 2022 print issue.
John Eliason started kayaking and rafting rivers in 1993. He lives and writes in Spokane, where he teaches in the English Department at Gonzaga University.
For Further Reading