"I'm always surprised how far people will drive to ride these trails," the woman walking her dog tells me. She lives down the dirt road; I've driven nearly three hours, to the tiny community of Echo, in eastern Oregon, to pedal. But it's snowing back in Spokane. Here it's in the mid-40s and dry—downright tropical, and well worth the distance.
Dedicated dirt riders often find themselves getting desperate this time of year, between spring's false starts and freeze-thaw cycles. Take a break from researching flights to Vegas and plan a weekend to Echo.
With a population hovering around 700, Echo is aptly named; stand in the middle of Main Street most days and you're bound to hear nothing but the distant hum of the highway. The zero-stoplight town lies along the Oregon Trail; wagon ruts from that historic route are still visible nearby. (Editor's note: Learn more at National Park Service Echo Meadows – Oregon National Historic Trail.)
Thanks to the owners of Sno Road Winery, riders have the Sno West Ranch and Vineyard trails to savor. And if there's one thing that wine and wheels share, it's an appreciation for good dirt.
Loyd and Lois Piercy offered their uncultivated land on either side of Alkali Canyon to the trailbuilding hand of former pro rider Shayne Myers, who began scratching out berms and stacking wooden features in the sandy sagebrush and bunchgrass a decade ago. Myers, along with his wife Stephanie, owned Echo Bike and Board, which was for a number of years the hub of Echo's cycling nano-scene.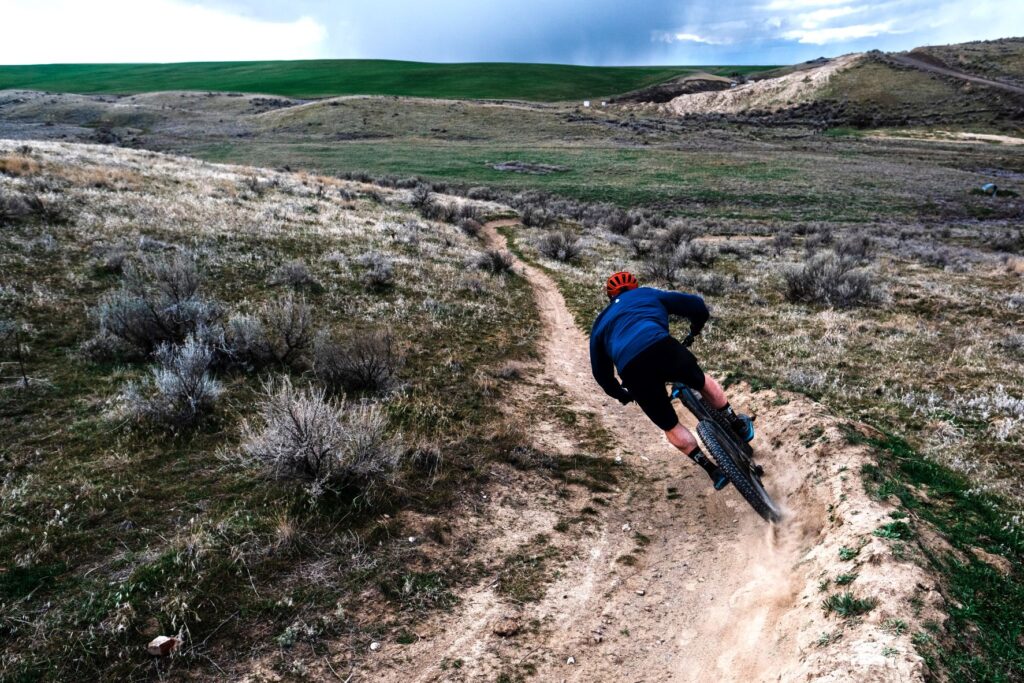 Echo Singletracks
Today the trail system encompasses around two-dozen miles of rolling, buffed singletrack on rolling, wind-buffed hills. There's little in the way of technical challenges, although the narrow, occasionally faint singletrack will provide a good test of lateral balance for those of us who have been doing all our rides on a trainer the last few months.
Trail Recommendations
Riders should start with A Trail, a five-mile loop out of the trailhead parking lot. A Trail, like all the routes here, is designed to be ridden in either direction depending on your preference for long mellow climbs and short punchy descents or vice versa; however, counter-clockwise ends the ride with big views from basalt outcroppings and some big sweeping berms.
Stack on Shayne's or Shelly's Trail, or go further afield on B and C trails. Most loops average about two miles, so it's easy to add or subtract mileage depending on your early-season conditioning.
Across the road, the Vineyard Loop circles the vineyard with some moderate exposure on a rocky bluff above the Umatilla River before closing the loop on the dirt access road. The private landowner occasionally closes the gate, requiring riders to re-trace their route. Fortunately, the views are just as good in the other direction.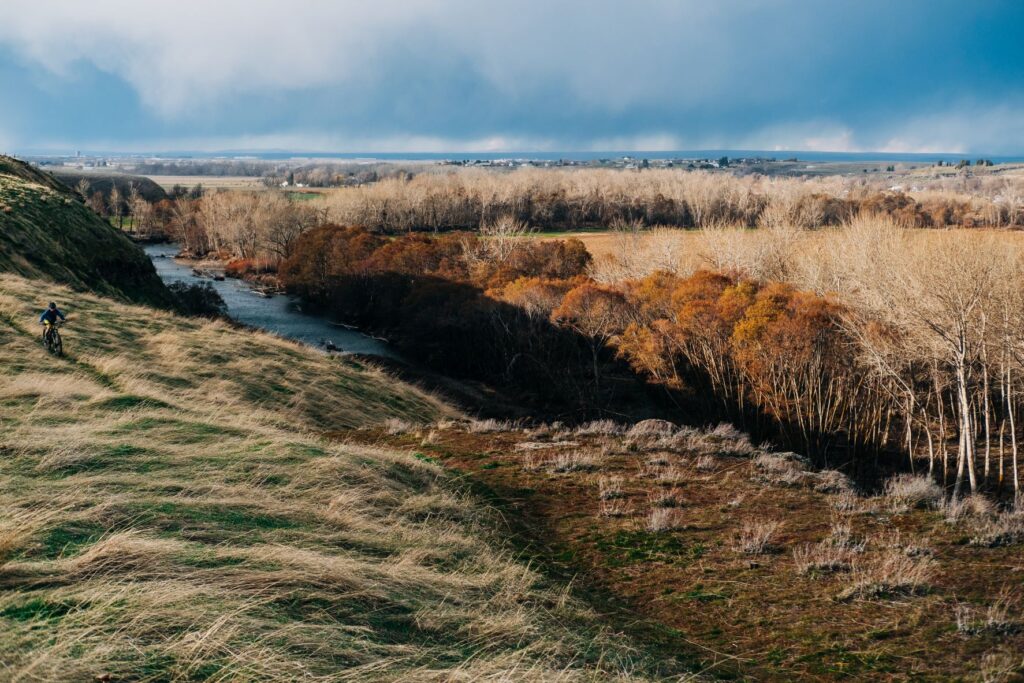 Safety Precautions
Echo receives about seven inches of precipitation a year, so wet riding is unlikely. The wind, however, is another matter, especially given the lack of tree cover. Riders should be mindful of rattlesnakes and ticks when things warm up as well. But they are a small price to pay for the feel of soft, sandy soil under the tires when the ground is snow-covered or sloppy back home.
Local Amenities
Regardless of your route, finish off with a visit to the Sno Road Winery tasting room back in town and raise a glass to early-season singletrack salvation. Learn about other amenities and stay accommodations on the city's webpage.
Annual XC MTB Race
The trail system hosts the annual Red to Red XC mountain bike race too, every March. The unofficial kickoff to the dirt racing season in Oregon, Red to Red, which begins and ends on Main Street, effectively doubles the size of Echo for one weekend.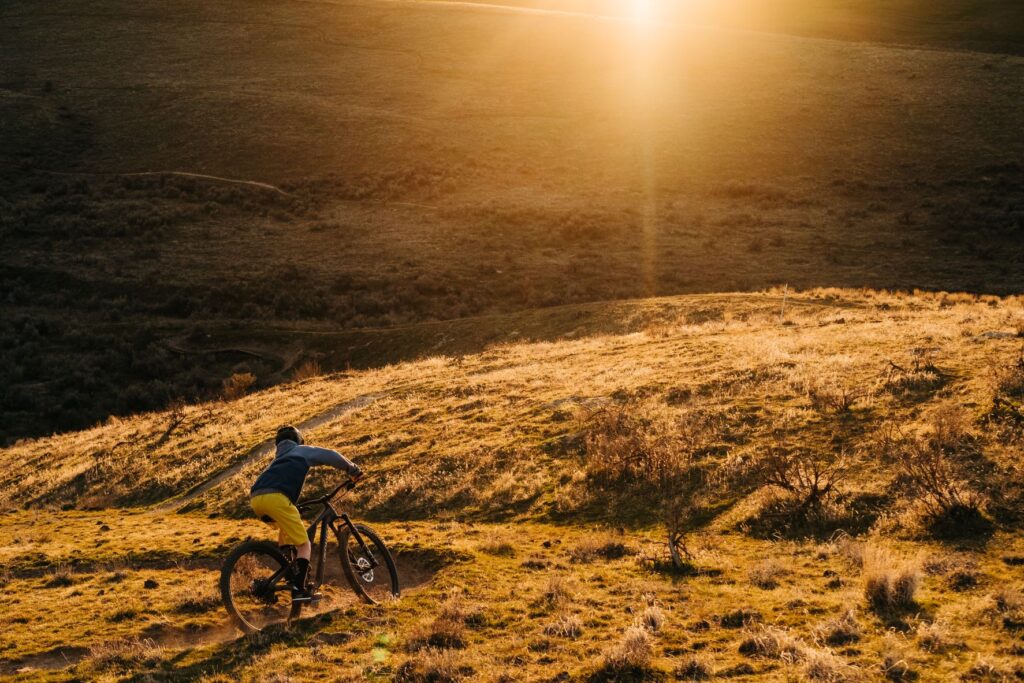 Aaron Theisen has contributed to a number of mountain bike magazines, including Freehub, Mountain Flyer and Dirt Rag. He wrote about the joys of late-season biking in the November/December issue.
Find more stories about biking in the OTO archives.