The 2021-22 season saw big upgrades for north Idaho's Lookout Pass Ski & Recreation Area with the new cat-skiing/riding access on the newly-acquired Eagle Peak Expansion. A separate summit, lying west-southwest of the existing ski area, Eagle Peak and its 14 new runs add a whole new dimension to the resort's current 500+ acres of lift-accessed terrain.
"We're essentially doubling in size with the addition of 500 more acres," says Brian Bressel, Lookout's General Manager. "We have a little bit more timber to remove, but other than that, we're on schedule to begin lift installation this summer."
I got a sneak-peek of what's to come on Eagle Peak on a late February trip with the resort's cat skiing program, which will end with the close of the 2021-2022 season. We were fortunate to have timed it within a few days of some significant storm activity, and Eagle Peak did not disappoint!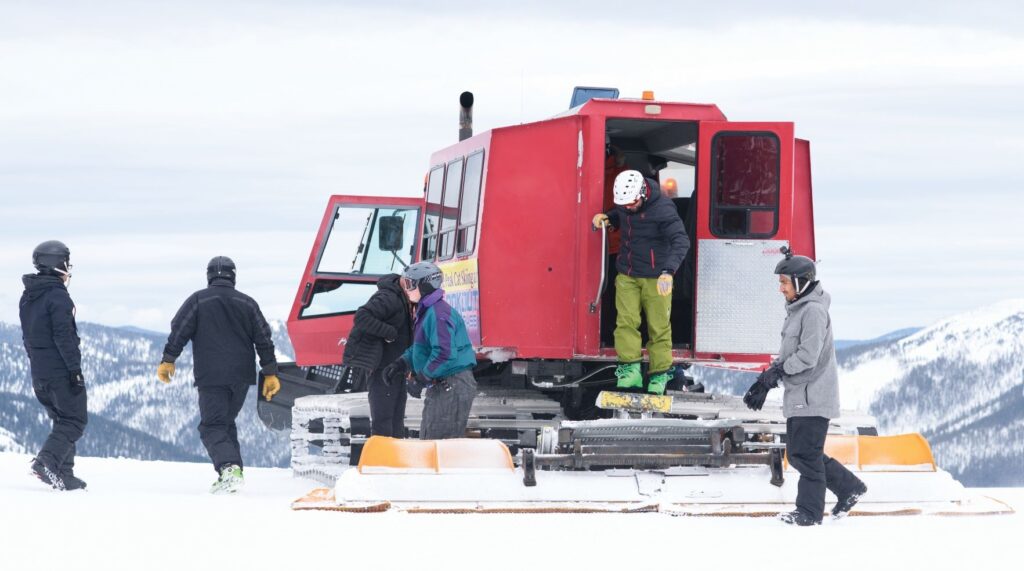 Weaving fresh tracks through deep snow is always pure bliss, but what really stood out about the new expansion were the clean fall-lines and the diversity of terrain. Advanced skiers and snowboarders will delight in the steeper, gladed areas that book-end the main runs, while more novice riders will enjoy the large, rolling intermediate runs that span from top to bottom.
Sitting at 6,150 feet, Eagle Peak's runs will be accessed by a C-Tech fixed-grip quad chair that the resort has already purchased. The new chair will load near the bottom of the eastern slope (Montana side), where Timberwolf (Chair 2) currently loads.
An additional chair is also in the master plan, giving skilled skiers and riders access to the glades and open bowls that populate the northwest edge of Eagle Peak's ski boundary.
Located on public lands, in the Idaho Panhandle and Lolo National Forests, a U.S. National Forest special-use permit allows Lookout Pass Ski & Recreation Area to operate, according to Abigail Matalavage, Lookout's Snow Sports Director. And Lookout owns all the owning all lifts and facilities.
"We were approved for expansion in 2017, and the land was added to the permit. But it took about six years of planning before that to get approval," she says. "The terrain has blue and black runs, glades, a few natural areas, and plenty of groomed areas. Once the new chair 5 is in place, it will offer 1,350 vertical feet for skiers and riders."
It's no secret that Lookout Pass consistently boasts the highest annual snowfall in the region. With totals averaging around 400 inches each winter, Lookout seemingly resides in its own weather belt that virtually guarantees consistent dumps throughout the season.
Lookout's reputation has reached well beyond the Inland Northwest, as evidenced by the crowd we shared the cat with that day. With us were a father and son from Utah, which is currently experiencing an unprecedented snow drought; a man from Pennsylvania who was powder hunting out West; and two men from Peru, who were cat skiing for the first time.
With a propensity for big snow and an expansion that doubles the total lift-accessed terrain to over 1,000 acres, the future is bright at the top of Mullan pass. And while Lookout's popularity continues to grow, there are still a few secrets that Abigail Matalavage hopes will remain.
"I've really enjoyed all of the new terrain over on Eagle, but my absolute favorite would have to be a secret (yet to be named) tree-run, right off the very top," she says. "Shhh, don't tell anybody."
Originally published as "A Sneak Peek Of Lookout's Expansion Terrain" in the March-April 2022 print issue.
Brad Naccarato is a Spokane-based freelance writer and Out There contributor since 2012. Chasing snow, waves, trout, sun, dogs, and microbrews keeps him sane.
Find more stories about Lookout Pass in the OTO archives.