One of Northwest's longest paved biking trails will have you pedaling past lakes, along a wild river, through friendly small towns and wetlands and woods teaming with birds and other wildlife–all without the crowds you might expect. If you haven't ridden the Trail of the Coeur d'Alenes yet, put it at the top of your summer trip list. Recently named one of the top 25 trails in the United States by the Rails to Trails Conservancy, The Trail of the Coeur d'Alenes is 73.2 paved miles, stretching from Plummer to Mullan through the evergreen forests of the Idaho Panhandle mountains. Enjoy some fresh air and peace and quiet as you ride the most scenic sections of the trail. And you may want to consider extending your trip to a few days to explore a summer's-worth of other outdoor adventures nearby.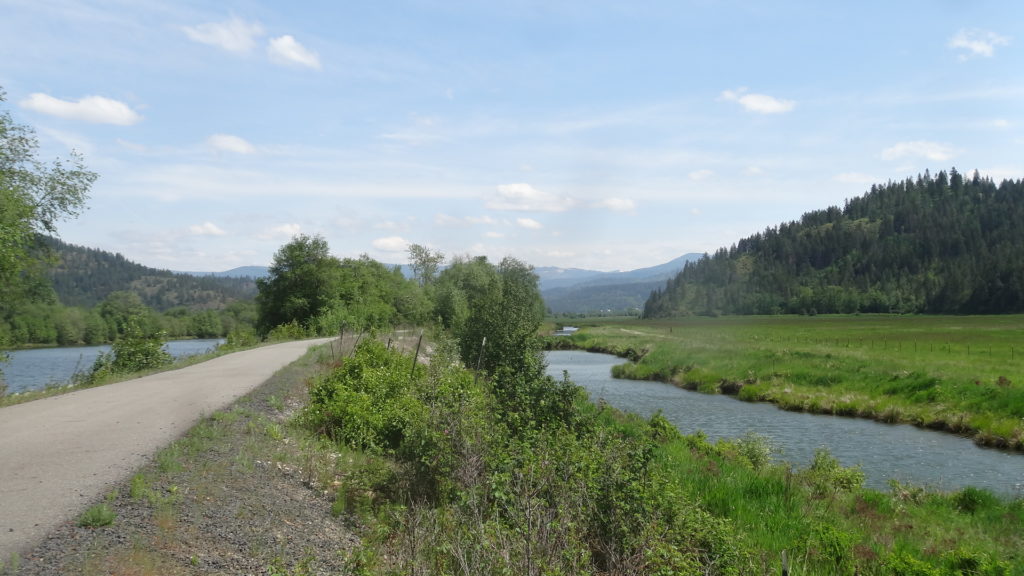 Soak Up the Scenic Sights along the Trail
The Trail of the Coeur d'Alenes glides through low-lying farmland and climbs subtly in elevation, so you can pedal past meadows, along a river, past lakes, and into forested areas all from one paved trail. Wetlands will provide an opportunity to see many species of birds, and depending on the time of the year, you might be able to view eagles, swans, hawks, owls, and migrating songbirds. You may also catch a glimpse of other North Idaho wildlife residents like coyotes, deer, moose, and elk.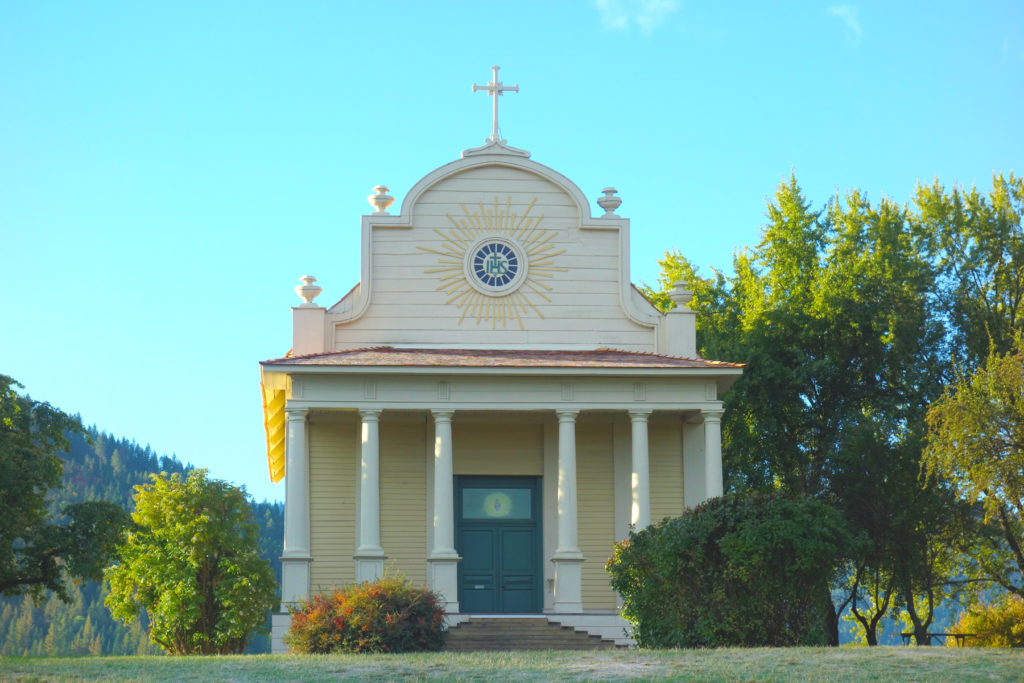 Biking is Just the Beginning: More Adventures along the Trail
Whatever sections of the Trail of the Coeur d'Alenes you ride will almost certainly be the highlight of your summer, but there is so much more to see in this wild, scenic, and historic corner of Idaho. Take the time to play and splash on the beach and on Lake Coeur d'Alene near the town of Harrison at the west end of the trail. You can rent motor boats and kayaks in Harrison to explore the lake. Or paddle up The Chain Lakes east of Harrison that includes wildlife viewing at the Thompson Lake Wildlife Refuge.
If you'd like to hop off your bike and float the river, or take a bit more time and fish, camp, or hike, head for the famed trout-fishing waters of the North Fork of the Coeur d'Alene River. You can kayak, boat, or paddleboard after getting a rental in Harrison, or visit the kid-friendly Gene Day Park in Osburn with its newly renovated park and ponds stocked with fish. Take a trip back in time and experience a taste of the Silver Valley's rich mining history on a mine tour or explore one of several museums, memorials, or historic walking tours and sights in Harrison, Kellogg, and Wallace.
On the trail, you will bike past or near two state parks, including The Coeur d'Alene's Old Mission State Park, that features the Cataldo Mission, the oldest standing building in Idaho (pictured above), and Heyburn State Park. The Trail of the Coeur d'Alenes can be the connecting thread between a week's worth of summer fun exploring the region's natural wonders and history.
The options for doing additional scenic bike rides and day hikes near the trail could take up your whole summer. Check out a few favorites, like hiking to Lake Elsie; riding the Dobson Pass Loop; hiking Mineral Ridge; or hiking to Blossom, Lower Blossom, or Pear lakes from Thompson Pass. You can also tour the historic Hale Fish Hatchery or Shoshone Park east of Mullan. Other North Idaho classic bike adventures include the famous Route of the Hiawatha rail-trail route, and other single-track mountain bike trails like Beauty Bay Loop near Harrison.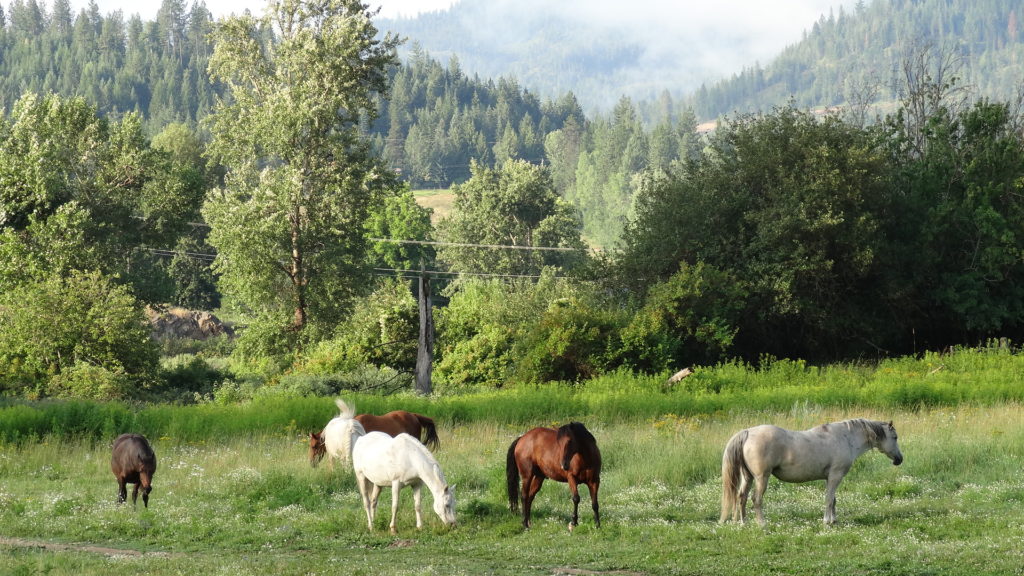 Ride & Stay a While in a Friendly, Trail-side Town
There are several welcoming mountain and lake towns along the trail that make for the perfect home away from home as you explore the Trail of the Coeur d'Alenes. Harrison, Kellogg, and Wallace are the three main gateway communities along the trail, and they each have their own unique personalities, lodging options, restaurants and shops, and nearby sites to see.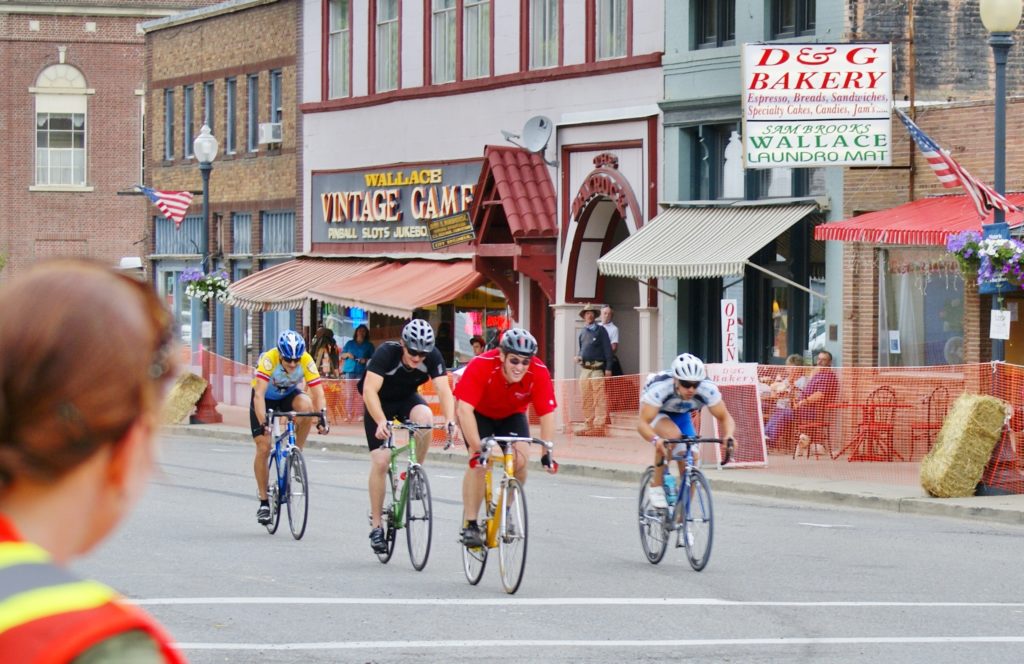 Enjoy one of Harrison's famous giant ice cream cones or locally-crafted fudge, relax with a pint of local microbrew in Kellogg, and end the day with a delicious dinner from one of the craft eateries in Wallace. You may find yourself coming for the incredible biking, but staying for some of North Idaho's hidden culinary and cultural gems.
In many of these communities along the trail, you'll be able to arrange a shuttle for your ride on the trail that will save you some back-and-forth driving. (Many of the hotels and motels along the trail can arrange shuttles in advance.) Plan to stay a few nights and hop on and off the trail in different communities to experience as much of the trail and off-trail adventures as you can.
There are also many unique events happening throughout the year in North Idaho communities near the trail that are worth planning your trip around. Events range from marathons, bike rides, and fun runs to craft beer festivals, a car show, 3-on-3 basketball tournament, live music and music festivals, and outdoor markets.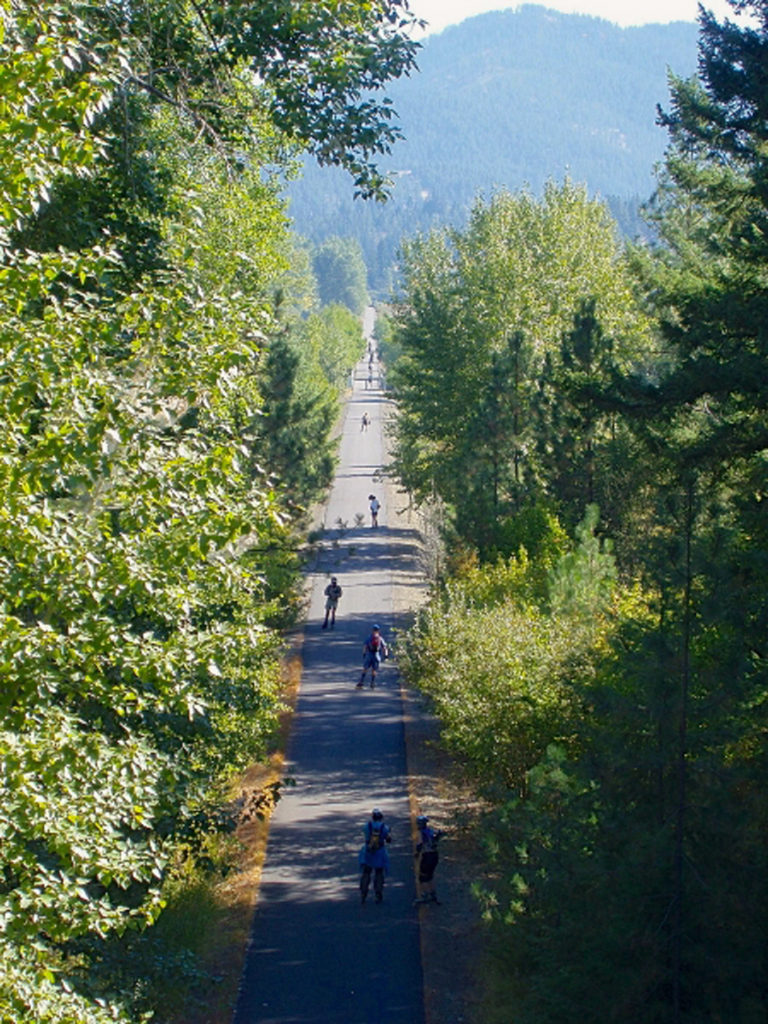 Know What to Pack
This iconic Trail of the Coeur d'Alenes can be ridden in small sections or as an epic end-to-end challenge in any season, but spring, summer, and fall are the best times of year to plan a trip. The weather along the trail can change dramatically when storms roll through any time of year, so always bring clothing to keep you warm and dry. It's always a good idea to pack your own water and food, but with 20 developed trailheads, designated rest areas, and many small towns along the trail, there will be plenty of places to pull over for a snack, meal, or to just relax.
Choose the Right Bike for Your Adventure
When it comes to bike selection, since the trail is paved and relatively flat, just about any type of modern, mechanically-sound bicycle will work, although lighter bikes built for pavement with more narrow, smooth tires will make for the most enjoyable ride. Bike rentals are available from nearby bike shops in the towns of Harrison, Kellogg, or Wallace.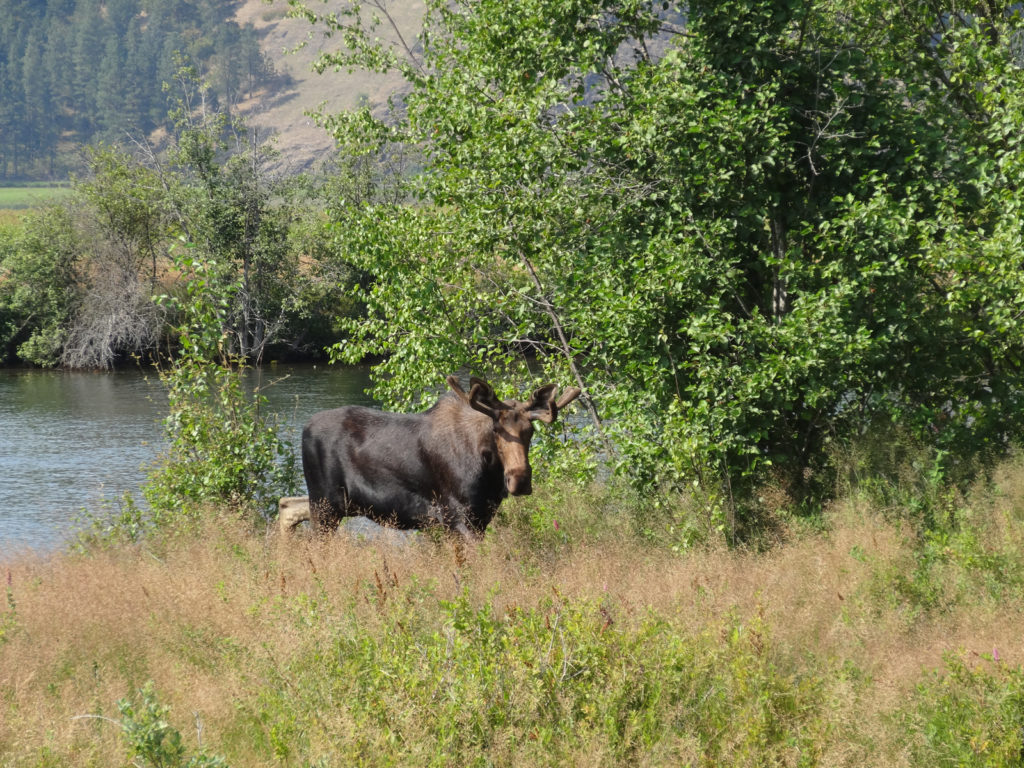 Be Prepared for Your Trail of the Coeur d'Alenes Ride
As with any biking adventure, you should be adequately prepared for adverse conditions. We recommend carrying a bike pump; flat tire repair kit; bike helmet; bike lights; extra food, clothing, and water; and a cell phone for emergencies. Wear technical layers so you can roll with an unexpected rain or wind storm.
If you'd like to do a winter-specific ride on the trail with a fat-tire bike and a few favorite pals next winter, be sure to check out this Out There Outdoors article on winter riding the Trail of the Coeur d'Alenes. Fat bike rentals are available at Coeur d'Alene area bike shops.
[Photos courtesy of Coeur d'Alene's Old Mission State Park]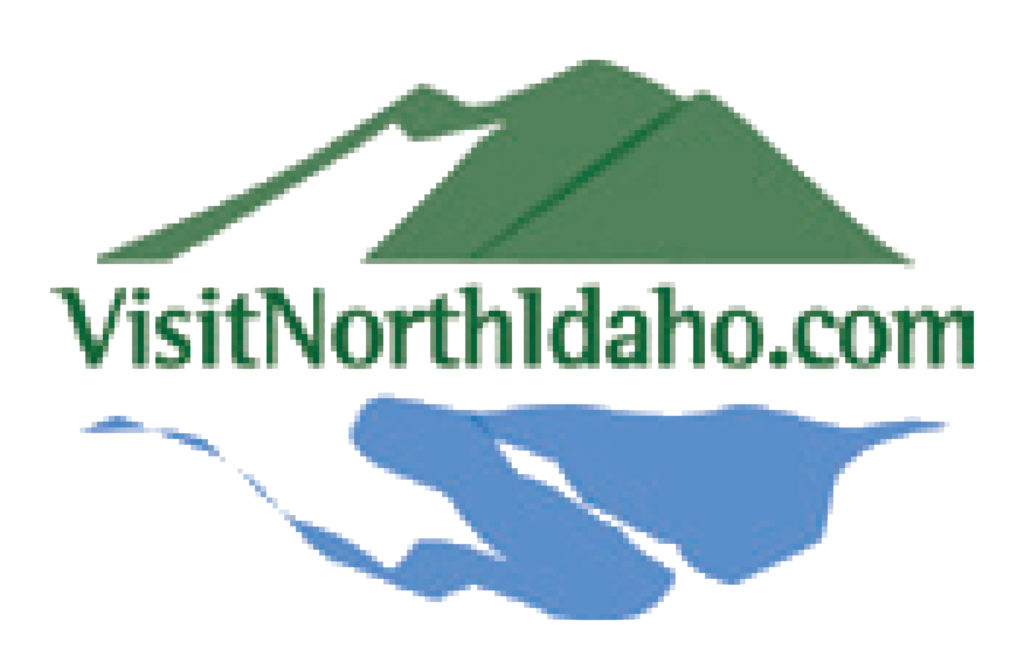 (Sponsored Content)