By Derrick Knowles & Justin Skay
Tranquilly pedaling the Trail of the Coeur d'Alene's through steadily falling snow in serene mountain scenery, snowpack silencing even the knobbiest tires, is a relaxing way to while away a winter day or two. There really is no off-season for riding North Idaho's iconic 72-mile paved-path rail trail, as long as you come prepared.
To ensure the experience is more fun than fraught, consider trail conditions and weather on whatever length of the trail between Plummer and Mullan you want to ride. Knowing where you want to ride will help with your bike selection and gear decisions. A road bike and puffy might be your best bet one year in January, or you may need a fat bike or mountain bike and t-shirt in April that same season. The weather and conditions along the trail can be quite different and unpredictable, especially on the higher elevation, eastern end of the trail near Wallace.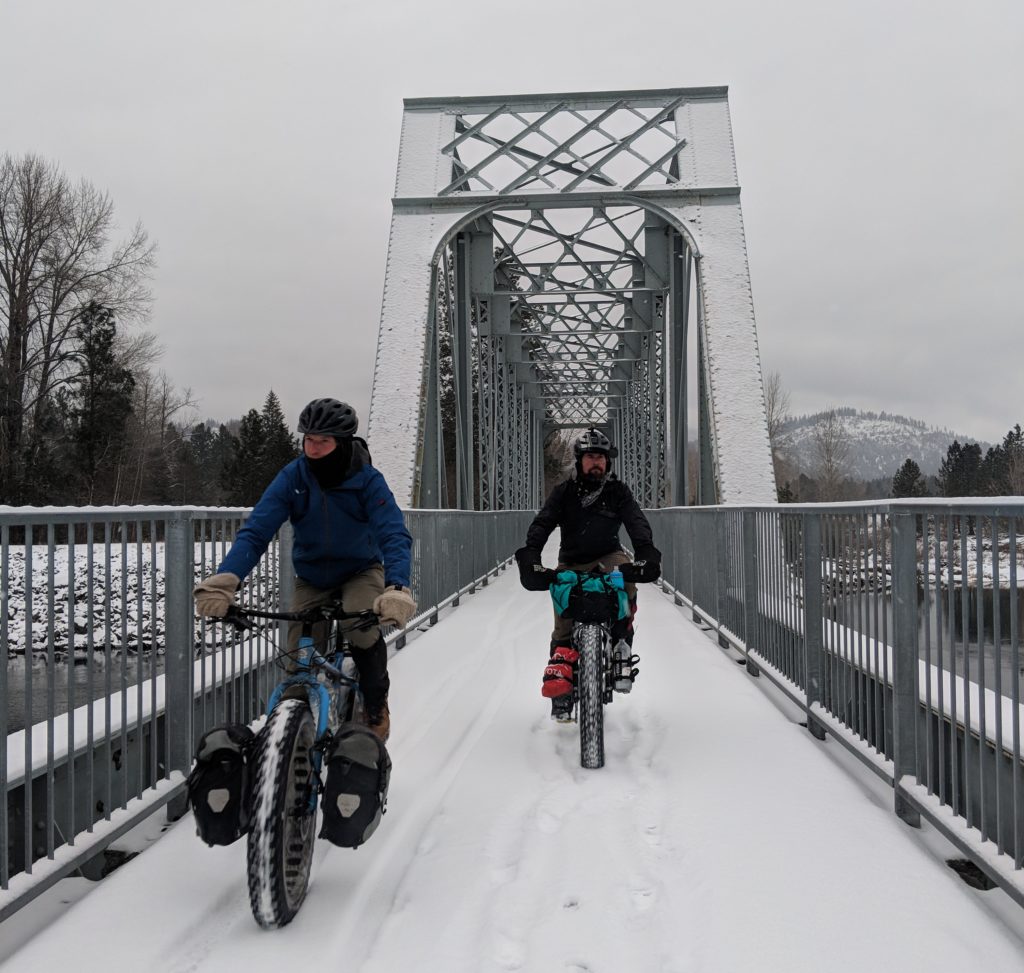 Pedaling Through a Wildlife-Rich Winter Wonderland
If you're lucky like we four fat bikers were on an early February trip from Harrison to Kellogg, a few inches of dry, lightly compacted snow made for an enjoyable ride with negligible elevation change. We had plenty of time and daylight for gawking at the chain lake-and-wetland-studded scenery and abundant wildlife, including bald eagles, raptors, quail, coyotes, otters, geese, deer, and moose.
We didn't see another human out on the quiet, snow-covered stretch of trail between Harrison and Enaville but were repeatedly greeted by startled mobs of geese and awed by the serene beauty of the Coeur d'Alene River and silence of the winter wonderland all around us. It's easy to explore out-and-back sections of this highly-scenic part of the trail from Enaville, Cataldo, and other trailheads further west towards Harrison.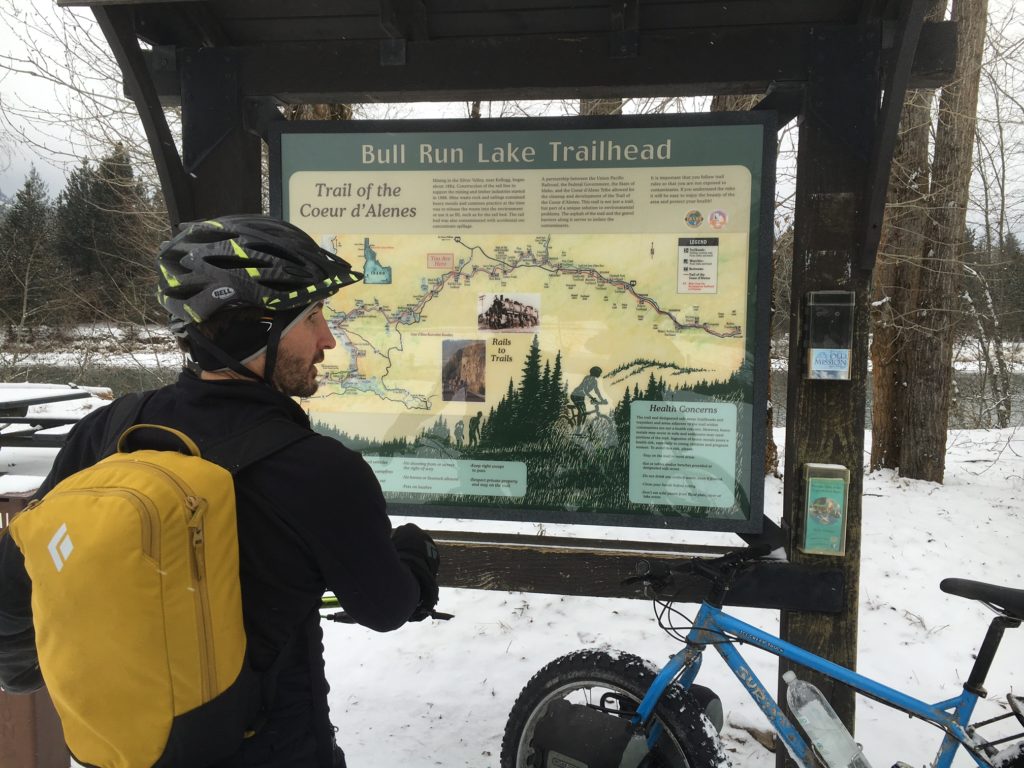 Choosing the Right Section of Trail for the Conditions
Near the numerous trailheads, frozen footprints and ski tracks comprised the paved trail's only technical challenges during our winter ride, but with deeper snow, pedaling even with a fat bike would be more difficult between the wildest stretch of trail between Harrison and Enaville. The asphalt trail surface is plowed in places during the winter months from Enaville east to Wallace, potentially affording access for riders without fat tire bikes looking for shorter rides. Snowmobiles are allowed on the section between Wallace and Mullan, making that stretch of the trail a great, scenic option for riders on fat bikes if other parts of the trail are buried in snow. Unless the part of trail you want to ride is snow-free, a fat bike is your best option to be able to ride where you want. (If you don't own a fat bike, several bike shops in Coeur d'Alene rent them.)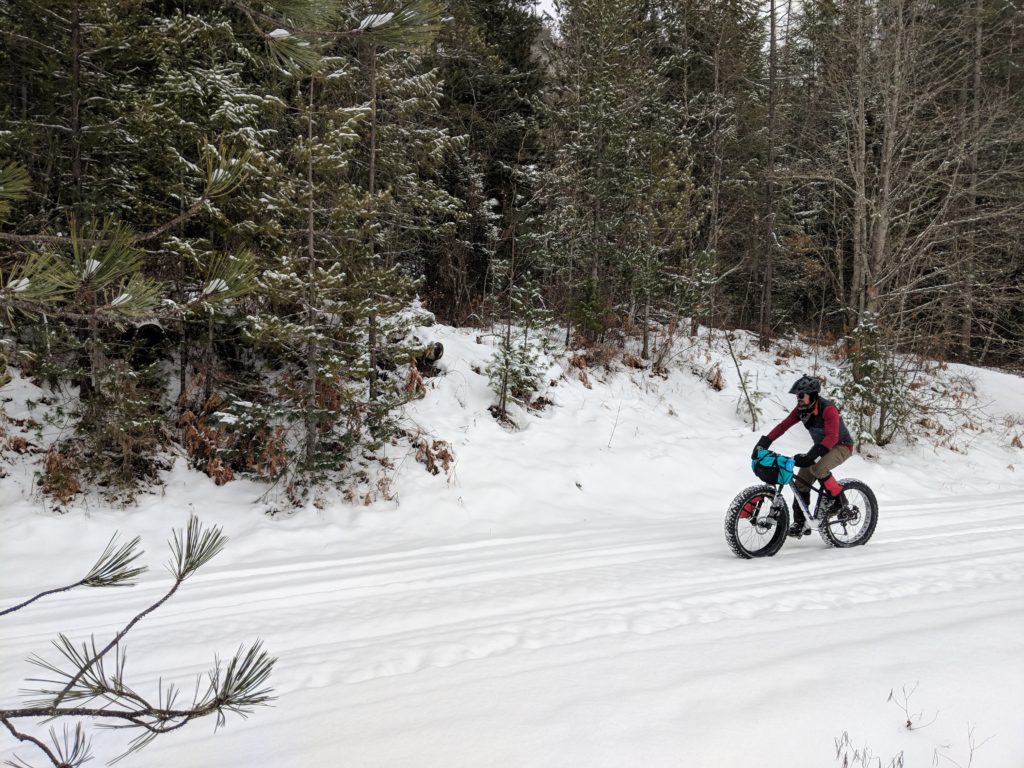 Weather & Gear
An occasional tussle with temperamental mountain weather is to be expected along the trail anytime between November and March. No matter the forecast, be ready for snow, rain, cold temperatures, and wind to compliment the scenery and solitude. A waterproof shell, hat, and weather-resistant gloves are a must. An adage tells us to dress for the second mile when exercising outdoors. On the Trail of the Coeur d'Alene's, dress for the first, last, and every mile in between. Use your technical, synthetic layers. Carry a pump, flat tire repair equipment, bike lights, plenty of food and water, and a cell phone for emergencies. Fortunately for the ill-prepared, there are several cozy spots to thaw your toes and sip a beverage or enjoy a warm snack in the towns along the trail or at the end of your ride.
Explore the Trail from a Winter Base Camp
Whether you choose to take on an epic stretch of the 72-mile Trail of the Coeur d'Alene's in one day or ride a few of the more scenic sections over a few days, having the right lodging base camp will make the trip that much more fun. The three major Trail of the Coeur d'Alene's gateway communities—Harrison, Kellogg, and Wallace—all offer lodging, eating, and drinking establishments with their own historical charm and unique surroundings, from lake to mountain views, and other nearby attractions. Shuttle services for your ride are available in many communities along the trail, saving you time and gas, so be sure to arrange a shuttle in advance and let someone else do the extra driving. Explore all the trail communities have to offer including trail and tourist amenities here: Harrison, Kellogg, and Wallace.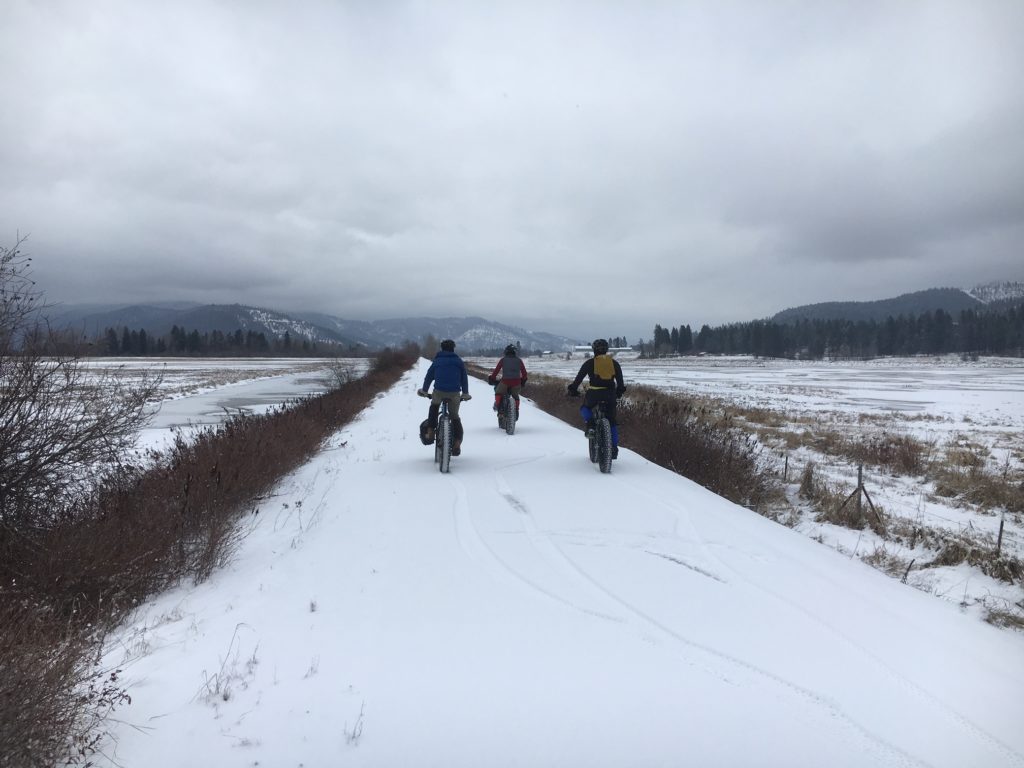 Sponsored by Visit North Idaho