By Jean Arthur
Azure skies, cinnamon cliffs, and blooming desert greet hikers and bikers in Southern Utah each spring when mud seems to define the Pacific Northwest.
With bikes, tents, and good humor, my family and I drove the 800 miles south while snow fringed the alpine regions. We entered the desert allure of warm days, fragrant nights, and lots of trails in the Grand Staircase-Escalante National Monument, a 1.87-million-acre public resource.
We discovered the quiet retreats of southern Utah many springs ago and return to refresh our love for exploring the Beehive State's hidden slot canyons, gulches, sandstone arches and spires.
Hiking, Biking, & Searching for Condors
We arrived in the community of Escalante where 800 residents farm, ranch, recreate and welcome visitors to eateries, outfitters and lodgings. Situated at 5,800-feet above sea level, Escalante is a good launch for desert adventures.
We first stopped at the Bureau of Land Management's Escalante Interagency Visitor Center to ask for trail suggestions—and California condor sightings.
"If you're lucky enough to see a California Condor, you'll notice a numbered tag on it," the employee told us. "That's for research purposes." This is to help keep track of the 70 condors residing in Utah and Arizona.
Willis Creek Narrows Slot Canyon
The visitor center folks pointed us to a warm-up hike in Willis Creek Narrows Slot Canyon, a 4.8-mile out-and-back in a wash. At 36 miles west of Escalante, it's a surprise hidden among dense pines and Navajo Sandstone.
Willis Creek meanders a few inches deep through the canyon among pink and gold sandstone. As we walked, I checked overhead for condors—no luck.
(Editor's Note: Be sure you're properly prepared and equipped before hiking into any slot canyon.)
Day Hike Options
Over the next days, we explored the monument, driving to new spots such as the Grosvenor Arch Day Use Site, which affords several different hikes as well as biking on smooth roads with little traffic.
We tried other trails at our leisure: Coyote Gulch, Devils Garden, Spooky Gulch. My favorite was Lower Calf Creek Falls for the amazing 126-foot waterfall just 3.1 miles from the trailhead and the $10/night camping. No hikers seemed to travel the sandy trail through rabbit brush, Gambel oak, juniper and pinyon pines. (More info from the BLM about Escalante's narrow slot canyons.)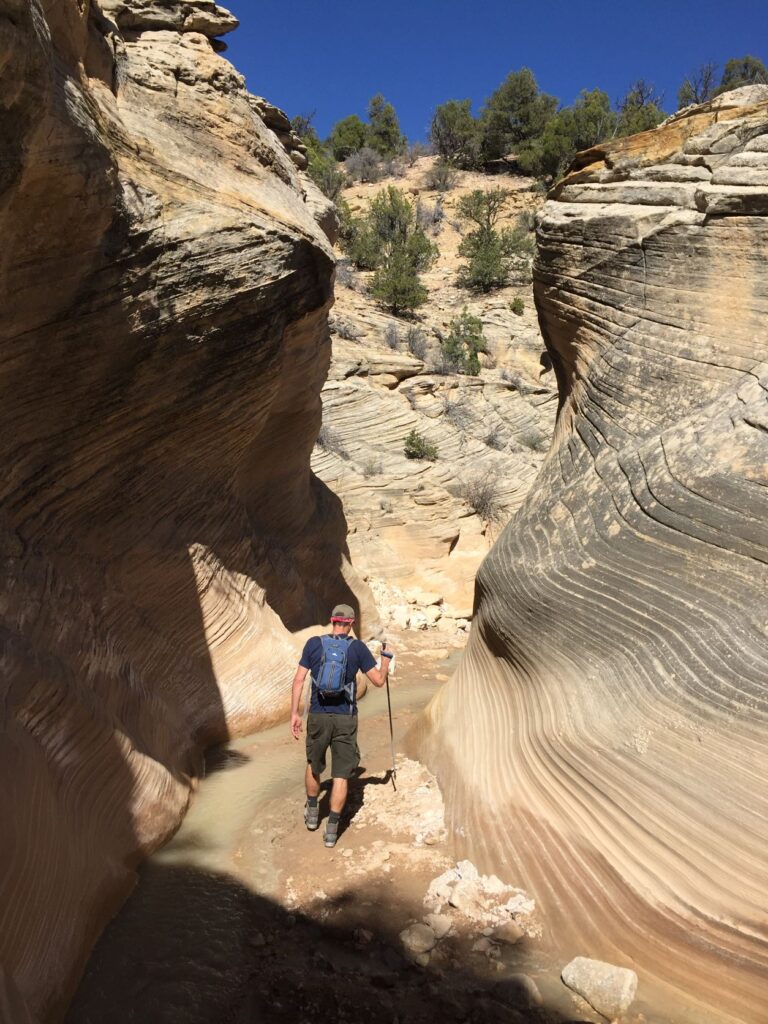 Camping
Midway into our camp trip, while my family biked the slickrock, I opted for a $12 bathhouse shower at Escalante Outfitters and then waited for my crew to join for pizza and brews. Outfitters sells outdoor gear and much-needed cooler ice.
I filled our 5-gallon water jugs and had a cool drink on the porch. This sweet spot warmed me thanks to friendly folks, desert sun, and yummy treats while I pondered the ancestral Fremont and Ancestral Puebloan (sometimes referred to as Anasazi) who lived here AD 950-1100 and left rock art decorating the sandstone.
When my family rejoined, we enjoyed a quick meal and headed back to camp for our final night. (More info about camping and overnight accommodations and amenities.)
No condors this trip, but I will return in search of warm days, fragrant nights, and a possible glimpse of one of the largest raptors in the world in the Grand Staircase-Escalante National Monument.
Limit Your Impact on Utah's Fragile Desert Landscapes
The Bureau of Land Management (BLM), that manages much of the public land in southern Utah, offers tips for limiting human impacts while in the desert that are relevant whether you're exploring a national monument or your backyard trail or campsite.
The Gotta Go Utah website provides additional information for visitors to limit their impacts.
For more information, visit the BLM's Grand Staircase-Escalante National Monument webpage.
Find more travel stories in the OTO archives.