Whether your family calls it a nature walk or a hike, when you're out in nature walking with children the essential goal is the same: to enjoy the journey along the trail. Here are four essential ways to ensure it's a pleasant experience for the whole family.
1. Use creative ways to motivate.
Most kids want to explore nature in unhurried, simple ways. They don't care about mileage or elevation gain; they want to have fun and eat yummy snacks. Surprises and hands-on exploration along the way – such as observing wildlife or searching for nature scavenger hunt items – can keep them motivated.
And there should be an interesting end reward, whether it's a picnic near a lake or peak vista or simply completing a loop to finish where you started. Your child can say, "I did it!" and feel proud of achieving a goal.
2. Plan wisely.
Keep your hiking plan realistically achievable for all children in your group. A general guideline is that a child can hike one mile for every year of age, as long as sufficient hydration and snacks are provided.
To motivate our son, when he was three, to hike on his own all the way to Avalanche Lake in Glacier National Park, we gave him a small treat at every switchback. Those ABC Cookies and M&Ms were great incentives.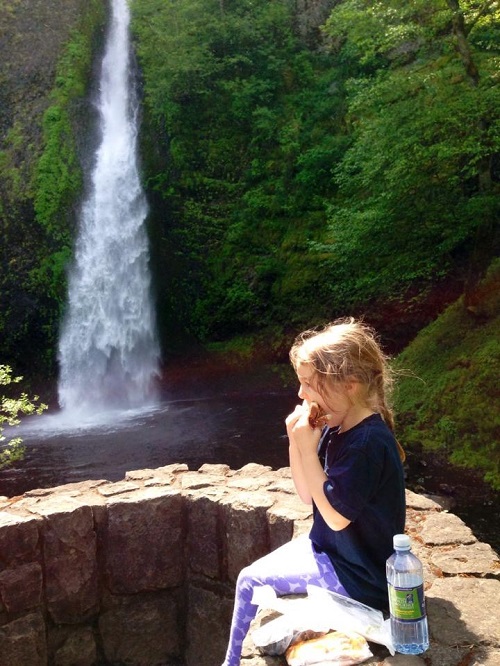 Patience and a positive attitude are important too (for both children and adults). Hiking should be fun for even the youngest hiker in your group, not a kinder boot camp. Carry them if needed. Pack enough water, or bring along a water purification system. Bring energizing snacks, like granola bars and fresh or dried fruit. Stop as often as needed for kids to rest and explore nature, whether it's a puddle of water or insects under a log.
3. Teach outdoor skills.
Be sure to teach children Leave No Trace principles, and know how to help them "go potty" in the woods. Bring a trowel, toilet paper and a Ziploc bag for packing out the TP.
4. Stay warm, dry, & safe.
In the Inland Northwest, fall season hikes are beautiful and exhilarating with the combination of autumn-colored leaves, sunshine and cool, crisp air. Stay comfortable by wearing layered clothing. Socks made of merino or synthetic wool that will wick away moisture will keep even wet feet warm. An adult should always carry first-aid supplies, snacks, water, and other essential supplies, such as a change of clothes. Children can also carry their own small backpacks with snacks or their extra clothes.
Ultimately, it doesn't matter where you hike or how far you go. Hiking teaches children about responsibility, appropriate risk-taking, and the truth of a mile. Walking on logs, jumping off rocks, and being cautious near steep slopes are excellent lessons. It becomes not just something you do; it becomes a reflection of who you are – an outdoor family.
Choose the Right Pack for Carrying Young Children
For toddlers, there are various external frame backpack kid carriers that make it easier for an adult to trek anywhere with a child. Most of these carriers have a 40-pound weight limit, which includes the child plus any gear. My family likes using the Deuter Kid Comfort III Carrier, which weighs less than eight pounds and comes with a sunshade.
When our children were babies, we used an Ergo Baby carrier, which can be used to carry a baby on your front or a toddler (up to 40 pounds) on your back. At only four months old, our firstborn accompanied us on long day hikes in Mount Rainier National Park, while he observed scenery, smiled at other hikers and then napped in his Ergo – snug in the front position, using the infant insert.
While using our dual-parent carrier system, Deuter and Ergo, to accomplish higher mileage hikes, we've received envious looks from other parents who seemed exhausted and weary as they struggled to hold their children on their backs or shoulders using only their arms and hands. Meanwhile, our children were often napping and our backs weren't aching.
Originally published in the October 2014 print issue of Out There Outdoors.
Amy McCaffree is Out There Kids columnist and has been writing for Out There since 2006. She was born and raised in the Pacific Northwest and enjoys camping, biking, hiking, alpine skiing, and paddling with her family.
Find more stories, ideas, and tips for adventuring with children in the OTO archives.