A "bucket list" vacation FOR any Northwest family should be Mount Rainier National Park. After all, who wants a kid to grow up without stepping foot on the 14,410-foot mountain that dominates the Cascade Range? It's the fifth highest peak and the tallest volcano in the contiguous United States. Even better, it's an "episodically active" volcano—kids will love that. According to nps.gov, it last erupted about 150 years ago.
Mount Rainier NP has five regions: Paradise, Longmire, Sunrise, Ohanapecosh and Carbon River. The most popular one is Paradise (5,400' elevation), located in the southwest corner of the park and accessible from Stevens Canyon Road if traveling from Yakima. It's renowned for its dramatic views of the glacier-clad mountain, and one of the park's only two designated campgrounds is close by. Its new visitor center, which opened in 2008 to replace the former, unsustainable building, is open daily during the summer from 10:00 am to 7:00 pm and provides interactive exhibits for all ages. There is a picnic area and plenty of nature trails. And children ages 6-11 can take part in the Ranger-led Junior Ranger program during the weekends.
But before you learn anything more, it's important to know a basic phrase when talking about "the Mountain"—the shorthand that Western Washington residents call Rainier. A visit to Paradise is best when the mountain is "out," as the locals say. Cloud cover on the summit is disappointing but be patient. In the summer, morning clouds often dissipate by the afternoon. (If not, enjoy the lower-elevation trails and Narada Falls between Paradise and Longmire.)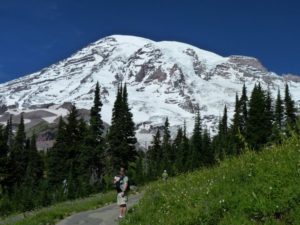 Thankfully, July and August weather is generally good, considering that Mt. Rainier makes its own weather. So it's a good idea to plan for a multi-day visit, or at least have some flexibility in your travel plans; then if the summit is hidden by clouds on your first day, you may hopefully enjoy clear skies the next.
Paradise trails have clear signage and most begin at the edge of the paved parking lot. If you're hiking with small children, the Alta Vista Trail is a great choice. This 1.2-mile round-trip paved trail accommodates a stroller and is typically snow free by mid-July. Another paved trail is the Nisqually Vista.
If you will be carrying your baby or toddler in a carrier or pack, or if your kids are older and capable of hiking longer distances, then the Skyline Trail is a must-do on a clear day. This 5.4-mile loop trail is more rugged and gains 1,700 feet of elevation to a spectacular view at Panorama Point (7,100'). Along the trail, there are plenty of large flat rocks to stop and rest, enjoy a snack, or change a baby's diaper, and there is an outhouse at the Point.
Since Paradise is "the snowiest place on earth where snowfall is measured" and holds the world record for the largest snowfall in a single year, according to visitrainier.com, check trail conditions at the visitor center before you head out. Sometimes snow still covers upper portions of trails. (As of mid-June, all of Paradise's trails were still covered by snow and some lowland trails were open—go to "latest hiking buzz" at the visitrainier.com homepage for the current update.) A park ranger can also suggest trails that will best accommodate your family's needs and ability level.
After hiking, you can relax at the historic Paradise Inn. Its massive lobby, with many couches and a fireplace, is a bustling place throughout the day and serves as a resting place for day visitors and inn patrons alike. The inn offers a full-service dining room, and a small café off the lobby sells sandwiches, snacks, ice cream and beverages—from espresso to alcoholic concoctions. From a parent's perspective, the inn's public restrooms are awesome—spacious with warm water, flushable toilets and diaper changing tables.
As for staying overnight in the park, Cougar Rock Campground (elev. 3180') is only eight miles from Paradise and the only one in the south side of the park. Its 173 sites fill quickly, so make your reservations as soon as possible at www.recreation.gov ($15/night). Although there are no showers, there are flush toilets and diaper changing tables in the restrooms, and ranger-led programs in the evening at the campground's amphitheater.
If you would rather not camp and can spend $100+ a night, both the Paradise Inn and the National Park Inn at Longmire (11 miles from Paradise) welcome children of all ages. Go to www.mtrainierguestservices.com for room rates and complete details. At Longmire, the General Store sells snacks, souvenirs, clothing and miscellaneous camping gear. Nearby is the kid-friendly and stroller accessible Trail of the Shadows, which is less than a mile long.
Perhaps best of all, especially families with teenagers, there is no cell phone or wifi coverage available from Longmire to Paradise—which means no texting or media distractions, only quality family time.
WHEN YOU GO
Mount Rainier NP is located 2-3 hours from Seattle, Tacoma and Yakima. For detailed directions to the park from Spokane via Yakima, go to http://www.visitrainier.com/pg/directions/Driving-Directions-to-Mount-Rainier-National-Park.