The Grind, one of the largest open ski and snowboard rail jams on the West Coast that attracts hundreds of spectators and up to 90 competitors, is held in an unlikely location – behind the library on the Eastern Washington University campus in Cheney, a small college town surrounded by rolling Palouse wheat fields and channeled basalt canyons. Organizers truck in over 12 tons of shaved ice and build the stunts themselves for this skiing and snowboarding season kick-off event (this year's is set for Saturday, October 25 at 11 a.m., by the JFK library.)
For competitors on skis and snowboards, it's a chance to show off their tricks and riding style while sliding over several unique features, including a one-of-a-kind battleship box with a ledge on it. There's also a 42 inch-wide c-box that's kind of a hybrid feature that the Grind crew calls the dance floor because it's so wide that riders can really bust out their bag of tricks as they glide across the crescent moon shaped rail. "It's massive and it's awesome. It's almost twice as wide as most c-boxes," says Shawn Semb, who along with his brother Dustin are responsible for bringing the event to EWU each fall.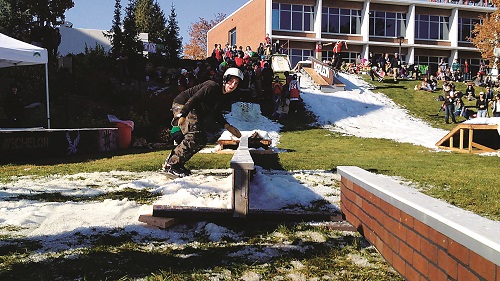 This year will be The Grind's 8th year running with no sign of slowing down, and the Semb brothers emphasize that the success of the event is due in large part to the fun, open atmosphere. Any rider over 16 years old of any ability level who has been on skis or a board can give the rails a try. They even have more experienced riders on hand to offer tips for riders who have never hit a rail before. The judges this year include two riders who have been in the snowboard industry for years as pro riders and reps. "Both of them also have a skate background," says Dustin. "So we're expecting they'll be looking for more fun, playful tricks that really get the crowd amped up and cheering."
For spectators who show up to soak up the energy and cheer on the competitors, there's no shortage of excitement, with experienced riders, including X-Games finalists and former Olympians in past years, entertaining the crowd with tricks to background beats the event DJ keeps churning out. The Semb brothers also promise a nearly constant flow of $15,000 worth of swag raining down on spectators, including helmets, lift tickets, shirts, and other riding gear thanks to event sponsors like Mountain Gear, Phunkshun Wear, Bataleon Snowboards, Switchback Bindings and local resorts including Mt. Spokane, Silver Mountain, and 49 Degrees North. And free energy drinks. Lots of free energy drinks. Several raffle prizes will also be given away, including the big prize this year – one definitely worth throwing your name in the hat for – a trip to Whistler with transportation, lodging and lift tickets.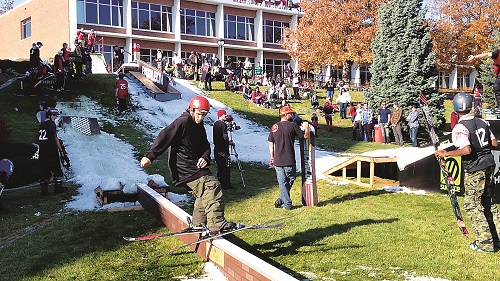 Meet the Brothers Behind the Biggest Rail Jam Around
It's unlikely that an event like this would have ever happened out at EWU without the combined passion for riding and rich snowboard industry backgrounds that Shawn and Dustin Semb bring to the table. The brothers are Spokane natives and grew up literally on Mount Spokane, their family property bordering the state park, before launching off on their own impressive careers that combined their love of snowboarding, the outdoors, and teaching and sharing their passion with others.
Dustin started snowboarding up at Mt. Spokane in 1989 before snowboarding was even officially allowed on the mountain and went on to be a founding member of the resort's snowboard school and then the first park manager before becoming a semi-pro rider for a few years and working as a snowboard instructor all over the West. He settled into his current job working for EWU's Epic Adventures outdoor program in 2007 and organized the Grind's very first year.
Younger brother Shawn started coaching at Mt. Spokane at a remarkably young age of 11. "I started training and did a lot of what Dustin did and got certified as an instructor, and, once I was old enough, I got to drive around giving clinics all over the Northwest," says Shawn. He eventually became a pro rider for a couple companies and moved down to California where he worked as the lead trainer at the acclaimed Burton Snowboard Academy at the Northstar Ski Resort. His brother Dustin says that "Burton decided they wanted to have the best snowboard school in the country, and he [Shawn] was their head coach." For the last several years, Shawn has spent several months each summer at Timberline on Mt. Hood working as an instructor for their freestyle snowboard summer camp program. He's also now the guy who organizes The Grind event these days.
More Info: If you're hitting the Mt. Spokane Ski Swap the same weekend, bring your ticket stub to the Grind for the chance at winning special swag. Visit Facebook.com/EpicAdventuresRailJam for the latest info, follow The Grind on Twitter and Instagram at #thegrind14, or call 509-359-7910. //
What's a Rail Jam?
A ski and snowboard rail jam like The Grind is an event where snow or shaved ice is brought in if necessary and rails and other features are constructed for riders to slide down a ramp or hill to gain enough speed to then slide across the features and pull off tricks in the process. The Grind is an "open" rail jam, which means that the features are all set out and each competitor gets a three hour time slot to hit their features of choice as many times as they want to in the time allowed. This more laidback format gives competitors the chance to interact with their friends and makes for a more fun and engaging experience for riders and spectators.