Fleece-clad shoppers clutching coffee cups stand outside in an organized line, waiting for the doors to open. It's better than Black Friday; it's the annual Mt. Spokane Ski Patrol (MSSP) Ski Swap, always the last weekend of October at the Spokane Fair & Expo Center, and your best bet for outfitting your whole family with the ski equipment and other gear you need on a budget.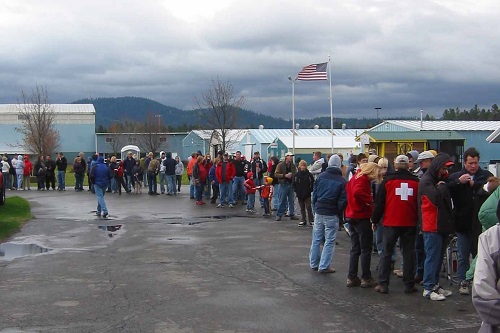 "I started buying gear from the swap in the 80s and then relied on the swap to outfit our whole family when our kids started skiing…. It made skiing affordable," says Kevin Voss, who has been a Mt. Spokane ski patroller for seven years and is now serving his second year as patrol director.
October 24-26 marks the 50th anniversary for this annual event. Voss wants people to know that MSSP ski swap is more than used stuff. Regional businesses "bring in both new and used equipment – more than what comes in from families. You'll find prior model years or rental shop equipment, because shops are making room for this season's inventory," he says. Swap organizers inspect all gear to ensure no obsolete or damaged items arrive on the sales floor.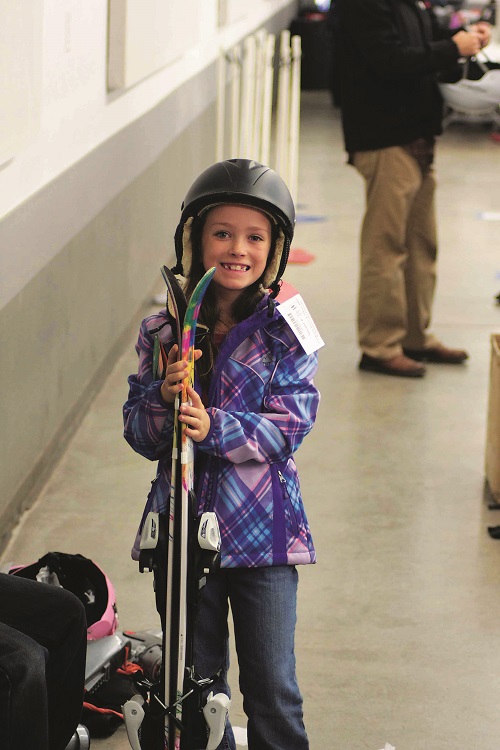 Tips for Outfitting Your Kids at the MSSP Ski Swap – And Having Fun Doing It
1. Come prepared to survive: Bring snacks, beverages and entertainment for your children when they get tired of shopping, such as a portable DVD player or tablet. The check-out line is often long. If your kids need a break from the sales floor, take them to the vendor area to see the carpeted ski ramp, sponsored by Mt. Spokane Ski & Snowboard Park. First-time skiers can get instruction and try out their new skis. A ski movie will also play on a 9' screen.
2. Arrive early with a plan: All sales are final, so you want to get it right. Although people start lining up before dawn on Saturday for doors that open at 9 a.m., you probably don't want to do that if you have kids with you. "By 9:20 the line is gone; you can show up at 9:15 and almost walk in," says Voss. "People mingle around for a couple hours. Make more than one trip to each area because some people took items to look at, but then bring them back." After getting your cart, Voss recommends searching for skis first, then boots, before shopping for clothing and accessories. Most important, however, is to shop first for the stuff you need most. Ski helmets are all but legally required these days, so if that's your foremost need, shop for them first. If looking for alpine skis for your kids, know their height and weight. Do an online search for "youth ski size chart" to learn more. For example, an average seven-year-old child who is 47" tall and weighs 50 pounds will need 100-110 cm skis.
3. Shopping for boots: Make sure your kids are there so they can try on the boots and get the right fit. Kids should wear ski socks and try on different boot brands. "Parents want to buy ski boots large so kids can grow into them, but when they're too big it's too hard for kids to ski in them. It can almost be dangerous getting boots too big. A little room to grow is fine but not so much that a kid's foot moves in the boot," advises Voss.
4. Getting skis that fit their boots: "If parents want to be sure boots are going to fit, trace the boot sole length at home and bring it to the swap or just bring along those boots, and then see if you can fit them into a ski's bindings," Voss says, adding that the typical cost for re-mounting bindings on a set of used skis (about $25) can make a more expensive set, and newer model, the better deal.
5. Shopping for Clothing: If you're not too picky about colors, you can buy high-end, brand-name ski jackets and pants for cheap. Who cares if a kid is wearing blue pants with a black and green jacket? There are no fashion shows on the mountain. But do be picky about how clothes fit and have your kids try stuff on. Beware of children's "snow pants," which don't have large enough elastic cuffs to go over a ski boot and are typically not weatherproof (for both water and wind), only water-resistant.
6. Ask for Help: "Find a patroller wearing a red vest with a white cross or a ski swap t-shirt," says Voss. Most ski-patrol run swaps are family-friendly and many patrollers have outfitted their own children and even grandchildren at a swap. You can also ask for help from gear shop representatives who will be on the sales floor at the MSSP swap.
MSSP Ski Swap Details: Swap admission is free for children age 12 and younger; all others are only $5 at the door (cash only), or $12 if pre-purchased online (includes a free lift ticket and other benefits). The Friday Night VIP Party is $50 per ticket and includes early shopping privileges. Skipatrolskiswap.com. //