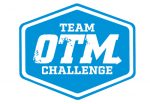 Out There Monthly is excited to launch our second season of the Team OTM Challenge, a 6-month program of trail and road runs, bike rides and races, triathlons and other multi-sport events that will challenge you to get in shape and try new races, fun runs and bike rides.
The Challenge: 6 Months, 6 Events
This program challenges you to complete at least one participating race each month from May through October. OTM is working with race directors of more than 45 events in 2017 to bring Team OTM Challenge participants a diverse selection of races and bike rides, both on dirt and on pavement. You'll receive generous registration discounts of up to 30% off each event (which means you can easily make back your program registration fee).
The Focus
PRs, podium finishes, and high mileage are a fun part of training and racing, but the Team OTM Challenge is about getting out there, having fun, and doing your best. We want to encourage and celebrate you for simply showing up. So try a new race in a new region with new friends, and you'll agree that participation is its own reward.
Participate as an Individual or Team
Of course you can sign up yourself and charge ahead! Or, if you prefer, make a team. New this year, we've created an option for you to sign up as a 2 person team, 3 person team, 4 person team or 5 person team. Each new person on your team gets all of you a little more of a price break and means a lot more fun. Submit a team name and create a #teamname to get the party started.
Registration Details and Deadline

This year you have three registration options: 1. a $35 no-shirt option; 2. a $50  option with the Team OTM Challenge tech shirt (posting photos with your shirt on the Team OTM Challenge Facebook Group Page with the hashtag #teamotmchallenge will enter you to win valuable outdoor prizes at the end of the season); and 3. team registration options of 2 ($90), 3 ($120), 4 ($150), or 5 ($180) team members (which saves you a few bucks per person on registration). If you want to set up a team, get in touch with us at 509-822-0123 or derrick@outtheremonthly.com.
Your individual or team registration gives you access to unlimited registration discounts to our partner events, killer swag and beer at the kick-off party, and a chance to win valuable outdoor gear and prizes at the end of the season (see details below).
T-shirts will be ready to pick up a few weeks after you register starting with the first shirt order at the end of April. Watch for details on when and where t-shirts will be waiting for you via email and on the Team OTM Challenge Facebook Group.
Registration for the Team OTM Challenge is closed for 2017.
For Team Registration, contact us at 509-822-0123 or derrick@outtheremonthly.com
Kick-off Party
To start off the Team OTM Challenge season, you are invited to an Out There Monthly Spring Party at River City Brewing from 6-8 p.m. on Monday, May 15. Come learn more about the program and participating races and events, meet other Team OTM Challenge participants and Out There Monthly contributors and partners, take part in swag giveaways, and enjoy two free beers. Thanks to River City Brewing for hosting us this year!
What You Get
Registration discounts to dozens of races, fun runs, and bike rides
Opportunities to try many events in new places
A chance to challenge yourself to be more active
Team camaraderie
Free beer at Team OTM gatherings and training runs
A gender-specific tech shirt (additional $15 cost)
Swag giveaways at the kick-off/spring party
A chance to win other great outdoor gear and prizes for participating and engaging on the Team OTM Challenge Facebook group page in your Team OTM shirt from this year or last year using the hashtag #teamotmchallenge (we will be drawing prize winners randomly this year from the hashtags so the more you use it, the better your odds of bringing home the goods!)
Participating Events
You'll get access to ALL of these race discounts, so you can do as many as you like. (But we encourage you to challenge yourself to do at least six.) Check out the list of confirmed events so far this year.
May
June
July
August
September
October
Age Requirements: We welcome participants of all ages to the Team OTM Challenge program. However, race directors determine the age requirements for their own events. Participants younger than 18 years old should check the age requirements for the specific races and events that interest them.