Driving down I-90 past Liberty Lake, you might never know one of the region's biggest zipline tours was tucked away in the forested hillsides of Mica Peak. If you haven't done a tour yet with Mica Moon Zip Tours, you're missing out on a world-class goldmine of adventure that has attracted thousands of fun seekers from all 50 states and 90 countries across the world.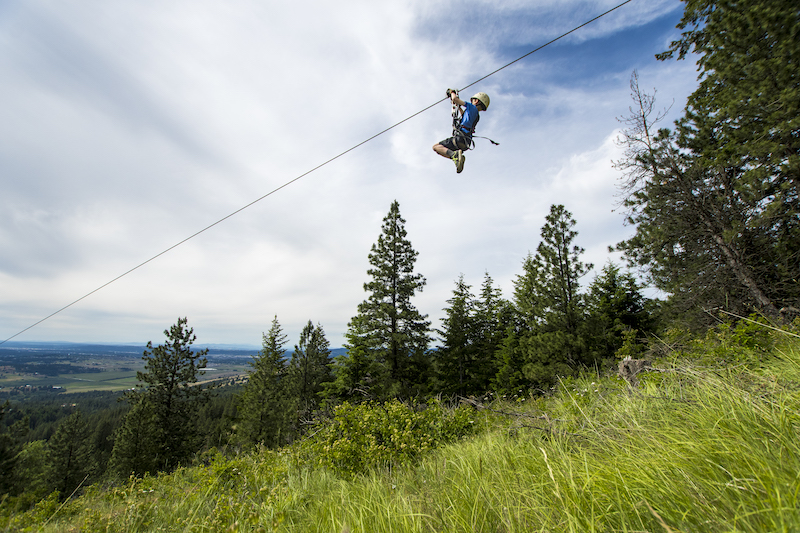 This year marks Mica Moon's 7th season, and with numerous awards and nearly 2,000 5-star reviews, they are hard at work on another expansion that will make Spokane's only zip line tour the largest zipline operation in the Pacific Northwest.
Mica Moon has established itself as a major regional tourism draw with its nine ziplines and world-class aerial park, which is like a ropes course in the trees with fun challenges like Tarzan swings, rope ladders, a wine barrel bridge, and more. And this year's expansion will give locals and tourists more reasons to book a trip with Mica Moon.
Mica Moon co-owner Rik Stewart is excited to share the new east course expansion that will allow them to expand their group trips with more options for corporate team building as well as family and school groups. "With this expansion, we will have a total of 14 ziplines, and our world-class aerial park will also add a new zipline component that will start 70 feet up in the forest canopy and zip the entire width of the park," says Stewart.
Work is also being done to enhance the lower (easier) circuit and the upper Ninja course which will include a 'leap of faith'. "This will allow our self-guided guests on the aerial park to choose the adventure that fits their courage, skill, and strength levels," explains Stewart. "We will have something for everyone," he says, including allowing for a 'Grandma videographer' ability level for those who want to participate but would rather skip the more challenging course obstacles. "All they need to do is two easy bridges to get to the 'Mothership' platform in the center of the park where they can watch, encourage, and shoot photos and videos of family and friends."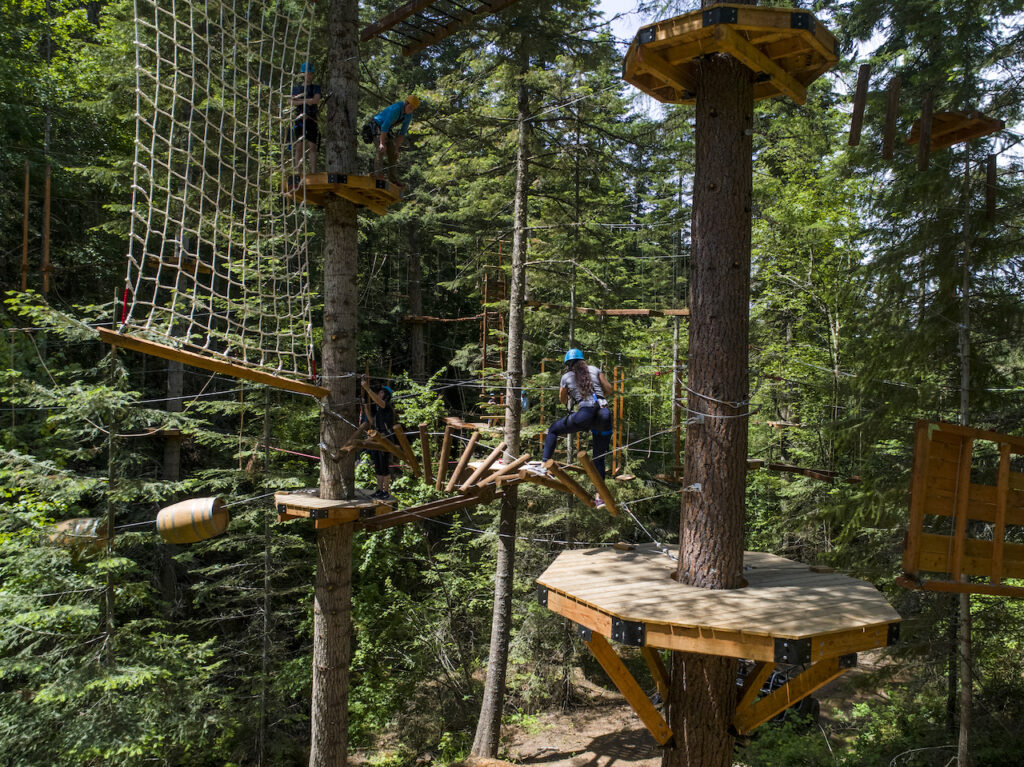 Award-Winning Mica Moon Has Become Major Inland NW Tourism Draw
Even before this latest expansion, Mica Moon has become widely regarded in the industry as a world-class zipline tour and has earned plenty of recognition and awards notes Stewart. "Along with our previous Visit Spokane tourism award we have consistently been rated the #1 outdoor activity on TripAdvisor in Spokane. And last year we won TripAdvisor's "People's Choice Award" where out of millions of reviews worldwide we were placed in the top 10% of all outdoor attractions worldwide!"
Adding the aerial park in 2019, a project in partnership with former professional basketball player, Gonzaga basketball star, and Spokane native John Stockton, has proven to be a huge attraction at Mica Moon. "It's a great avenue for people to get off their couches, out from behind their devices, into nature and literally up in the sky expanding their horizons, laughing, playing, and achieving!," says Stewart. "This has been both John and our hope from the beginning. People from almost every social, cultural, and economic background and celebrities alike have been our guests. Even the Gonzaga men's basketball team has made it an annual event to come zip with us."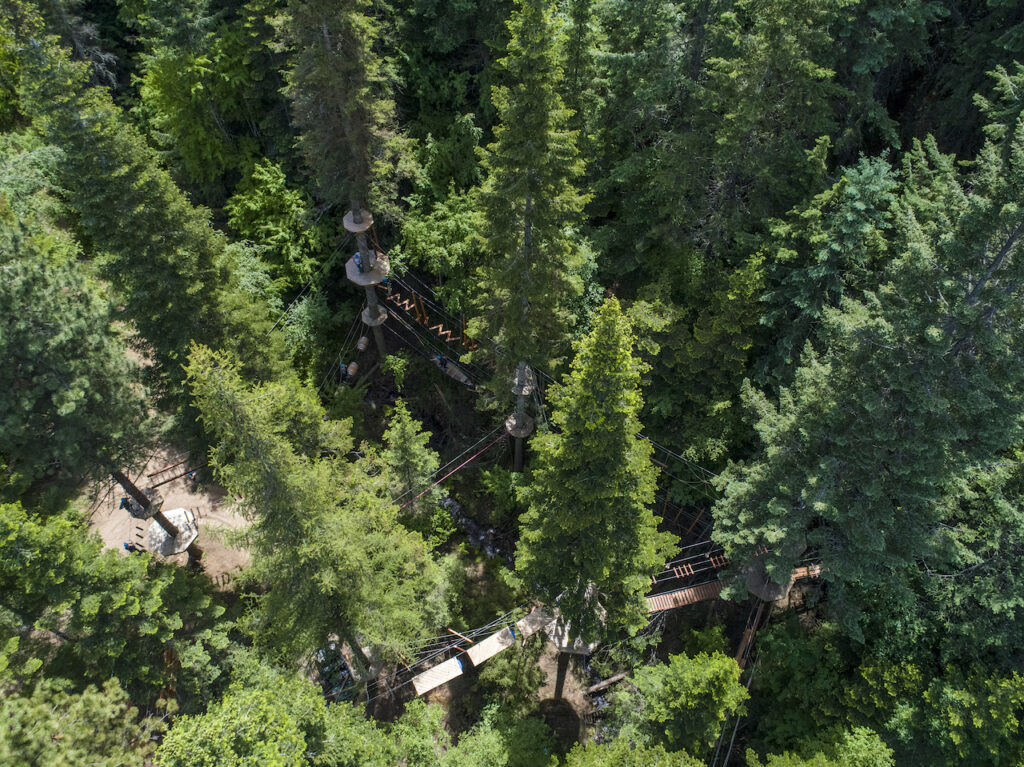 As a family business, Mica Moon has far exceeded owners Rik and Heidi Stewart's hopes and expectations and has become a way for them to reach personal goals. "Since opening the business my cancer has been in remission for most of that time," says Rik, something he attributes to the mountain air and new friendships formed almost daily.
Book a Tour at Spokane's Mica Moon Zipline & Aerial Park
Mica Moon tours include the classic zipline tour, the aerial park, or a combo tour that includes all of the ziplines and the aerial park. You can book a trip or ask questions at 509-587-4020 or by visiting their website.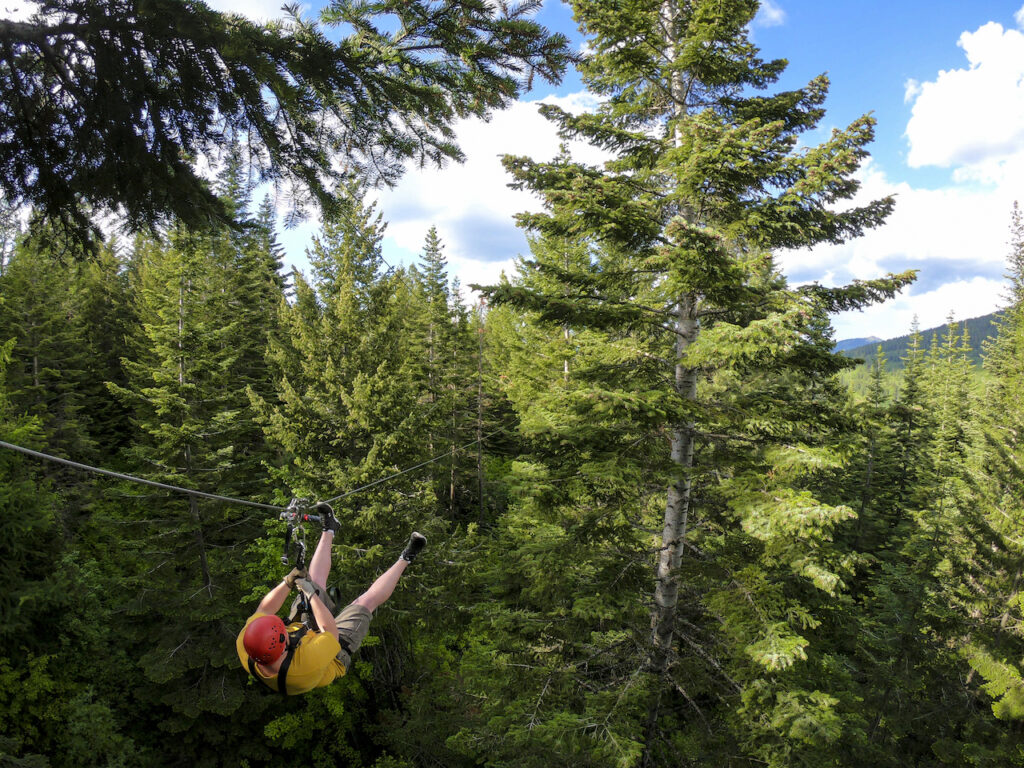 Mica Moon's Classic Zipline Tour
The classic tour is three hours long and begins with a short and informative 15-minute shuttle ride from Mica Moon headquarters at Liberty Lake Portal to the zip tour property halfway up Mica Peak south of Liberty Lake, Wash. From there, guests take an exciting ride in specially outfitted side-by-side UTV's on panoramic trails to the top of the property. Friendly guides then outfit guests with the appropriate gear, and after a short orientation and two practice zips, the tour begins.
The signature course, designed by renowned course designer Erik Marter of Synergo, threads through deep forest glens, across the private valley, over a beautiful mountain stream, and near historic moonshine camps where "Mica Moon" moonshine was produced during the days of prohibition. Most of this scenery will be seen from a unique birds-eye perspective high in the treetops. Two short trail hikes and the opportunity to get a glimpse of wildlife including hawks, deer, elk, and moose add fun and surprises to the tour. Prices range from $89-$99.
Aerial Park—Treetop Adventures
What's an aerial park? Think Ewok village…but better! A tree-top wonderland, you move from station to station, and they get more intense as you get higher. Or stay on the lower obstacles and enjoy the perfect adventure for you. You are strapped in the entire way and the obstacles vary in degree of difficulty: from rickety bridges to Ninja Warrior style challenges, you will go through the aerial park and create your own adventure. Tours are in three-hour time blocks. Ages 6-96 welcome. Prices range from $39-$49.
Zipline & Aerial Park Combo Tours
Fly above the trees at speeds of 40-50 mph and then play in the trees like a spider monkey. Start on the award-winning ziplines and finish on the newly-built treetop aerial park. The total combo tour is about 5-6 hours long. Prices range from $129-$139.
Learn more about all of Mica Moon's tour options here. Or read Out There Outdoors 2019 article about Mica Moon by contributor Aaron Theisen here.
(Sponsored Content)