This year marks the 18th anniversary of the Spokane River Run at Riverside State Park. This grassroots, community race for a good cause is one of the oldest trail runs in the Northwest and is staffed by volunteers from top to bottom. The event has developed a loyal following of runners who kick off spring each year by taking on one of the Spokane River Run's different run lengths, ranging from 5K to 50K.
Since the 2020 race had to be cancelled due to COVID-19, race organizers wanted to ensure that the 2021 race was "shutdown proof." Volunteers quickly learned how to shift this one-of-a-kind race into a virtual event for people all over the Pacific Northwest to enjoy safely in their own way. The 2021 virtual Spokane River Run is set for anytime between April 16 and April 25.
2021 Event to Honor Longtime Participant Stephanie Schrimshire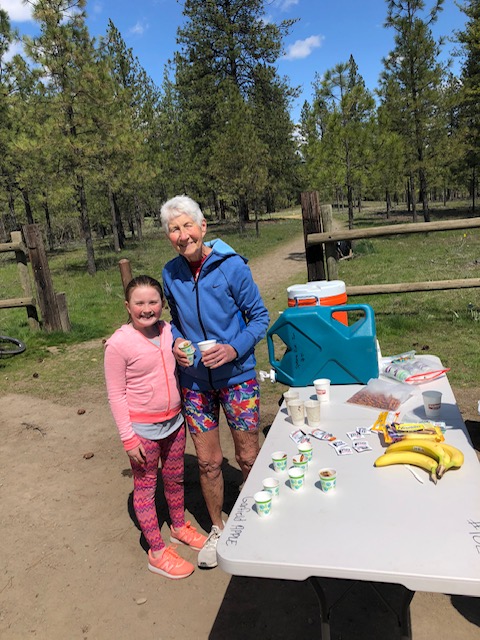 This year marks the first virtual race but also the first race without one of the River Run's longtime participants, Stephanie Schrimshire. At 82, she was the oldest participant to run the 25k and an inspiration to all who had the privilege to know her. Stephanie was an avid biker and runner and began riding her bike to work on a daily basis in the late 70s, long before it was popular. Biking along with running were lifeblood to Stephanie and she participated in numerous Spokane events including the Spokane River Run.
Year after year Stephanie would ride her bike from her South Hill home to Riverside State Park, run the 25k trail, and then bike home again. With a smile on her face and joy that exuded from her, she made a point to stop at the water stations along the trail to visit with the volunteers, especially with the kids that were helping out; she embodied the true spirit of this run with her positive, community-oriented spirit.
Each year proceeds from the race not only benefit the Garfield APPLE program, but also Education First, Odyssey, and the North Central Girls Cross Country Track Team. This year a portion of proceeds will also be used to establish a scholarship, the Stephanie Scrimshire Scholarship, which will be awarded to a North Central High School senior.
Stephanie taught at North Central High School for over 25 years and had a lasting impact on many students, staff, and community members. She was a highlight of the run and will be greatly missed by everyone who had the pleasure to know her. Race organizers hope that by establishing a scholarship in her name, the run can continue to honor her legacy.
2021 Spokane River Run Virtual Race Details
Many 2021 participants plan to run the traditional race route at Riverside State Park, and we want to encourage as many people as possible to enjoy scenic views of the
Spokane River as you traverse single-track trails through pine forest. If not, the beauty of a virtual race is the flexibility to choose when and where you run whether it be a treadmill or neighborhood run, the important part is getting active for a great cause.
Race dates are April 16-25 with registration open now. Race distances for the 2021 virtual race include 5K, 10K, 25K, and 50K. More information regarding cost, race info, trail location, and registration link can be found here.
Read more about 2021 live and virtual races in the Spokane and Coeur d'Alene area.