Cusick, Wash.
The pandemic may have shut down last year's Tundra Swan Festival in Pend Oreille County, but the annual migration of tundra swans that makes an annual stop in Pend Oreille Valley waterbodies carried on as usual, although with fewer human observers. This year the Tundra Swan Festival in Cusick, Wash., is back on March 20, 2021 and is a great opportunity to view these spectacular birds with other likeminded people.
A medium-distance migrant, tundra swans may travel from as far away as New Mexico, the California coast, and Colorado River, or as near as southern Idaho.
The event includes presentations, workshops, information booths, artisan vendors, a bus shuttle to Calispel Lake for wildlife viewing, and a hot buffet lunch at the Camas Center for Community Wellness in Cusick.
This event does sell out, so book early your $15 ticket, $10 shuttle pass, and lunch ($15). More info at the website for Pend Oreille River Tourism Alliance (PORTA): Porta.us/tundraswanfestival.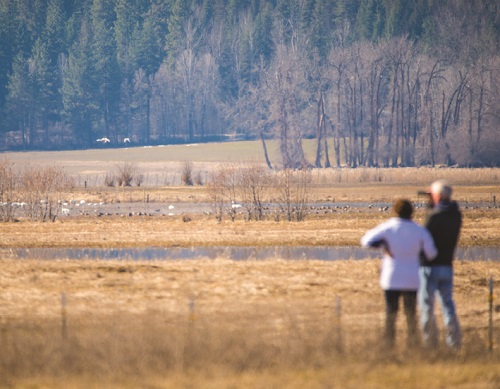 [Feature photo courtesy of Pend Oreille River Tourism Alliance]