Last season I had conquered the rock rolls and jump lines at Beacon Hill, memorized every rock and root section at Mt. Spokane and ridden myself into boredom at the other local Spokane riding areas. For the trails in my immediate surroundings, I had reached a peak. I wanted a new challenge that would test my riding abilities as well as my physical fitness to keep my riding stoke-fueled through the summer.
I had heard of Rossland, B.C.'s Seven Summits Trail years ago when "Mountain Bike Action Magazine" named it "Epic Trail of the Year." At the time, this label sounded cliché and actually steered me away from riding it. Although with my current desire to push my limits, my friend Chris Womsley and I set out on a day trip to tackle this local "epic."
Before heading to Rossland, we called Mountain Shuttle, located at the Red Mountain Resort, to arrange a shuttle service for the ride. If you are driving up in one car, arranging a shuttle is a must. At the end of the day, seeing your car parked at the bottom is almost as much salvation as the meal you are about to devour. The staff at Mountain Shuttle is friendly and has many good tips on the Seven Summits as well as the other trails in the area. They also offer a very reasonably priced room to stay in if you plan to be there overnight. Definitely give them a call when planning your trip.
We arrived in Rossland around 10 a.m., and after sampling a short trail right off the highway, we were beginning the first ascent on the Seven Summits by 11. By the numbers, the ride isn't as daunting as you might think. Overall, we had around 3,000 feet of elevation gain and 22 miles ahead of us. While that is definitely a big ride, Mt. Spokane boasts almost the same amount of climbing with only a few less miles for a full loop, and many people will do more than one lap in a single day. While the numbers are similar, we immediately learned why the Seven Summits is held above so many other trails.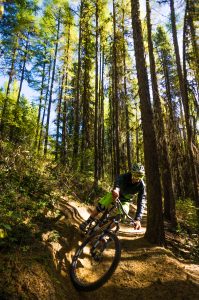 The first climb takes care of around a third of the total ascending and is punishingly steep, rocky, rooty and technical. Unlike many climbs around Spokane, you spend much of your time out of the saddle, hammering to keep your momentum. Muscle groups are firing that you didn't even know you had. This gets your heartbeat loud enough to be heard and keeps it there until you break out of the trees and into the alpine.
The first viewpoint is breathtaking and is a great place to stop for food. We relished over beef jerky and Gummi Worms as we overlooked an endless landscape of mountains. From this spot you finally get to drop into the first real descent of the trail. With the legs still feeling fresh, we hooted and hollered as we bounced down the rocky singletrack.
This is where the Seven Summits gets you. Each descent is fun, but requires you to be on point with your bike handling skills at all times. If you relax and let your guard down, things can go wrong quickly. This means your whole body doesn't get the break it normally does on the descent. I found myself being equally as exhausted on the downs as I was on the ups. As the name suggests, the trail does ascend and descend over seven different peaks, each one taxing your riding ability progressively. The further you go down, the more you beg for a climb, and the further you climb, the more you plead for a down. Each high point provides such a powerful panoramic experience that the pain you were just feeling quickly fades. It's a devilishly poetic clash of good versus evil. The tremendous pain you feel is eclipsed by the exquisite beauty of where your bike has taken you.
After what feels like a never-ending succession of climbs, you reach the top of the last peak and have nothing but downhill all the way to the car. At this point, we were out of water and food and daylight was dwindling. As we began the descent, I remember thinking, I don't even have the energy to go downhill, which was a feeling I had never had before. This last downhill is 10 miles and 3,000 feet of non-stop, high speed, high consequence, very technical trail. This finishing stretch separates the good rider from the phenomenal one. Rocky and loose descents are challenging anytime, but they become a whole different game when you reach this level of exhaustion. It feels as if the trail is never ending as your cramping forearms try to pull the brakes as your fingers scream with pain.
With the sun completely set, we finally saw the shimmer of the car down through the trees. Our Seven Summits experience had come to an end, and I couldn't have felt more accomplished. We pulled ourselves into the car and drove home laughing about all the highs and lows we had just been through, geographically, physically and mentally. The Seven Summits made me sweat, bleed, and struggle, which is exactly what I was looking for. (Skye Schillhammer)
Planning Your Seven Summits Trip
Rossland, B.C., is truly a mountain biker's paradise, with over 100 miles of world-class xc and freeride trails for all abilities only 2.5 hours north of Spokane. The Seven Summits Trail usually opens July 1, but always call ahead to check on trail conditions. Arranging a shuttle in advance is always your best bet. Call Mountain Shuttle/Kootenay Mountain Bike Coaching at 250-362-0080 to reserve your seat on the shuttle van. Stop by Revolution Cycles in downtown Rossland for a free trail map and the latest trail news or to rent a bike or stock up on supplies for the ride. If you're staying the night to ride some of the other amazing trails around town, which we highly recommend, ask your Mountain Shuttle guides about bike-friendly lodging and camping options. And don't forget to pack extra water, your bike tools and sunscreen! // (OTM)