I bought my first stand up paddleboard about six years ago when the sport was really starting to take off. Knowing what I know now about stand up paddleboarding, or SUP, I spent an embarrassingly small amount of money on that first board that I hauled out of Costco. I remember thinking at the time that is was an awful lot of money to spend on something that I had never even tried before, but I was completely drawn to it anyway.
Fast forward to the summer of 2014. By this time, this cheap, foam-core, Costco SUP had provided me with more than my money's worth of fun and adventure. I honed my skills for several summers on flat and rough waters, paddling into the wind and downwind. I had perfected my pivot turns, learned how to boardwalk, and felt as though I had pretty good command of all things SUP.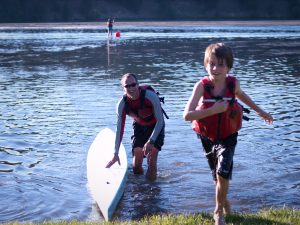 With my new-found confidence, I decided it was time to put my skills to the test. I signed up for my first ever SUP race out on Liberty Lake – race #1 of the Mountain Gear Aloha SUP Race Series. When I got to the race, I couldn't help but notice that nobody had a board that looked even remotely close to mine. I was somewhat aware of the shape and construction of "race" boards, but I wasn't convinced that it would make all that much difference. After all, I had been training pretty hard, and my trusty Costco board had been a faithful training companion from the beginning. I just couldn't imagine doing this race without it.
As the horn sounded, I began paddling feverishly with my sights set on buoy #1. I put my head down and put some muscle into 10 solid paddle strokes. When I lifted my head up, much to my surprise, a good chunk of the participants were waaay ahead of me. Some were even making their first buoy turn. Wow, I thought, I must have just gotten a bad start. I told myself that I'd catch up in no time at all. Well, that time never came. Somewhere around buoy #2, after being passed by a few small children and a handful of older ladies, I looked around and realized that I was solidly in last place. There was no hope. No matter how hard I pushed, there was no denying the difference in board shape now. I accepted my fate, and with a leisurely pace, strolled across the finish line well behind every other competitor. I spoke with Race Director Phil Bridgers afterword. After watching me struggle throughout the entire race, he had persuaded me try one of Mountain Gear's rental race boards for comparison at the next race.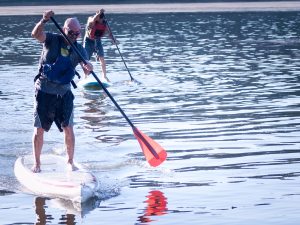 Aloha Race #2 was a completely different story. I was on a much narrower board, with a sharp nose and slick epoxy finish. I couldn't believe the difference. The board tracked in a perfectly straight line and glided effortlessly with each paddle stroke. I'd like to say that I crushed the competition for race #2, but I didn't. I did, however, have a respectable, middle-of-the-pack finish and new found appreciation for the differences between board shape and construction.
I still love my old Costco board, even though I have since upgraded to a nicer one. While she's been retired to the back of the garage, she will always be my first SUP love, in spite of her racing limitations.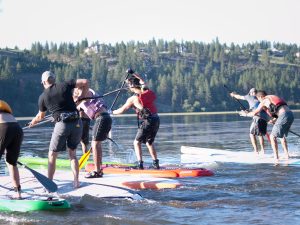 Mountain Gear Aloha SUP Race Series
If you're interested in putting your stand up paddleboard skills to the test, Mountain Gear is hosting another Aloha Race Series this summer, starting in July and running every other Thursday through August. The series features four races: July 16 and 30 and August 13 and 27. All four races will be held at Liberty Lake County Park, with a 6:30 p.m. start time. Race fees are still just $15, and you can sign up in advance or drop-in the night of the race. Mountain Gear is also offering a limited amount of race-specific boards for rent during the race. Rental fees are an additional $10, and it is highly recommended that you reserve a board in advance. For more information, or race registration, call Mountain Gear's retail store at 509-325-9000.
Choosing the Right Paddleboard
SUPs come in all different shapes, sizes and builds. The shape and build of the board that you choose will depend on what your primary use for it will be.
Race boards are long, narrow, and built of lightweight materials. Most race boards are 12 to 14 feet in length. Their long, narrow shapes allow for fast and even tracking. These boards are best suited for either racing or touring over large bodies of water. They're available at Mountain Gear, Coeur d'Alene Paddleboard Company and other high-end SUP specialty shops.
Freestyle boards are shorter and wider and are usually made of epoxy or high-density foam. They range in length from 9 to 11 feet and offer a very stable platform for beginner paddlers. These are the best boards for all-around use. You can surf with these boards, perfect spin maneuvers on flat water or just cruise the lake. Available at almost any sporting goods store now, you'll find high-end epoxy boards at specialty board shops and their less-expensive foam counterparts at many of the big-box stores. Check out Sports Outlet, a locally-owned shop on Division Street in Spokane, for a selection of different freestyle boards.
Inflatable stand up paddleboards represent a growing segment of the sport. Using roughly the same dimensions as freestyle boards, inflatables offer river-runners a stable SUP platform that won't snap or bust a fin when running sections of rocky river. These boards also offer the convenience of being stowable for folks who don't have the means to transport large SUPs. NRS is a Moscow, Idaho, based company that specializes in inflatables. Check out their selection at Nrs.com. //  (Brad Naccarato)